A parasailing experience combines the thrill of a parachute ride, the speed of a jet ski and eagle-soaring views.
With New Zealand's amazing landscape and thriving industry of adventure tourism, you've got some great opportunities to experience parasailing as part of your next road trip adventure in the country.
To help you do this, we've put together a list of the best places to go parasailing in New Zealand that you can drop in on if you happen to be nearby!
Bay of Islands
The Bay of Islands is a beautiful part of the country at the northern of the North Island, just over 3 hours' drive from Auckland.
The Bay of Islands is made up of sea-drowned valleys, inlets and encompasses over 140+ islands in the area. It's a sight that looks great from the shore and absolutely spectacular from the air when riding a parasail.
There are a number of operators to choose from in the region, but our favourite is Parasail Bay of Islands based in Paihia, who are not only one of the most respected operators in the country but also boast New Zealand's highest parasailing experience at 1,200 ft!
From those dizzying heights, you'll be able to see far and wide and develop a new sense of appreciation for the natural splendour of the place with all the islands dotted around along with the dramatic coastline.
There are also options to parasail as a tandem or a triple turning it into a wonderful shared experience for all.
As an added bonus, Parasail Bay of Islands are a GO Rentals partner which means you can enjoy a 10% discount using your GO Play card! With a great deal like that, there's really no excuse!
Rotorua
If there's a tourist destination that offers a bit of everything, then it's definitely Rotorua. Intimate Maori cultural performances, natural geothermal wonders, adventure tourism and more. The list of attractions also includes parasailing which you can experience via the good people at Kawarau Jet.
Kawarau Jet are based on the shores of the beautiful Lake Rotorua, the second largest lake in the North Island. Kawarau Jet has been around since the 60's in Queenstown as the first Jet Boat operator in the world! They've been leading the field with Jet Boat rides ever since, adding the likes of water taxi cruises and parasailing along the way.
The parasailing options they offer are so much fun right from the outset when you board their specially made-for-parasailing boat and are then hoisted into the air. From heights of 400 ft, you'll enjoy magnificent views of the lake and the surrounding areas.
Kawarau Jet also offer tandem and triple options and visitors particularly enjoy their creative and fun parasail designs making your action shots all the more eye-catching.
Kawarau Jet is also a GO Rentals partner allowing you to enjoy a 10% discount when using your GO Play card.
Taupo
If you're going to the central North Island to visit Tongariro National Park, there's a good chance you'll choose to stay in Taupo and if you do there's a great chance to do some parasailing through Big Sky Parasail!
If you're not familiar with the area, Taupo is where you'll find the mighty Lake Taupo, the largest lake in the country and one of the biggest in the world! With so much water at their disposal, it's been the perfect place for Big Sky Parasail to take thousands of people on breath-taking and exciting journeys over the years reaching heights of up to 1,000 ft!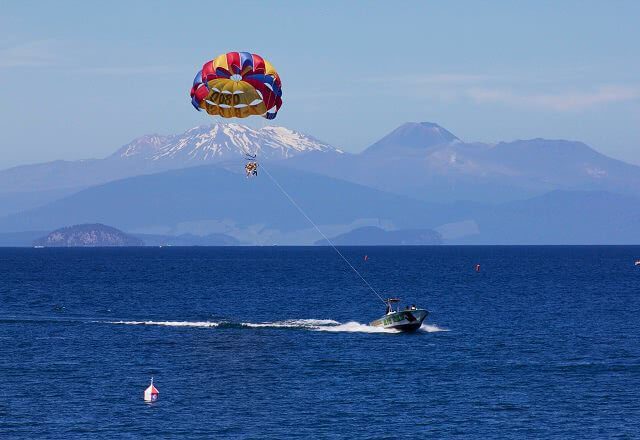 Like the other operators, they too offer tandem and triple flights but a unique thing they offer on top of this is the opportunity to experience a one-of-a-kind optional free-fall where the boat will slow down allowing you to drop, speeding up and whisking you in the air again. It sounds a little risky but is perfectly safe (they've got a 100% safety record as proof) and a great amount of fun for those looking for that extra edge of fun.
Another thing to be aware of is that if you schedule your experience to take place before 11 am you'll get an "early bird" discount knocking $10 off the price!
Queenstown
Ah, Queenstown… One of the most popular and enjoyed places in the country. A place that has it all from stunning scenery, luxurious accommodation, amazing bars and restaurants, a fantastic ski season and world-class attractions.
One of those world-class attractions is with Queenstown Paraflights who operate with the motto "Fly high, stay dry". They do so against one of the most picturesque settings in all the world against the backdrop of the mesmerising Lake Wakatipu.
Queenstown Paraflights have been doing this for over 30 years now and are established as one of the longest running local businesses in town. They have 3 different flight options available (solo, tandem and triple) an operate in both summer and winter, every hour on the hour from morning until afternoon.
At 600 ft in the air, this is an experience that will leave you speechless looking out over the lake towards the snow-capped peaks of The Remarkables mountain ranges.
Conclusion
As you can see, the experience of parasailing in New Zealand is both exhilarating and beautiful and something that will stay with you forever. With options in reasonable driving distance no matter where you are in the country, it's something that's easy to access and do so make sure you don't miss out!
Related Posts