A walk in Queenstown is one of the very best ways to re-energise and feel alive. With spectacular views at every turn, Queenstown's walking trails are the perfect escape, no matter the time of year. Whether you are looking for a short walk or something a bit more challenging, Queenstown has a huge and diverse range of walking and hiking trails, perfect for all levels of fitness.
Whilst Queenstown is best known as the adventure capital of New Zealand, there is so much more to the city than bungy, skydiving and jet boating. From the biking trails and vineyards to the relaxing hot pools, there are so many different ways to relax in Queenstown, but for many, Queenstown's walks offer a great way to exercise, take in the fresh air, and enjoy some truly magnificent views.
As we head into the winter months, Queenstown is still a great place to explore on foot and many of the amazing walks highlighted in our post are the perfect way to get out there and explore different parts of Queenstown which are not always on the tourist bucket list. If you are planning a winter trip to Queenstown and you are looking for some alternative activities to the usual winter sports the city is famous for at this time of year, then make sure you check out some of the amazing walks below and spend an awesome day in the great outdoors.
Whether you are looking for a short walk around Queenstown or a full day hike near Queenstown, there is no shortage of options and over the years, we've got to know some of the best through our team and our customers.
There's no better way to appreciate this than on your own two feet so we thought we'd highlight 15 fantastic Queenstown Walks and Hikes that you can do during your next visit.
1. Atleys Track
Atleys Track is one of the lesser-known tracks in Queenstown. This makes it perfect for those who are looking to avoid the crowds. It's a loop track that starts and ends from Skippers Saddle, taking you all the way to the summit of Mt Dewar. There are great views to take in as well as some interesting historical mining sites along the way too.
Duration: 5 – 6 hours
Difficulty: Advanced
View this post on Instagram
2. Queenstown Gardens and CBD Shopping Trail
If you are looking for something a bit more low key and local, then the Queenstown Gardens are a must. This 3.1km loop trail will take you from the heart of the CBD into the beautiful Queenstown Gardens which has beautiful flora and fauna all year round. There are a number of tracks and trails through the park – from the outer loop which will take you along the shoreline of Lake Wakatipu to the Rose Garden path in the heart of the Gardens. You can of course extend the loop by heading into town and wandering through the boutique stores and galleries.
Duration: 1.5 hours
Difficulty: Easy
View this post on Instagram
3. Ben Lomond Track
The popular Ben Lomond Track presents you with two options to choose from, both of which are fantastic. You can either do the shorter 3 – 4 hour walk to the Ben Lomond Saddle or add another couple of hours to go right to the summit. Even from the Saddle, you reach an elevation of 1,326 metres which gives you great panoramic views of the city, Lake Wakatipu and the Remarkables mountain ranges. A push to the summit will also leave you with few regrets.
Duration: 3 – 4 hours or 7 – 8 hours
Difficulty: Easy
View this post on Instagram
4. Bob's Cove Track
The shortest walk on this track is the perfect place to enjoy a morning stroll when visiting Queenstown. Bob's Cove Track takes you through some lovely native bush to a stunning cove that overlooks Lake Wakatipu. Interestingly, it used to be a site where limestone was processed and you can still see remnants of it along the way. A nice and easy one for kids to enjoy too.
Duration: 20 mins
Difficulty: Easy
View this post on Instagram
5. Frankton Arm Walkway
This is a super-popular track for locals who you will often see running on this relatively flat route that takes you along the shore of Lake Wakatipu out towards Frankton. It's a one-way track, however, if you carry on around the top end of the lake near the airport and out to the Hilton Hotel, you can catch the ferry back to downtown Queenstown that runs every hour. It's around 11kms to walk from the start in Queenstown Gardens to the Hilton Hotel but the views along the way are spectacular.
Duration: 2.5-3 hours
Difficulty: Easy
View this post on Instagram
6. Devils Creek Track
The ominously named Devils Creek Track is coincidentally one of the more challenging on this list. It starts off in a tussocky wilderness before the climb towards the saddle begins. Once you reach the saddle, you'll have amazing views of the Wakatipu Basin before your eyes. You'll eventually finish in Devils Creek itself which is much nicer than it sounds.
Duration: 5 – 6 hours
Difficulty: Advanced
View this post on Instagram
7. Jack's Point Track
For a lovely scenic lakeside walk, you can't do much better than Jack's Point Track. The walk is one that gives you opposite views on either side. On one side you have the picturesque waters of Lake Wakatipu and on the other side, you have the rugged and wild open grasslands and shrubs. Its untamed beauty perfectly characterises the best of what New Zealand's landscape represents.
Duration: 4 hours
Difficulty: Easy
View this post on Instagram
8. Lake Hayes Walkway
Lake Wakatipu gets all the attention in Queenstown (as far as lakes go) but there is another stunner just 15 minutes' drive away. Lake Hayes is a beautiful body of water and its 8km loop track is an absolute joy. It can be done on foot but is also a popular cycling route which is a fantastic way to experience it if you can. With mountain peaks all around, it becomes especially wondrous in autumn when the amber and golden hues of the trees come through.
Duration: 2 – 3 hours
Difficulty: Easy
View this post on Instagram
9. Moke Lake Loop Track
The Moke Lake Loop Track is another great lakeside stroll that offers a wide variety of natural landscapes to set your eyes on. Like Lake Hayes, it's also surrounded by some amazing mountainous peaks including the likes of Mt Hanley, Bob's Peak and Wedge Peak. The surrounding grasslands are exquisite and the boardwalk through the nearby wetlands is another highlight.
Duration: 2 – 3 hours
Difficulty: Easy
View this post on Instagram
10. Arrow River Tail
Whilst this is not technically a Queenstown walk, it's well worth the 20-30 minute drive out to Arrowtown to explore the historic Arrow River. The Arrow River Tail starts behind the skate park just beyond the main car park in Arrowtown and is well signposted. This is a loop walk that runs on either side of the Arrow River and can be crossed by a footbridge at the halfway point. The trail also forms part of the Queenstown Trail and is a shared path with cyclists who are heading out towards the Gibbston Valley. Once back in Arrowtown, extend your walk and enjoy this stunningly quaint town.
Duration: 45 mins – 1 hour
Difficulty: Easy
View this post on Instagram
11. Mt Crichton Loop Track
If you're an avid nature lover, then the Mt Crichton Loop Track is a great way to spend a few hours treating you to a superb range of natural features. Taking you deep into our native bush you'll pass rivers, an amazing waterfall, and experience all the birds and wildlife that comes with it. There's also an old gold miner's hut and tunnel to see that have been very well preserved too.
Duration: 2.5 hours
Difficulty: Easy
View this post on Instagram
12. Queenstown Hill Walkway
The Queenstown Hill Walkway (also known as the Queenstown Hill Time Walk), is one of the more challenging Queenstown walks that also has some spectacular views. The walk starts not far from the town centre and eventually turns into a 500-metre climb through pine forest to the top of the hill. Plenty of great things to see along the way including the iconic 'Basket of Dreams' sculpture.
Duration: 3 hours
Difficulty: Intermediate
View this post on Instagram
13. Tiki Trail
The skyline gondola is a fantastic tourist attraction which gives you great views from Ben Lomond of Lake Wakatipu and more. Another way to get to the top is to do the Tiki Trail, a great test of the legs through a quiet pine forest for the same end result. A lot of people do the two in combination, either taking the gondola up and walking down (the easier choice) or hiking up before riding the gondola down.
Duration: 1 – 2 hours
Difficulty: Intermediate
View this post on Instagram
14. Tobin's Track
OK – so this is technically another Arrowtown walk but like the Arrow River Trail, Tobin's Track is a wonderful walk and it's not too far from Queenstown! This is another popular Queenstown walking track with locals who you will find running up and down this short but steep track. Originally built by Thomas Tobin as an access track to Wanaka, this is now a popular walking and biking track that offers up stunning views over Arrowtown and the wider Wakatipu Basin. There are a couple of benches at the top which are perfect for catching your breath and admiring the spectacular views.
Duration: 1-hour return
Difficult: Intermediate
View this post on Instagram
15. Sunshine Bay Track
The Sunshine Bay Track is as delightful as it sounds and starts at the end of the waterfront on the shores of Lake Wakatipu. It's a perfect walk to do to quickly escape the hustle and bustle of the township with a mix of nice views along the way. You'll go through the beech forest and along the shoreline of the rocky beach while enjoying a good amount of bird spotting along the way.
Duration: 1 hour
Difficulty: Easy
View this post on Instagram
Some Awesome Queenstown Walks and Hikes to enjoy!
As you can see, there are some spectacular Queenstown Walks and Hikes to experience for your next trip to Queenstown. Hopefully, you'll book your Queenstown car hire with us and meet our team there who can tell you all about them and more!
Explored one of these amazing tracks? We'd love to see your pictures and share them on our post so please send them to our Facebook page or tag us on Instagram and we can get them added above.
Related Posts
Updated:  10 May 2022
Book a vehicle for this trip
We recommend: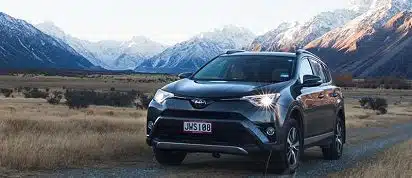 Intermediate 4×4
Toyota Rav 4
Seats

5 seats

Large Bags

3

Small Bags

4

Transmission

Auto trans