New Zealand is often referred to as the adventure capital of the world. As the home of bungy jumping and jet boating, it's easy to see why.
New Zealand has been thrilling people for years. Since the first ever commercial jet boat ride in 1958 and the first bungy in 1988, Kiwis have been pushing the boundaries when it comes to exhilarating experiences.
Whilst these may be two of the most popular adventure activities in New Zealand, we have plenty more ways to get your thrills from zorbing to parasailing to skiing and everything in between.
Queenstown is definitely the home to adventure activities here in New Zealand and with many people planning a ski holiday at this time, why not take your Queenstown rental car and tie this in with one of the amazing adventure activities down there.
If you are planning a visit to one of the North Island's ski fields this winter, Rotorua is another hotspot for New Zealand adventure activities and is only a short hop from the ski fields in the central North Island.
If you hire a car with GO Rentals this winter, you'll also get access to our awesome GO Play card which will score you a discount at most of these adventure activities meaning your thrills just got a bit cheaper! We also have some great Ski Deals available for people renting a car with GO this winter so maximise your savings and rent with GO.
Here are some of the best adventure activities for you to try when you visit New Zealand.
12 of the best adventure activities in New Zealand
With so many adventure activities to choose from, we've picked out 12 of the best.
1.      Bungy
Bungy was founded here in New Zealand and there has never been a better time to give it a go. Long-time GO Play partner AJ Hackett has some great deals this winter so if you have been putting it off for a while now, it's time to take that leap of faith. Whether you're in Queenstown, Auckland or Taupo, AJ Hackett has some great discounts on all their adventure activities. You can check out all the deals on the AJ Hackett website.
Find out more about bungy jumping opportunities in New Zealand in our blog.
2.      Whitewater Rafting
We have our fair share of rivers in New Zealand and it seems rude not to make the most of them. Whitewater rafting in New Zealand is super-popular. We've got some great options from the caves on Waitomo to the world's highest commercially rafted waterfall in Rotorua. With several rafting companies in our GO Play programme, make sure you check out some of the most popular destinations including Rotorua, Waikato and even Auckland.
3.      Jet Boating
Jet boating first started in New Zealand in 1958 and it all began with the Kawarau Jet. Based down in Queenstown, you are guaranteed some high adrenaline action out on the water. Like AJ Hackett, KJet also has some great deals this winter with their jet boating winter deal at just $89 or if you want a splurge, a jet boat and helicopter combo for $299.
Outside of New Zealand's adventure capital, Taupo is another great place to try jet boating and the Huka Falls Jet Boat is a great chance to get some high-speed thrills as well as get up close to the magnificent Huka Falls. They also have a great winter offer – $99 for adults and $67 for kids saving you around 40% on the usual price.
If you are heading to the adventure capital of the North Island in Rotorua, check out Katoa Jet where you can give their speed & spins jet boat ride a whirl for just $65.
4.      Zorbing
Another of New Zealand's contributions to the world of adventure activities is zorbing. This basically involves climbing into a large inflatable ball and throwing yourself down a hill. Sound like fun?
There are a couple of places to give it a try but Rotorua is the original and possibly the best. If you really want to mix things up, give the H2OGO a try – your Zorb ball will be filled with water (don't worry, they warm it up in the winter) which adds to the fun.
They also have the Mega Track – the world's fastest, longest and steepest downhill ball rolling track. This winter, grab the three-ride special for just $99 running for a limited time only.
5.      Shweeb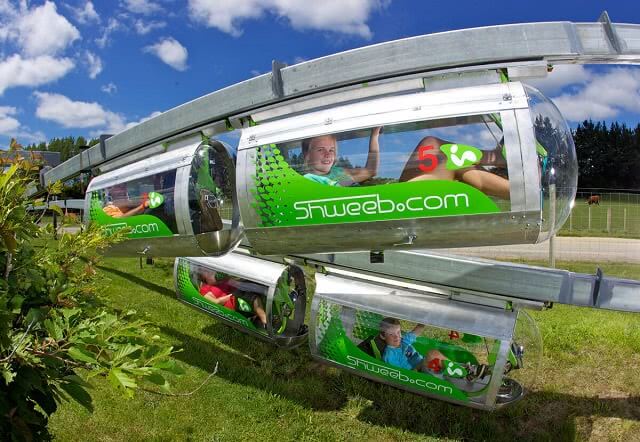 Yet another activity that is unique to New Zealand and another of Rotorua's little gems! Shweeb is found at Agroventures Activity Park and is one of a handful of cool activities you can try here including bungy, super swing, jetboating and freefall. Shweeb is a pedal-powered monorail where you race in little pods suspended above the ground. Very cool.
6.      Parasailing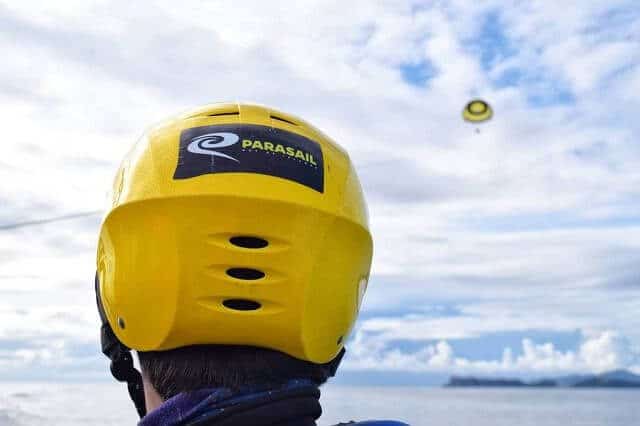 This one is perhaps not as all-action adventure as some of the items on our list but it's certainly one of the most thrilling. Imagine being pulled along at heights of up to 1,200 feet behind a speedboat which is pretty cool in itself. But then imagine putting yourself in some of the most beautiful places in the world like Paihia in the Bay of Islands. The views up there are simply spectacular and well worth the fear factor of floating off behind the boat!
Looking for a winter deal on parasailing? Flying Kiwi has an awesome family package – 2x adults and 2x kids (under 14) for just $342 – learn more. Boom.
7.      Skydive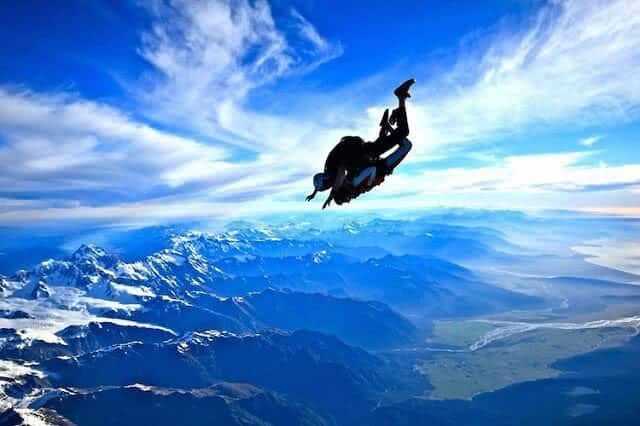 Talking of amazing scenery. If you really want to take in the magnificence of New Zealand's stunning landscapes, a skydive is an absolute must. You can take your pick on where you skydive – from Taupo to Franz Josef, the Abel Tasman to Wanaka we have some truly spectacular skydiving venues here in New Zealand. If you want to find out more, check out our blog post on the best places to skydive in New Zealand.
8.      Aerial Forest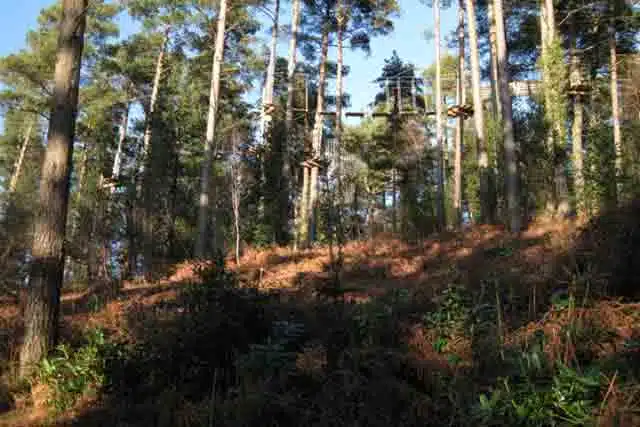 There are a number of aerial forests around New Zealand and we definitely recommend giving one a go. With aerial obstacle courses that range in difficulty and height, you get to tackle a range of challenging obstacles up to 14 metres off the canopy floor. Most of the courses end with a flying fox which is always good fun so make sure you check them out. We have GO Play partners in Auckland, Wellington, Christchurch and the Bay of Plenty so check one out the next time you're in town.
9.      Scenic Helicopter Flight
If you have never been up in a helicopter before, we would definitely recommend giving it a try on a visit to New Zealand. Not only is it a super-cool way to travel around, but it's also got the adrenalin factor as you fly low over soaring peaks or dart between the mountains. There are loads of opportunities to take a scenic helicopter flight in New Zealand but our top tip is to give it a go down in the South Island. Flying over the Southern Alps or taking a flight over the glaciers of the West Coast is one of the most thrilling adventures you can take in New Zealand.
10.  Canyon Swing
Whilst bungy and skydiving may take the headlines in New Zealand, canyon swinging is fast catching up. For those who may not know what canyon swinging is 'an intense, undie-staining, adrenaline stimulation activity' according to Shotover Canyon Swing who will happily send you launching off a cliff, 109m above the famous Shotover River. AJ Hackett is another great company offering Canyon Swings and their Ledge Swing experience in Queenstown is currently part of their amazing winter deals package with a 10% discount.  They also have a swing in Taupo which also has 10% off.
11.  Ziplining
Ziplining is another super popular activity amongst tourists and locals alike and is fast becoming one of the most popular activities for stag and hen weekends. There are a few destinations throughout New Zealand where you can give ziplining a whirl but one of our favourites is at EcoZip on the beautiful island of Waiheke. With three ziplines to choose from, all at over 200m in length, it's such a cool way to see the sights and sounds of Waiheke. Fly over native bush and race along your friends over the vines in the unique location. They're also a GO Play partner so you will also save yourself some money when you rent your car with GO.
Bonus: In late June 2022, we opened our latest car rental branch on Waiheke. As well as bringing our award-winning customer service and modern fleet of rental cars to Waiheke, we are also offering bike and e-bike hire on the island – a great way to get around. Check out our all-new Waiheke car rental branch today.
12.  Shark Experience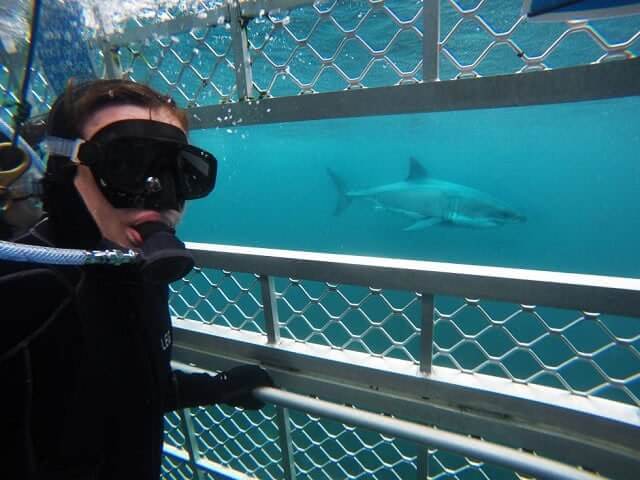 The final adventure activity on our list is a relatively new experience and a brand new partner on our GO Play programme. Cage diving with great white sharks has got to be up there with one of the most exhilarating activities out there. Imagine being submerged underwater in the safety of a shark cage and going eye to eye with a great white – one to tell the grandkids about! The season opens in December so not a great one if you are visiting during the winter months but definitely one to get the heart pumping! You can find out more about it in our blog.
Round up
So there you have it; 12 of our best all-action, adventure activities for you to get stuck into on your next visit to New Zealand. If you've given any of these a try, we would love to hear from you so drop us a line in the comments below or catch us on our Facebook page.