New Zealand is not short on parks. Every town and city in the country has its own little bit of green space that attracts locals and tourists alike. Whilst our National Parks tend to grab a lot of the headlines our Regional Parks are just as awesome. While not quite as grandiose as the National Parks, they are no less beautiful and are typically less crowded too!
Trying to draw up a list of New Zealand's best regional parks is not easy. In Auckland alone, there are 27 regional parks and each has its own merits and reasons why it could be included on our list of the best regional parks in New Zealand.
Instead, we have listened to the people and included seven of the best regional parks in New Zealand according to our Explore New Zealand fans.
These are the parks that got the most mentions and comments in a recent post. We know there are lots of other amazing regional parks throughout the country and we would love to hear more about your favourites so make sure you drop us a comment below or drop us a message on our Facebook post and the next time we update this post, we will be sure to include the best of the best.
All of the regional parks in New Zealand are great places to explore so to lend a helping hand we here is the list of the 7 best regional parks in New Zealand that you can check out!
1. Queen Elizabeth Park Kapiti Coast – Wellington
This is definitely one of our favourites. The Kapiti Coast, in the Wellington region, is a truly stunning place. The park contains the last area of natural dunes on the Kapiti Coast and is steeped in history. During World War II, the park was the location for two US Army and Marine bases. Opened in 1953 during a Royal Visit, the park was named after Queen Elizabeth II. If you are looking for a spectacular place to camp, then this ticks all the boxes. The park also has great picnic areas, walking tracks, cycling and horse riding trails and is home to the Tramway Museum.
View this post on Instagram
2. Awhitu Regional Park – Auckland
It's tricky to pick the best regional park in the Auckland region (as there are 27 to choose from) but Awhitu is definitely one of the best as the perfect place to get away from it all. Located 95km south and west of the city, it's a bit of a drive to get out here but once you arrive you will be glad you made the trip. Opened in 1975, the park continues to operate as a working farm and features parkland pastures, wetlands, peaceful sandy beaches and some great picnic and BBQ areas. There are camping facilities as well as a lodge for those who like a bit more comfort. You can check out the full list of Auckland regional parks on the Auckland Council website.
View this post on Instagram
3. Queen's Park Invercargill – Southland
One of two regional parks located in Southland, Queen's Park is an absolute gem. The 81ha park is located right in the centre of Invercargill and is recognised as one of the most important parks in NZ. You can safely put aside a few hours to explore everything the park has to offer. The 4km fitness trail is popular with locals and tourists alike and is a great place to get your daily exercise fix. There is also an 18 hole golf course situated within the park if that's your bag. There are beautiful gardens to explore, a great playground for the kids and plenty of wildlife.
View this post on Instagram
4. Waimakariri River Regional Park – Canterbury
Canterbury's first-ever and largest regional park, Waimakariri River Regional Park covers 15,000ha of land and river and is packed full of activities for the adventurous. This includes mountain biking, horse riding, walking, fishing and more. Within the park, there are lots of different areas to explore. McLeans Park is popular with mountain bikers and walkers, Kaiapoi Island is where you will find the motocross riders and kayakers, Banyons Brake is great for horse riding and Templars Island is great for nature lovers. Plenty to keep you busy and then some!
View this post on Instagram
Book a vehicle for this trip
We recommend: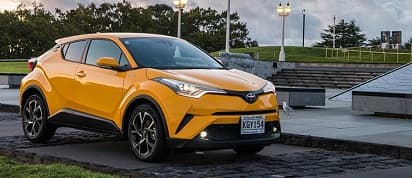 Zippy Auto
Toyota CHR
Seats

5 seats

Large Bags

1

Small Bags

1

Transmission

Auto trans
5. Duder Regional Park – Auckland
Duder Regional Park is situated on the Whakakaiwhara Peninsula, just under an hour's drive from Auckland's CBD. It's a great one for the history buffs as a place where Maori famously landed by canoe in the 1300's. They lived the land until the 1860s when the Duder family bought it and used it for farming for 130 years. In the 1990s it was purchased by the Auckland Council and is now enjoyed for a wide range of outdoor activities. The Farm Loop walk to the old Maori Pa (defensive settlement) is popular as well as the coastal walks to the beaches. There are also mountain biking trails, horse riding, lookout points and farming structures to see as well.
To explore Duder and the other Auckland regional parks on this list, pick up a car in Auckland City or at the Airport.
View this post on Instagram
6. Tawharanui Regional Park – Auckland
One of the most popular regional parks in the Auckland region is Tawharanui Regional Park. As a popular holiday getaway spot, many locals are drawn to its idyllic long sandy beach. It's great for swimming and not so bad for surfing either. There are 7 different walking trails to choose from at the park. One of the most enjoyed walks is the 2-hour Ecology Trail showcasing the park's natural heritage. Tawharanui also has a marine protected reserve making it a great place to bring the snorkel gear and do some diving. If you're organised you can also camp at their camping grounds by booking in advance. Auckland is blessed with a diverse collection of regional parks – from coastal to inland and each of the parks offers something unique. The next time you're up in Auckland, make sure you head to Google and search 'regional parks near me' and see which one you fancy exploring the next time you're visiting the City of Sails.
View this post on Instagram
7. Kaitoke Regional Park – Wellington
A short drive from central Wellington you'll find Kaitoke Regional Park, a spectacular reserve with some extraordinary native forest. Situated through the Hutt River gorge, the surrounding scenery is breathtaking and dramatic. It was in fact considered so dramatic it was used as the location for Rivendell in Peter Jackson's Lord of the Rings films. The walking tracks here are great and you can also go for a swim in the river pools too. Make sure you take a selfie on the swing bridge and keep an eye out for the beautiful native birds as well. On top of all this, you can also go kayaking on the river just like the fellowship did!
Need some wheels to explore the Wellington regional parks? Check out our Wellington car rentals!
View this post on Instagram
Exploring our Regional Parks
With over 50 Regional Parks spread throughout the country, you have no excuse to get out and explore. These are just seven of the most popular as picked out by our GO Explore fans but we are always keen to hear about your favourite parks and why they make it to the top of your list. Drop us a comment below and we will look to add your suggestions to our next update of this post.
Updated: 29 June 2021
Related Posts