We'll put our hands up. If you're someone that likes to read everything there is to know about New Zealand, then you may well have heard of some of these places but we had to get you to click on the link somehow! Here at GO Explore, we like to help people plan their journeys around New Zealand. Making sure you have an amazing time is kinda what we do here. From our awesome Trip Planner and Complete Guides to our new Spotify Playlists, we're all about making sure you have the best time when you visit our beautiful country.
Whilst we like to make sure you don't miss out on any of the major attractions in New Zealand, we wouldn't be called GO Explore if we just sent you where everyone else goes! We're all about adventure. Our calling is 'GO Anywhere' and these nine awesome places need to be seen to be believed. We have some stunning destinations in New Zealand but these off-the-beaten-track locations are up there with some of the best in the world. Without further ado…let's GO!
1.      Ship Cove, Queen Charlotte Track
The Queen Charlotte Track itself is perhaps one of New Zealand's best kept secrets. This stunning track located at the northern tip of the South Island is an absolute gem and is waiting to be discovered on foot or on your bike. Ship Cove is one of the most picturesque places along the route and it is possible to get a ferry round here and walk a stage back to the Endeavour Inlet where you can get picked up again. Boom!
2.      Anapai Bay, Abel Tasman National Park
Another one of our stunning destinations, the Abel Tasman National Park is packed full of beautiful bays. If you want to get off the beaten track, we recommend taking a hike to Anapai Bay where you will find one of the most dramatic coastlines in the park, with striking rock formations and an awesome camp site right on the beach.
3.      Te Puia Springs, Kawhia
Not to be confused with the geothermal Te Puia Springs in Rotorua, Te Puia Springs is actually located in Kawhia. Whilst Hot Water Beach in the Coromandel may be the most famous place to go and dig your own hot spring, Te Puia is a lot more remote but just as cool! As the tide goes out, dig yourself a hole and bathe in 45ºC geothermal waters – amazing!
4.      Kai Iwi Lakes, Dargaville
Just a 3 hour drive north of Auckland you will find the stunning Kai Iwi Lakes. These freshwater lakes are the perfect playground in the summer months for swimming, water skiing, kayaking and fishing. With great camp grounds right on the lake, this is a great place for a weekend getaway. Our favourite time to visit is in the winter on a crisp sunny day when there aren't too many people around. If you're brave enough, take a refreshing dip to blow off the cobwebs!
5.      Putaruru Blue Spring, Te Waihou walkway – Putaruru
If you are a fan of the water then a visit to the Putaruru Blue Spring is a must. The water here is ridiculously pure as it feeds down from the Mamaku Plateau making it some of the clearest water on earth. To get there you will need to take a walk along the Te Waihou Walkway. The walk will take you around 1.5 hours each way but it is well worth it we promise you!
6.      New Chums Beach, Whangapoua
Ah New Chums Beach. A perennial favourite on these sort of lists but still a place that doesn't seem to get as many visits as it should! This place is truly magical. Located at the northern tip of the Coromandel Peninsula, tucked out of site is this most majestic of beaches. We have actually been tipping people off about this for years in our Trip Planner but we thought we'd give it another plug as it is just sooooo stunning!
7.      Anawhata Beach, Auckland
That's right folks, this one is not too far from downtown Auckland and because it can only be reached by foot, it tends to be a lot quieter than some of New Zealand's other amazing beaches. Located in the Waitakere Ranges regional park, Anawhata Beach is a great place to head for a quiet walk with very few people venturing out here – you will often find you have the place to yourself.
8.      Tunnel Beach, Dunedin
Tunnel Beach is perhaps one of the better known beaches but only to people who live in and around Dunedin. For most, it's another of those off the beaten track destinations just waiting to be explored. To get there you will once again have to take a short walk but this one is perfect, especially if you have kids as you will have to adventure through an excavated tunnel to get there! Once you get there you will find a super-secluded beach and some amazing views to match!
9.      Crucible Lake, Mount Aspiring National Park
Last but certainly not least on our list is Crucible Lake in the Mt Aspiring National Park. In winter the lake is often studded with ice bergs and can only be accessed during a 3-4 day hike which is only recommended for experienced hikers – we told you this was a list of off-the-beaten-track locations! It's on the Gillespie Pass Circuit that hikers have the option of visiting Crucible Lake. This loop hike is 58 kilometres long and takes between 3 to 4 days to complete. We have yet to complete this one so if you do, send us the pics!!
So there you go, 9 of the best place you have (probably) never heard of in New Zealand and ones to add on to your list. Whether you're a local or you're visiting our beautiful country from overseas, there are so many amazing places to visit in New Zealand that we're not sure we could ever cover them all. If you know of any other hidden gems, make sure you let us know on our GO Explore Facebook page or in the comments below.
Caring for our country
The Tiaki Promise is a tourism campaign launched in November 2018 and is a commitment to care for New Zealand, now and for future generations. Tiaki means 'to care and protect' in Te Reo Māori and it is up to us to act as guardians of the beautiful country in which we all travel. By following the five key promises that make up the Tiaki Promise, you are making a commitment to New Zealand. Find out more about the Tiaki Promise.
Happy adventuring!
Book a vehicle for this trip
We recommend: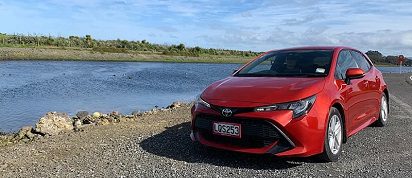 Compact Auto
Toyota Corolla
Seats

5 seats

Large Bags

2

Small Bags

1

Transmission

Auto trans