If you have a full Australian licence, you can drive in New Zealand for up to 12 months from the date you enter. After 12 months, you will need to transfer to a New Zealand licence. You can drive on an Australian provisional drivers licence, providing you adhere to the conditions of your licence. However, provisional licences are unable to hire a vehicle with GO Rentals.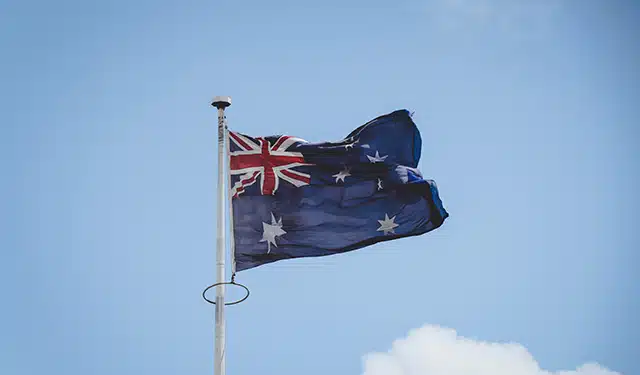 What are the limitations of driving in New Zealand with my Australian licence?
Planning a self-drive holiday is exciting and you will want to head straight into researching destinations, booking accommodation, restaurants and activities. However, it is important to first understand the rules and limitations you will need to adhere to on your holiday. We have compiled a full list of everything you need to know about driving in New Zealand with your Australian driver's licence so you can get GOing with your itinerary planning.
The restrictions on your Australian driver's licence will still apply in New Zealand. The rules and limitations are as follows:
You do not need to apply for an international driving permit

You can drive for up to 12 months before you need to apply for a New Zealand licence.

You must not have received a disqualification or suspension in New Zealand.

You must carry your driver's licence with you at all times whilst driving in New Zealand.

Those on an Australian provisional drivers licence must adhere to the conditions of their licence.

Provisional drivers do not need to display a P plate.
Vehicle Limitations
Your full overseas licence is equivalent to a New Zealand class 1 licence and allows you to drive a vehicle up to 6,000kg gross laden weight. Be assured that all the cars and vans available to hire with GO Rentals are within the weight limit.
The limitations under your provisional licence apply in New Zealand. Australian P platers can drive the same vehicle weight as a full licence holder, however, they are unable to hire a vehicle with GO Rentals.
How do the road rules differ between New Zealand and Australia?
Although there are similarities between New Zealand and Australian roads, it is recommended that you read up on how to drive safely and follow the driving laws during your stay.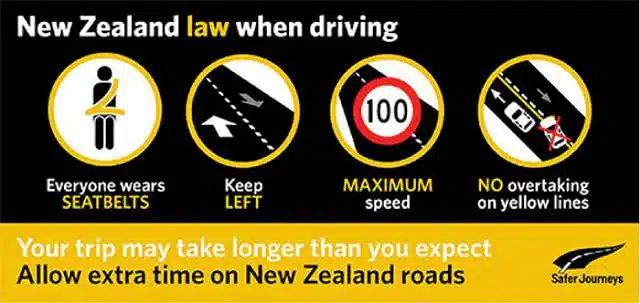 Similarities with New Zealand Road Rules
New Zealand also drive on the left-hand side.

The rural speed limit is 100km/h unless a sign indicates a different limit.

By law, every passenger must wear seat belts and children under 7 must be properly restrained with a child seat, which can be hired from GO Rentals.

It is illegal to use your mobile phone or GPS whilst driving, it must be completely hands-free.

New Zealand uses the same green and white destination road signs.
Differences with New Zealand Road Rules
It is recommended that you do not drink alcohol and drive. Under 20, there is a strictly enforced zero alcohol limit. For over 20, the limit is 50mg per 100ml of blood.

The New Zealand roads tend to be narrower than Australian ones, with only a single lane in each direction and fewer motorways.

The roads can be steeper and more winding through mountainous areas, so driving slower is necessary to be safe.

Weather conditions can change very quickly, and it is recommended to attach snow chains to your tyres in snowy and icy weather.
Things to know before driving in New Zealand
A self-drive holiday is the best way to see and admire the vast beauty of New Zealand. Although it seems like a relatively small country, most struggle to fit all their top destinations into their itinerary, especially when visiting both the North and South Islands. We have estimated it would take 28 days to do a full New Zealand road trip, starting and ending in Auckland. A month-long adventure sounds amazing but is not always possible so consider the following before planning your driving holiday:
There are many signs for "scenic lookouts" for you to park up and admire the scenery so keep your eyes on the road and take in the full view when you stop. Some areas may not require a full overnight stay, so check out the scenic lookouts along your route when planning.

You may want to base yourself in a city and do some awesome day trips instead to get the best of both worlds. There are incredible scenic drives from all of our major cities, check out our guide to

day trips from Christchurch

.

Even if you are not heading into remote areas, visiting drivers should still pack these

road trip essentials

to be on the safe side.

In some places, you can drive for 100 kilometres before you get to the next town. If you are feeling tired, plan for a rest stop before driving.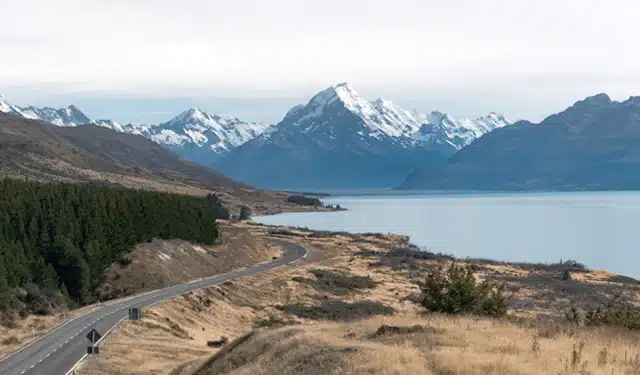 Things to know before hiring a car in New Zealand
We make the process of hiring a car with GO Rentals as smooth as possible, so let's cover some essential things to know before you book.
Will you need insurance?
As standard, we include a basic insurance policy into the price of our car hires which includes a maximum excess. There are 2 upgrade insurance options to reduce your excess liability. If you wish, you are able to cover your excess with a third-party insurance policy or travel insurance, but you would be liable to pay the full amount and then claim the amount from your insurer.
Can you drop off your car at a different location?
Of course you can. Take the stress out of rushing back to your starting location, you can simply book ahead to drop off at any of our GO Rental locations in New Zealand.
What are the rules about returning the car with a full tank of petrol?
All hire vehicles must be returned with a full tank of petrol. However, if you find yourself running low and you can't find anywhere to fill up then don't stress. Our team can fill this up for you and charge you the cost to fill and a possible $50 service charge.
What's the best car for you?
Another thing to consider is the car you will need to make your road trip as comfortable as possible. All of our vehicles are within the size limit allowed on your Australian driver's licence so you can focus on choosing the car for you.
Sustainability
If climate change is as important to you as it is to us, then you will be happy to know we have a full fleet of Tesla rental cars. Drive with peace of mind that your journey will be complete carbon neutral.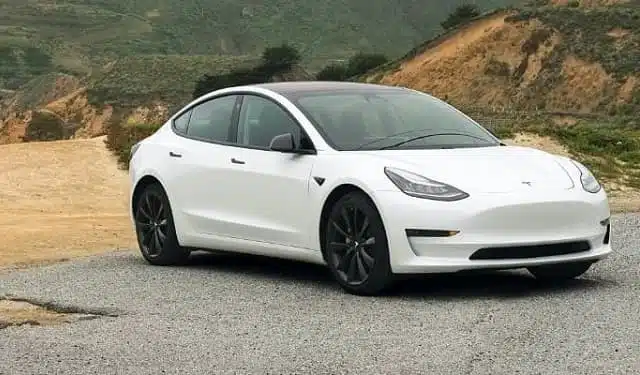 Families
Consider whether you will need an SUV or people carrier to fit in your whole family and all of your gear comfortably.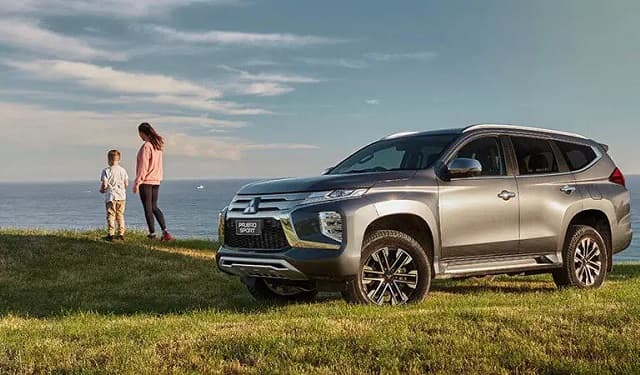 Short Drives
If you are planning to only drive around the city or plan some short day trips, consider hiring a smaller car to your costs, petrol and carbon footprint. We have an Auckland City car hire location with a range of cars suited to city driving.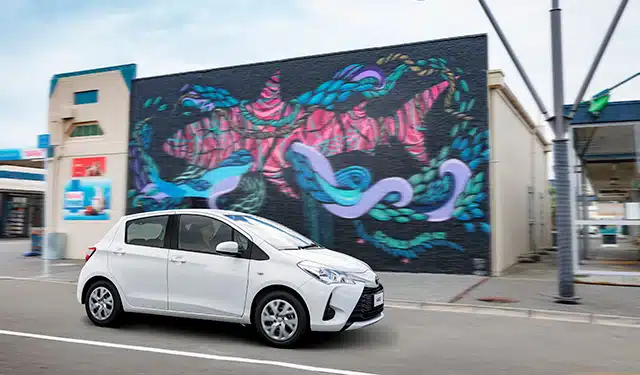 Check out all of our vehicles for rent and get GOing on your New Zealand trip of a lifetime!