Updated – 24 May 2020
Cardrona is known throughout New Zealand for its renowned Alpine Resort and its awesome ski area. While the resort is world-class and the skiing on Mount Cardona, equally so, there are plenty of other great things to see and do there.
To help you make the most out of your trip we thought we'd put together this travel guide so you can plan your own epic ski trip with a few extras as well!
View this post on Instagram
ABOUT CARDRONA
It's always good to know a bit about a place before getting there and Cardrona has a fascinating history. The town was established in the 1860s during the gold rush era along the banks of the Cardrona River. It was a popular hang out for prospectors and was actually named after a village in Scotland by a chap called JT Thompson.
One of the great things about Cardona is that much of its history can still be seen, like the famous Cardrona Hotel (est. 1863) and used by the Speight's Beer Brewery in their TV advertisements. Skiers started hitting the slopes at Cardrona in the late 1970s, the growth of which eventually led to the building of the stunning resort that visitors enjoy today.
THE CARDRONA ALPINE RESORT
The main attraction of Cardrona is, without doubt, the Cardrona Alpine Resort, a place where the world-class skiing and snowboarding is matched only by the quality of its great facilities. There's a lot to cover here so let's get cracking!
Cardrona ski fields
The Cardrona Alpine Resort covers 400 hectares of terrain that's split 25% Beginner, 25% Intermediate, 30% Advanced and 20% Expert. It's a great distribution and shows that it really does cater for all levels and abilities. The highest lift point is 1860m which isn't bad considering the summit of the Cardrona Mountain is 1936m and it has a vertical rise of 600m. The high altitude coupled with a great snow management system makes for superb snow conditions and the wide-open basins give you all the space you could want.
The 2020 ski season at Cardona will officially open on 26 June and runs until 18 October.
View this post on Instagram
Family-friendly services
Unlike some ski resorts, Cardrona is very family-friendly making it the perfect place for a ski holiday for all. If you've got really little ones under the age of 5 years old, you can take them to the Ski Kindy and for those a bit older 5 – 14 years, you have the Kids' Club. Both are a big hit with the kids as they run supervised programmes and ski and snowboard lessons that will show them the ropes. They even provide them with meals too which will keep them supercharged and nourished!
Terrain parks and half pipe
At the other end of the scale, if you fancy yourself a bit of a pro you can access and enjoy the awesome terrain park and pipe facilities at Cardrona. As a matter of fact, Cardrona has some of the most extensive terrain parks in the Southern Hemisphere. In total, they have four different terrain parks designed for all levels as well as the 22ft Olympic Superpipe (Winter Olympic and X Games standard) and the International Halfpipe for slightly more modest stunts.
View this post on Instagram
Rental equipment, ski storage, workshop repairs, medical etc…
As you can tell by the list above, the Cardrona Alpine Resort is about as well-resourced as it gets with just about everything ski-related covered. Whether it's equipment you need to rent, buy, store or repair you'll be able to do so when you're there. They also have your back if (in the unlikely event) you find yourself in a bit of bother with trained Ski Patrol and Snow Safety teams as well as on-site doctors, nurses and physiotherapists.
Restaurants and cafes
If there's one thing we can guarantee at the Cardrona Alpine Resort (other than a great time) it's that you won't go hungry. That's because there are 8 different eateries within the ski area to choose from. Five of these are based at the Base Area with most of the other facilities but there are an additional 3 placed at different points in the ski area. This includes the magnificent Vista Bar with views overlooking the entire area including the picturesque Wakatipu Basin.
View this post on Instagram
Ski Deals with GO Rentals
If you are currently planning a trip to Queenstown this winter to enjoy some world-class skiing, make sure you check out our Ski Deals page where you will find out more about our amazing winter promo deal with Cardrona and Treble Cone. When you rent with GO, you will save 10% on your Cardrona and Treble Cone Lift Passes. You can also save 10% on all your ski and snowboard rental gear with Snowrental when you rent with GO.
Queenstown Ski Deals from GO Rentals
MORE THINGS TO DO IN CARDRONA
As previously mentioned, there are many other great things to do in Cardrona and some equally amazing things to see. Here are the best of the bunch to fill your schedules!
Cardrona Distillery
When you go skiing there's nothing like a bit of apres-ski to see a day out. A great place to do this is at the Cardrona Distillery who produce a range of exquisite spirits including single malt whisky, gin, vodka, liqueurs and more. Visits to the distillery give you the opportunity to do the tour where you'll learn all about their unique distillery process as well as get the chance to partake in the all-important tasting. Their stunning stone building looks fantastic against the magical backdrop of the Cardrona Valley too.
Cardrona Bra Fence
One of the more unique and unusual attractions in the region is the Cardrona Bra Fence, that's right, the Cardrona Bra Fence. In case you're wondering if the name is a metaphor for something else, it isn't. It is very much a fence with an impressive number of bras strapped to it. This quirky attraction started as a tradition by (presumably but not verified) women in the 90s and quickly caught on as a thing to do and sight to see. The effort now represents a worthy charitable cause in the New Zealand Breast Cancer Foundation which visitors are encouraged to donate to.
View this post on Instagram
Cardrona Horse Riding
There is some spectacular backcountry and wilderness in the Cardrona Valley and the best way to experience it is the same way the pioneers did – on horseback! The good people at Backcountry Saddle Expeditions can make that happen with treks on their beautiful Appaloosa Horses. The guides are knowledgable and friendly and the scenery is absolutely stunning making it a wonderful all round experience.
Dog sled tours
If you liked the previous activity you're going to love this. A full on Arctic experience can be had at Cardrona in the form of dog sled tours organised by the team at Underdog New Zealand. They have over 40 Alaskan Malamutes and Huskies and offer a range of different summer and winter tours. You can learn to drive your own sled, hop in a basket with an experienced rider and/or even do a night ride! It's a totally amazing and memorable activity that'll give you great stories to tell.
View this post on Instagram
GETTING TO CARDRONA
Cardrona is short driving distance from both Wanaka and Queenstown (where most people will be staying) making it an easy and convenient destination to get to. From Queenstown, you head North and follow the picturesque Crown Range Road (just after Arrow Junction). From Wanaka, the journey is even shorter heading South on Cardrona Valley Road. Sometimes the road can get a little snowy so be sure to ask us about snow chains when picking up your rental.
CARDRONA – A SKIERS PARADISE AND MORE!
We hope you've enjoyed our (hopefully) helpful little travel guide to Cardrona. As you can see, there's plenty to see and do to satisfy all your skiing and snowboarding needs and more!
Related Posts
Book a vehicle for this trip
We recommend: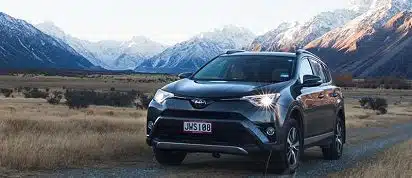 Intermediate 4×4
Toyota Rav 4
Seats

5 seats

Large Bags

3

Small Bags

4

Transmission

Auto trans