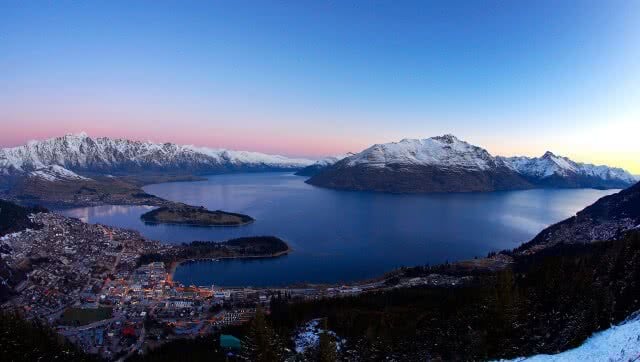 If you are looking for world-class skiing in the Southern Hemisphere, look no further than Queenstown.
Queenstown is a playground for Kiwis and international visitors alike and the city comes to life during the winter months when the rest of the country is hibernating and keeping out of the cold. Queenstown is the home of world-class skiing and snowboarding and a pretty amazing après-ski scene.
The Queenstown ski season typically starts off with the annual Real Journeys Queenstown Winter Festival – a wonderful four-day festival taking place from 7-10 July in 2022 – and from then onwards, it is the place to be during the winter months!
For those who have never paid a visit to Queenstown in summer or winter, there is no better time to break your duck and take the trip – it's an adventure you won't forget in a hurry!
Four ski fields, one awesome base camp
With four ski fields situated within 90kms of downtown Queenstown, it's not surprising to find so many Kiwis and travellers flocking to the city at this time of year. Unlike many resorts that will only offer up one specific type of terrain, with four ski fields, you get the best of all worlds from off-piste to parks to groomed runs. As well as offering up different terrain that suits all styles, the four ski fields surrounding Queenstown also offer up skiing for skiers of all abilities from complete novices to the pros making it a great place to come and learn or a great place to test your ability.
These are the four ski fields surrounding Queenstown:
Coronet Peak
25 mins from downtown Queenstown
Coronet Peak is the closest of the ski fields to downtown Queenstown and you can make it there in 25 minutes from the city centre. Shuttle buses do run to the slopes but if you want the flexibility to come and go to the mountains when you please, then a rental car is the way to go. We have all the add ons you need from snow chains to ski racks to GPS so finding your way around the ski fields will not be a problem.
Coronet is the only ski field of the four to offer up night skiing which is an awesome experience for those who have never tried it. The longest run at Coronet is 2.4kms and there is plenty of terrain for beginners and advanced skiers alike.
There are some great facilities at the resort including a crèche, kids' facilities, restaurants and bars so you can really make the most of your day. Typically the ski field is open from 9.00 – 4.00pm daily and keep an eye out for night skiing events.
The Remarkables
45 mins from downtown Queenstown
The Remarkables is the other big ski field area which is situated under an hour from downtown Queenstown. With a higher average snowfall than Coronet Peak, The Remarkables are an attractive proposition to skiers, especially those who like to off-piste. There is slightly more terrain for beginners at The Remarkables than Coronet Peak and again you can catch the shuttle from downtown Queenstown if you don't fancy the drive.
Catering extremely well for day-trippers, The Remarkables ski field has a crèche, facilities for kids, restaurants and a bar so you can really maximise your day. The slopes are open from 9.00am to 4.00pm daily and the views from this ski range are simply stunning. This is one of our favourite places to go skiing in the world and it feels like home to us in the winter!
Queenstown Ski Deals from GO Rentals
Cardrona
60 mins from downtown Queenstown
As we move further away from Queenstown and out towards Wanaka, you can take your pick where you choose to stay as the final two resorts are located somewhere in between Queenstown and Wanaka. It will take you around an hour to get to Cardrona from Queenstown but always allow extra time as the roads can get busy and the snowfall can impact your journey time. There is a shuttle service that runs from Queenstown every day and the ski fields are typically open late into the season towards the middle of October.
Cardrona has a similar set up to Coronet Peak in terms of terrain with around 25% of the field suitable for beginners, 50% for intermediates and 25% for advanced. The longest run at Cardrona is 4kms which is a big run and an attractive run for skiers of all abilities. As you would expect, the facilities at the resort are up there with the best with crèche, facilities for kids as well as restaurants and bars. If you are not worried about the Queenstown scene, then there is also accommodation available at the resort.
Great news for Go Rentals' customers is that Cardrona Snow Field is an exclusive GO Play partner so anyone showing their Go Rentals car keys will score a 10% discount on adult and child lift passes – boom!
Treble Cone
90 mins from downtown Queenstown
The final ski field of the four is Treble Cone and this is definitely a resort more suited to the advanced skiers and snowboarders with around 45% of the runs more suitable to advanced level skiers and only 10% for beginners. Treble Cone gets the highest average snowfall of all four resorts in and around Queenstown at 5.5m however it does have the shortest season running from late June to late September.
Like Cardrona, Treble Cone also has a long run at 4kms and the slopes are open daily from 9.00am to 4.00pm. As the journey from Queenstown will take you 90 minutes (on a good run) make sure you allow plenty of time to get to and from the resort. There are shuttle buses available from the city and these can get pretty busy so making your own way there and back is often the best way of guaranteeing a full day on the slopes, especially if you only have a limited amount of time in Queenstown.
Après Ski in Queenstown
As you can imagine, Queenstown has a very vibrant après ski scene and there is nothing better after a full day on the slopes than returning to Queenstown and getting a whiff of the log fires burning away, ready to welcome you in for a warm-up, delicious meal and some time with friends away from the slopes. Queenstown definitely has something for all tastes with over 150 bars, restaurants and cafes all ready to feed and water you after a day on the slopes.
Whilst Queenstown is definitely busier on the weekends, there is a pretty vibrant scene at night any day of the week. Whether you're looking to dance the night away or kick back with some fine food and finer wine, Queenstown has it all.
A Guide to Skiing in New Zealand
What are you waiting for?
Whether you're a skier or not, winter is our favourite time of year to visit Queenstown and immerse ourselves in some wintery goodness. We have some great deals on car rental in Queenstown and with all the accessories available, we're your one-stop shop for getting you out onto those slopes in double-quick time.
Related Posts
Updated: 17 May 2022