Can you do the Tongariro Alpine Crossing in winter? An excellent question and one we will be answering in this post so that you can plan properly and ensure you stay safe whilst attempting this awesome day walk.
Let's first take it back a couple of steps. You may have read our post talking about New Zealand's best one day walk and wondered 'How easy it is to do that walk during the winter months?'. Well, we hear you. The Tongariro Crossing is an amazing walk all year round but tackling it during the winter months is a different challenge altogether and one you need to be properly prepared for.
View this post on Instagram
What gear do I need to have?
Whenever you go for a tramp anywhere in New Zealand, there are some essentials you can't go without like suitable walking clothes, water, food, sunglasses, sunscreen and a fully charged phone. For doing a hike like this in winter you also need to include the following:
Hiking Boots that go above the ankles with decent tread and grip (no trainers or running shoes)
Winter warm jackets which can handle a good amount of rain
Fleece and thermal trousers & tops (with extras just in case)
Winter socks
Backpack
Ice axe
Crampons
Beanie and helmet
It's really important to take your gear and equipment seriously with the expectation you'll encounter the most wintry of conditions during your walk.
How long does the Tongariro Crossing take in Winter?
The Tongariro Crossing is 19.4km and takes about 8 hours to complete during the winter months. During the Summer, most people are able to do it in around 6 hours but the addition of wintry conditions such as snow means extra caution is required which means extra time.
You'll also need a decent level of fitness to safely (and enjoyably) finish the walk so this should also be taken into account as well.
View this post on Instagram
Do I need a guide during the winter months?
If you have little to no experience in hiking in New Zealand conditions during the winter months then a guide (or a guided tour) is very highly recommended. You can encounter severe alpine conditions on the Tongariro Crossing and experienced guides will be able to help you negotiate these, should they come to pass.
There are plenty of local operators who organise very highly rated guided tours of the Tongariro Crossing during winter. You can do smaller more intimate tours with a private guide or larger social tours with groups. It's just about doing a bit of research to find out which tour will suit you best.
If you want to attempt the crossing during the winter months, a guided tour is definitely the safest option no matter your fitness or levels of experience.
Plan your Tongariro Crossing adventure today!
Winter is such an awesome time to tramp the Tongariro Crossing. Whilst it might be cold, if you get one of those amazing cloudless winter days that New Zealand is known for in the winter, there is no better feeling than the cold air and the stunning snow-capped volcanoes all around.
This is one of our favourite things to do in the winter and you can even combine it with a long weekend away and squeeze in some skiing whilst you are in the area. The Tongariro National Park is a winter wonderland for outdoor enthusiasts and one of the most popular tourist destinations all year round. Make sure you pick up a rental car from GO Rentals and save money wherever you travel this winter with our exclusive GO Play card with some great deals with local tourism operators and providers in the area!
Related Posts
Book a vehicle for this trip
We recommend: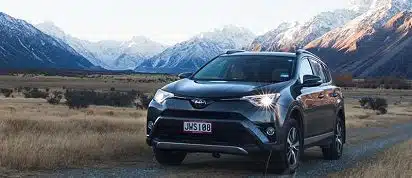 Intermediate 4×4
Toyota Rav 4
Seats

5 seats

Large Bags

3

Small Bags

4

Transmission

Auto trans
Updated: 7 June 2022