Looking for ideas of things to do in Ohakune? You've come to the right place. Ohakune is a popular destination for Kiwis and international visitors alike and is a great destination all year round. In the summer months, Ohakune is a great destination and base for those who love the outdoors and in the winter, many people flock to the area as a base for skiing in the North Island. It's also the carrot capital of New Zealand!
Whilst Ohakune is not always the first place on the list of 'must-visit' places here in New Zealand, however, we're here to change that (well, maybe it still won't be in first place but we hope you add it to your list of places to visit 😊). The reason we are so confident about Ohakune is that there are a surprising number of really cool things to do in Ohakune.
The small town of Ohakune, just south of the Tongariro National Park, is "world-famous" in New Zealand thanks largely to the monumental carrot that greets visitors when they arrive. You'll be pleased to know that there plenty of other things to do in Ohakune as well as the surrounding area. So if you're also looking for things to do in Mount Ruapehu or in the Tongariro region in general, you've come to the right place. Here are some of our favourites:
1. Canoe Safaris
We start with one of the most highly-rated things to do in Ohakune which is to go on a canoe safari. Ohakune is close to some amazing natural wonders including the Whanganui River. The team at Canoe Safaris offer guided canoe tours from 1 – 5 days in length. They are great little adventures to go on with some amazing scenery and historical landmarks, like Maori village sites, to see along the way.
View this post on Instagram
2. Vertigo Climbing Wall
Considering how mountainous the surrounding area is, it comes as no surprise that you can do a bit of climbing in Ohakune. Vertigo Climbing in the middle of town boasts a number of climbing walls with the highest being 10 metres high. It's a really fun place, especially for the kids and is a safe way to introduce them to climbing. The friendliness of the staff is a common theme of the feedback they get and it's a great thing to do for a full-body workout too!
View this post on Instagram
3. Hapuawhenua Viaduct
New Zealand is one of the best countries in the world to enjoy a nice stroll and Ohakune has some great walks to enjoy. The Hapuawhenua Viaduct walk is one of those as a comfortable 2 hour return walk that takes in some fascinating sights. It follows a section of the Ohakune Old Coach Road that takes you through the Hapuawhenua Tunnel and the extremely impressive Hapuawhenua Viaducts. Some great vantage points to take advantage of in this walk giving you some great photos to share.
View this post on Instagram
4. Mangawhero Forest Walk
The Mangawhero Forest Walk is another great track to enjoy that can be easily completed in an hour. It's a walk that takes you past some captivating natural highlights. This includes the Mangawhero River (which originates from the slopes of Mount Ruapehu), the lush Mangawhero Forest and a large volcanic crater (since filled in by swampy vegetation). There are lots of native birds to spot along the way and some interesting information boards explaining its history.
View this post on Instagram
5. Mountain Biking
If you're a fan of mountain biking you'll be able to take on some world-class bike trails during a visit to Ohakune. As a matter of fact, it is becoming one of the most popular destinations for mountain biking of any of those found in the country. Mountain Bike Station is a great place to start if you're interested as they offer bike rental, shuttle services and tours exploring some of the best trails in the region. The most epic of these is the 'Mountains to Sea' trail, a 3 – 5 day experience that takes in some of the most breathtaking sights around!
View this post on Instagram
6. Ohakune Carrot Adventure Park
As you may have guessed from our intro, carrots are a big thing in Ohakune with the town's connection dating back to the 1920s when Chinese settlers began growing them. They now supply two-thirds of the carrots for the whole of the North Island which is why they have their own Carrot Adventure Park. It's a place that celebrates their heritage and all things carrots through a variety of different activities. This includes play equipment, picnic spots and statues to take selfies with. A fun way to spend a few hours.
View this post on Instagram
7. Ohakune Mardi Gras
New Zealand host some unique festivals throughout the year and up there with the best of them is the Ohakune Mardi Gras. It's a festival that's heralded as one of the biggest winter parties in the country. They've attracted some great names in the past like Conchord Dawn, Mitch James, Chase and Status and more. Like Mardi Gras around the world, there's lots of colour, dancing and fun that's had.
View this post on Instagram
8. Ohakune Museum
It's always good to learn a bit about the places you visit on a road trip and the Ohakune Museum is a great place to do exactly that. The museum is actually a bit of specialist museum as it focusses on the railways. Ohakune was, unfortunately, the place of a rail tragedy known as the Tangiwai Disaster, which the museum pays tribute to. It also has a lot of historical memorabilia that provides a fascinating insight into the town as a whole.
View this post on Instagram
9. Ohakune Old Coach Road
If you really want to stretch the legs then you'll be able to do so along the Ohakune Old Coach Road. As briefly mentioned earlier, you can actually do part of this during the Hapuawhenua Viaduct walk but the complete walk takes a respectable 4 ½ hours. If that's a bit too long you can also take a bike on the track which saves you a couple of hours. Either way, you'll see some great things like the steel viaducts and remnants of the old rock quarry.
View this post on Instagram
10. Ohakune Top 10 Holiday Park
With such beautiful wilderness at its doorstep, a great thing to do in Ohakune is a bit of camping. The Ohakune Top 10 Holiday Park is a great place to do this with their own powered and non-powered campsites to go with their cabins and units. They have all the facilities you'll need like recreational gear hire, BBQ areas, kids playground and a Kids Club too. A lovely place to stay with the peaks of the Tongariro National Park in the background.
View this post on Instagram
11. Rimu Walk
If you're after a short but sweet type of activity then the Rimu Walk is the one for you. At 600m long, the loop track can be done in around 15 minutes and gives you a nice, quick impression of our native bush. The ancient Rimu trees are the stars of the show and the informative displays explain their cultural significance. With the sound of the gentle mountain stream and birdsong in the background, it's a very pleasant way to spend your time.
View this post on Instagram
12. Skiing
There are some awesome seasonal activities to enjoy in Ohakune and the biggest of them all is skiing. During the ski season (June – October) visitors to Ohakune are able to choose between the Turoa Ski Field and the Whakapapa Ski Field, both on the slopes of Mt Ruapehu. They are some of the most popular ski fields in the North Island (and the country) and are a great way to enjoy the winter season when travelling here. Both ski fields have all the facilities you need and are great places to take the family.
View this post on Instagram
13. Tangiwai Rail Disaster Memorial
As previously mentioned, Ohakune was the site of the Tangiwai Disaster, a railway accident which saw 151 people lose their lives on Christmas Eve in 1953. It was caused by a lahar (volcanic mudflow) from Mount Ruapehu that had swollen the river, flooding the tracks which the express train crashed into. It still remains one of the worst tragedies in our nation's history and the memorial, recently upgraded in 2017, is a touching tribute in memory of the victims.
View this post on Instagram
14. Tongariro Crossing
The most popular one day walk in the country (and arguably the best) is the Tongariro Crossing, a must-do activity when staying in Ohakune. The walk is one that fills you with wonder as you come across one awe-inspiring sight to the next. From the impressive Red Crater to the shimmering Emerald and Blue Lakes, you'll be hard-pressed to recall anything more breathtaking. It's a decent walk at around 7 – 8 hours so good hiking boots, clothing and supplies are recommended.
View this post on Instagram
15. Waitonga Falls Track
If you're an avid waterfall chaser, the Waitonga Falls will be one you'll want to check off the bucket list. The track sits in the Tongariro National Park and is very well maintained with some great boardwalks passing a diverse range of landscapes. The waterfalls themselves are equally impressive and at 39m are the highest in the park. At 1 hour 20 minutes, it's an extremely doable walk as well.
View this post on Instagram
Some great things to do in Ohakune
As you can see, there are some great things to do in Ohakune. From outdoor activities to climbing walls and festivals you'll have plenty to keep you busy and plenty to remember after it's all done!
Related Posts
Updated: 25 August 2022
Book a vehicle for this trip
We recommend: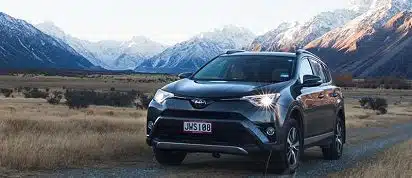 Intermediate 4×4
Toyota Rav 4
Seats

5 seats

Large Bags

3

Small Bags

4

Transmission

Auto trans