The Tongariro Crossing is one of the jewels in New Zealand's great walking crown. With so many amazing walks to choose from in both the North and the South Islands, why is it that so many people flock to the Tongariro National Park every year? And why does this 19.4km tramp regularly top the charts as New Zealand's best one day walk? Let's take a closer look…
The Tongariro National Park
First up, let's take a look at the park itself. The Tongariro National Park has dual World Heritage status for its cultural and natural significance. It is also New Zealand's oldest national park so it is steeped in history.
The Tongariro National Park is considered a pretty big deal in New Zealand and to global visitors. It's not only the nation's oldest national park, but is acknowledged by UNESCO as one of the 28 mixed cultural and natural World Heritage Sites for its deeply spiritual Maori ties and outstanding volcanic features. Three active volcanoes; Tongariro, Ngauruhoe and Ruapehu encircle the park, so it's amazingly rewarding for the thousands of tourists and natives that flock here to delight in an array of activities; especially in wintertime when unique volcanic skiing opportunities arise.
The Tongariro Crossing
Given all this history and heritage, it's no wonder that the 19.4km Tongariro Crossing is not only rated as New Zealand's best one day walk, but also one of the top ten in the world. The crossing itself does require a decent level of fitness. It takes the average walker around 7 hours to complete and is hilly in parts. There are however great rest stops along the way and all who take on the Tongariro Crossing are well rewarded for your efforts.
This is a one way walk and there are a number of transport companies who will drop you off at the start and return after 7 hours to pick you up at the other end. Most people start at Mangatepopo Valley and finish at Ketetahi Hot Springs as this is the best way to really enjoy the landscape. As New Zealand's most popular one day walk, the track can get busy so we recommend catching the earliest bus possible to try and beat some of the crowds.
Features of the Tongariro Crossing
From start to finish, the walk is pretty breath taking as you meander through the valley with volcanoes all around. The toughest part of the walk is undoubtedly the Devil's Staircase which will take you up 200m rising from 1,400m to 1,600m. It's a bit of a pull but once you catch your breath at the top, you will know why it was all worth it. From your position at the top of the climb, you are rewarded with stunning views down over the Emerald Lakes. These stunning water-filled craters get their turquoise colour from the sulphur that leaches from the nearby thermal area. The smell can be a bit pongy but we have always found this a great place for a spot of lunch. The view up here are spectacular as you get a clear vista of all three volcanoes and if you're lucky and get a clear day, you can see all the way over to Mt Taranaki.
Climbing Mt Doom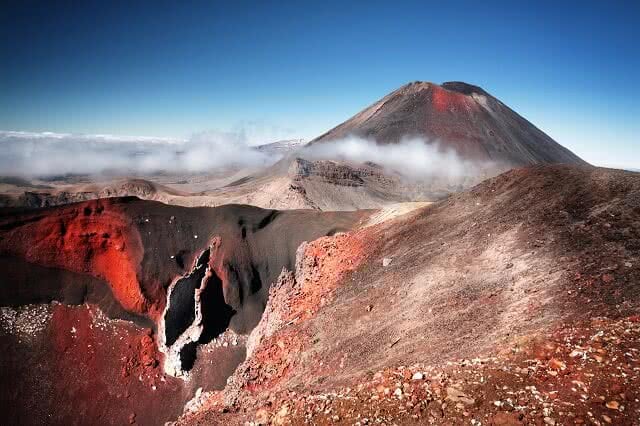 The walk attracts Lord of the Rings fans by the dozen, all in search of Mt Doom. Mt Ngauruhoe was the mountain used to depict Mt Doom in all of the Lord of the Rings trilogy movies and if you are super-fit and feeling adventurous, you can take a side trip and climb to the summit of Mt Doom. Be warned however that this does add at least two hours to your tramp and the path up Mt Ngauruhoe is not marked. It is also super-steep so be prepared for a tough challenge but the bragging rights and Instagram likes will be worth it!
Other things to do in Tongariro National Park
In summer, hiking and climbing are popular attractions, though the area comes even more alive in winter when skiing and snowboarding prove to be massive draw cards. It doesn't matter that Tongariro's volcanoes are active. Visitors remain undeterred and instead embrace the opportunity to ski down volcanic slopes and hike their craters. This is likely due to the fact that a proficient monitoring system at the park provides early warnings of eruptions on the horizon.
Tongariro National Park is also renowned for hunting, game fishing, rafting, mountain biking, horse riding and scenic flights. Visitors can take part in these activities at their own leisure or with guidance from local tour operators. Mountain Air offers breath taking views whilst soaring over live craters, lava flows, glaciers and spectacular lakes for the ultimate picturesque display.
Since there is literally a multitude of things to do and must-see's at Tongariro National Park, why not turn your day trip into a mini holiday by staying nearby? The Park Travellers' Lodge offers top quality, modern accommodation right in the heart of the park for budget prices. Self-contained Alpine Apartments are available for reasonable rates.
Related Posts
So, whether you fancy some winter skiing or taking on the challenge of the Tongariro Crossing, a trip to this beautiful part of the world should be a must on anyone's New Zealand bucket list. If you're planning a weekend getaway to take on the challenge, make sure you check out our 3 day road trip itinerary that gives you loads of tips on places to stop off and things to do on the journey from Auckland to Tongariro.  We should also mention that whilst the Tongariro Crossing is widely regarded as the best one day walk in New Zealand, the Pouakai Crossing in the Egmont National Park is quickly catching up and tends to be a bit quieter. You can find out more about the walk here.
Book a vehicle for this trip
We recommend: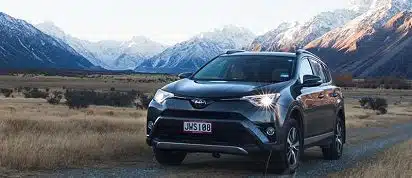 Intermediate 4×4
Toyota Rav 4
Seats

5 seats

Large Bags

3

Small Bags

4

Transmission

Auto trans