Stomach-churning roller coasters, impossibly high water slides, centres for growing young minds, no two theme parks are exactly alike. For a relatively small country, New Zealand's range is wide and caters for all tastes, ages, interests, and levels of adventure.
Spending a day at a theme park in the middle of a trip is a great way to break up a holiday that'll probably (with good reason) be dominated by natural, scenic and cultural attractions. The intense fun that can be had on an amusement park ride can rarely be matched and can be surprisingly refreshing.
Because our customers visit all parts of New Zealand, we've put together a list of some of the best theme parks in this country so you'll have options at the ready no matter where you are!
1. Rainbow's End – Auckland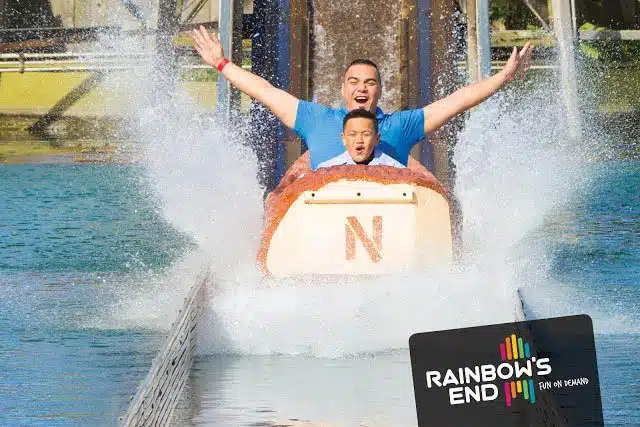 Complete with its own park characters like Rai and Bow, Princess Sapphire and Enzo the Magician, Rainbow's End is the quintessential theme park and the largest one of its kind in New Zealand.
Rainbow's End opened in 1982 and is situated in Manukau City, a 20-minute drive from the Auckland CBD. The theme park is stacked with over 20+ rides with impressive names such as The Invader, Power Surge, Corkscrew Coaster and the Stratosphere.
A family-oriented establishment, the roller coaster and log flume are favourites that have stood the test of time and the specially-designed area called the Kids Kingdom is a big hit with the littlies. Rainbow's End regularly hosts special night time events, often to raise money for charity, which are great events to be a part of.
2. Spookers – Auckland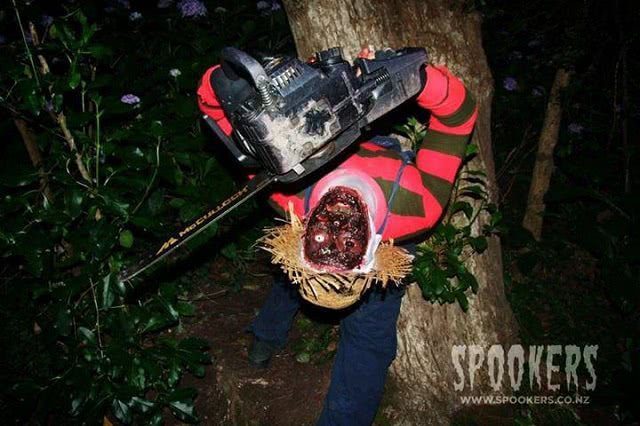 One of the highest rated and unique amusement park attractions can also be found in South Auckland at the site of a former psychiatric hospital also said to be one of the most haunted places in New Zealand.
We're of course talking about Spookers, widely regarded as the No.1 haunted attraction in the Southern Hemisphere. It's a compellingly immersive experience where visitors move through terrifyingly themed rooms and sets and are engaged by live actors with the end result being a night full of frights. The craft, costuming and makeup are on another level making the experience all the more realistic and convincing.
Whilst the Haunted House is the main attraction, there are others to choose from as well including The Woods, Disturbia and Cornevil. We'll leave those ones for the imagination whilst recommending the whole experience as something you won't want to miss.
3. Agrodome – Rotorua
For a more educational experience, two and a half hours down the road in Rotorua you'll find the Agrodome.  Located on a working 350-acre working farm, the award-winning Farm Show offers a rare insight into how a farm is run and be introduced to 19 different species of sheep. You'll also be shown just how clever the farm dogs are and if you volunteer quick enough, get the chance to milk a cow or feed a baby lamb on stage!
You can also do the Agrodome Farm Tour which will get you interactions with a host of additional animals like alpaca, deer, llamas, ostrich and pigs! Afterward, you'll also be taken through the fruit orchard and olive grove and be given the chance to taste some refreshing kiwifruit juice and sweet honey!
It's a great educational and entertaining experience for the whole family to enjoy.
The Agrodome is a GO Rentals partner which means our customers get a 10% discount when using their GO Play card!
4. Velocity Valley – Rotorua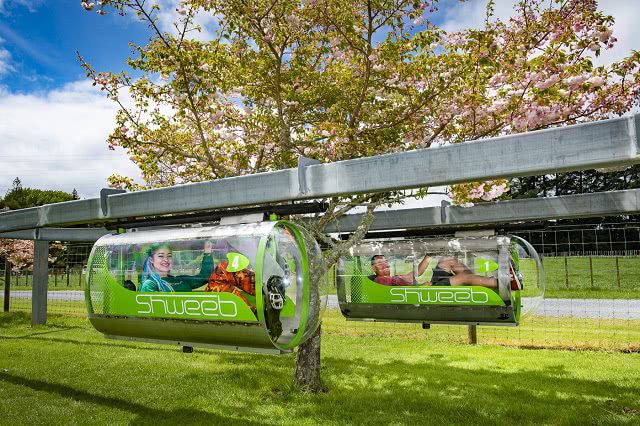 Only a few minutes away from Agrodome is Velocity Valley (previously known as Agroventures) where adrenaline-junkies can test their skills, stamina and courage in a range of exciting and exhilarating experiences. The attractions/rides are particularly inventive and unique and chances are you won't find the likes of them anywhere else in the world.
It's hard to know where to start here, but one of the most popular and ingenious is the Schweeb Racer. Even its name is brilliant. A Shweeb Racer is an aerodynamic racing pod, suspended on a custom-built monorail type track, powered by foot pedal. Sounds a little complex, but when you see it in action, makes perfect sense and is set up so you can race your friends in a 3 lap circuit.
It's great fun, and that's only one of the attractions they have. Others include the Swoop, Freefall Xtreme, Agrojet, Freestyle Airbag and the Rotorua Bungy!
It's such a fun place so long as you have the energy to match!
5. Splash Planet – Hastings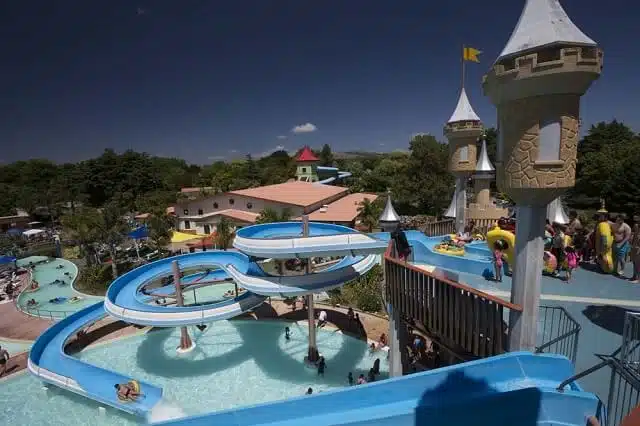 Splash Planet, as its name suggests, is a largely water-based theme park in Hastings on the east coast of the North Island. It was originally opened as 'Fantasy Land' in 1967 as a traditional theme park before re-inventing itself as a water park called 'Splash Planet' in 1998.
Since then, its grown in popularity year-to-year to become one of the most highly rated water parks in the country boasting 12 wet rides and 7 dry rides.
Like all good water parks, there are some great slides to choose from like the Master Blaster, Sky Castle Screamer, Sky Tunnel, Super Cruiser and Single Dipper. Kids will also spend hours in the very popular Never Ending River which is great fun with foam mat in hand.
Those who enjoy a bit of pirate play will get a kick out of the Pirate Fortress and Pirate Run while those keen on on-water activities can enjoy the Bumper Boats and Kayaks. If you want fun without getting wet, then the dry rides including the Fun Karts, Jungle Jeeps and Flying Fox will keep you entertained.
It's a great summer season attraction open between the months of November – April.
6. International Antarctic Centre – Christchurch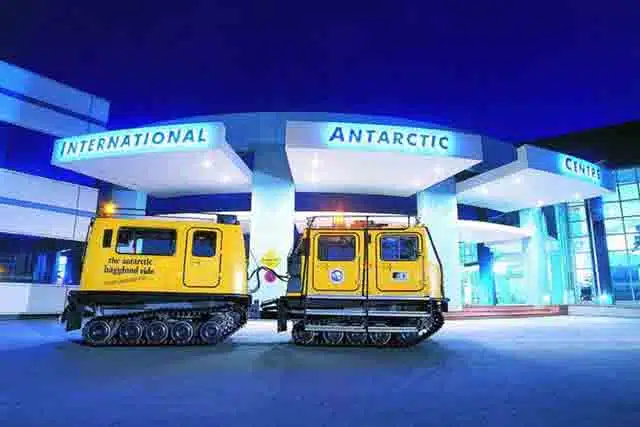 The vast majority of the world's population will never experience the extremes of Antarctica. In an attempt to highlight its global significance the International Antarctic Centre, located inside Christchurch International Airport Complex, has brought the 'frozen continent' to us.
The centre offers visitors the opportunity to experience the all-terrain amphibious Hagglund ride, feel the force of an Antarctic storm, 'participate' in a simulated Ice Voyage and watch a film that takes in the continent's seasons.
There's also the extremely popular Penguin Encounter, home to 26 Little Blue Penguins who have their own naturally themed environment. They also have their own Husky Zone where you can get up close and personal with these beautiful dogs.
The International Antarctic Centre is a GO Rentals partner which means our customers get a 10% discount when using their GO Play card!
7. Skyline Queenstown – Queenstown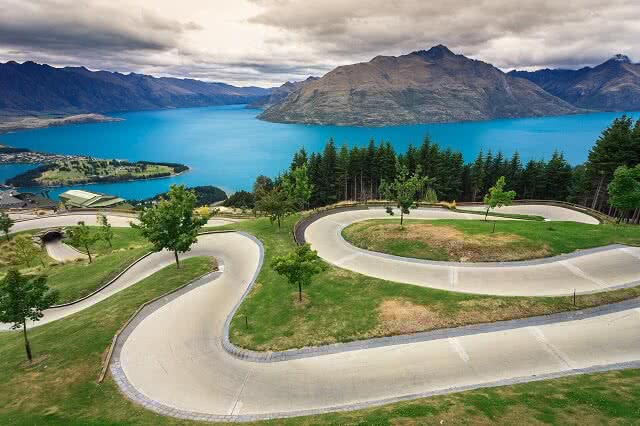 Queenstown as a city is almost one big theme park in itself, given how many attractions it has to boast. Of the best of these, Skyline Queenstown sits close to the top as an exciting experience for all.
Skyline Queenstown has some great rides to enjoy including one that gets you there in the first place which is the Gondola. The Gondola is New Zealand's version of a cable car ride, and this one takes you up 450m to the top of Bob's Peak where you can enjoy stunning views of the city and scenery below.
It's also where you can enjoy the other rides like the world famous Luge, a fast-paced ride that allows you to twist and turn down a sloped track against your friends with two different tracks!
You can also enjoy a Maori cultural experience with a performance of a Haka and Poi display, dine at the restaurant and/or cafe, visit the Jelly Bean store and do some stargazing too!
Conclusion
As unique as they are, this country's theme parks are tied together by one simple unifying theme – fun. Be sure to save a day to visit one of these for your next trip to New Zealand.
Related Posts
Book a vehicle for this trip
We recommend: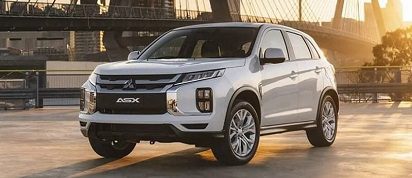 Compact SUV
Mitsubishi ASX
Seats

5 seats

Large Bags

1

Small Bags

2

Transmission

Auto trans