Rotorua is GO Play central. If you are looking to maximise your discounts with your exclusive GO Play card, head to Rotorua. We have no less than 19 GO Play partners based in the geothermal capital and that means two things:
There are loads of awesome activities to get involved with in Rotorua
You will save a shed load of cash when you rent your car with GO Rentals
We've already covered a few of these amazing partners including Wai-O-Tapu and Tamaki Maori Village but we wanted to give you a bit more rough and tumble for those of a more adventurous disposition. River Rats are one of New Zealand's premier operators when it comes to whitewater rafting and kayaking. Based in the heart of Rotorua, these guys have been drenching people for over 30 years on some of New Zealand best rapids including New Zealand's highest commercially rafted waterfall. Now that's pretty impressive stuff.
So, let's take a deeper look at all the tour options available with River Rats.
Kaituna River
Let's start with the biggie. The Kaituna River is located just 15 minutes from downtown Rotorua and is the home of the highest commercially rafted waterfall. Fast and furious, this exhilarating 'ride' takes you through bubbling, foamy water towards the 7 metre drop before sending you over the edge.
Whilst this may be a Grade 5 whitewater rafting trip, every rapid is followed by calm water giving you time to sit back and enjoy the ride and catch your breath for the next adventure. That makes it a great experience for all levels and beginners are welcome. Go on, you know you want to!
Wairoa River
Another grade five rafting experience can be had on the Wairoa River. This one is located about an hour's drive from Rotorua between Matamata and Tauranga and is a great place for a group outing or team building experience. The Wairoa River is hydro-controlled and the trip is only available on 26 days of the year so be quick and book today – it's a pretty unique experience!
Rangitaiki
If you are looking for something a bit less 'hardcore' then the Rangitaiki trip offers up a number of options from Grade 2 through to Grade 4. The Grade 2 scenic trip is an awesome kayaking experience where you will get to paddle across Lake Rotoiti across to an amazing spot only accessible by boat. Situated right on the edge of the lake are some natural hot pools which feed from the Manupirua Hot Springs – a great way to relax.
The Grade 3 and 4 routes give you the chance to enjoy some whitewater rapids including 'Geoff's Joy'. This trip down the Rangitaiki River will also take you through beautiful native and plantation forest and is a really nice way to see parts of Rotorua you might usually miss.
Sledging
Yup, you read that right. River Rats also offer a sledging trip but this one is not the usual sledging down the white powdery stuff, but down the white frothing waters of Rotorua's famous Kaituna River. You are in control of your own purpose-built sledge as you take the ultimate adrenaline experience and get up close and personal with the river. Controlled by flippers on your feet, you will be in complete control of your own destiny – we love this activity so give it a go (only available from December to April)
River Rats are one of our favourite partners and they also have some pretty awesome packages if you are looking to combine 2 or more of the activities above. Whitewater rafting is a must on a visit to New Zealand – it's up there with bungy jumping and skydiving and one for the Instagram account. Make sure you check out River Rats when you're next in Rotorua and hire your car with GO Rentals to save 10% with your GO Play card.
Planning a trip to Rotorua?
If you are planning a trip to Rotorua and you are looking for some top tips on places to stay, where to eat out and what to do when you're there, make sure you check out our awesome Complete Guide to Rotorua where you will find loads of useful tips thanks to our awesome GO Explorers.
Book a vehicle for this trip
We recommend: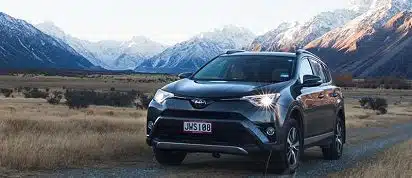 Intermediate 4×4
Toyota Rav 4
Seats

5 seats

Large Bags

3

Small Bags

4

Transmission

Auto trans