Rotorua is one of New Zealand's best places to visit when it comes to tourist attractions. The geothermal capital of NZ is renowned for the geothermal attractions that bring tourists flocking every year. Whether it's the stunning champagne pools at Wai-O-Tapu or maybe the famous Pohutu Geyser, there is a lot going on when it comes to geothermal activities.
Rotorua is also one of the best places to visit in New Zealand if you want to find out about the country's rich heritage and learn more about the Maori culture that has shaped the country we know and love today. There are a number of opportunities to learn more about the Maori culture including the Mitai Maori Village and Te Puia. One of the best ways to learn more however is at the Tamaki Maori Village – the most award-winning cultural attraction in New Zealand. The great news for everyone who rents their car with GO Rentals is that Tamaki Maori Village is an exclusive GO Play partner scoring you a 10% discount! Find out more about this fantastic attraction and make sure you use your GO Play card on your next visit.
Evening Experience at Tamaki Maori Village
The most popular activity at Tamaki Maori Village is the evening experience. You will be transformed back in time as you journey to an authentic Maori village nestled in a Rotorua forest. After a formal welcome onto the sacred grounds, you will be free to explore the village as you wander between the crackling fires and discover more about live in a Maori village. You can learn more about traditional art forms, ancient rituals and Maori traditions on your walk around the village. There is also the opportunity to get really interactive and learn the haka (Maori war dance) as well as taking part in warrior training.
Following your exploration of the village you will be treated to a traditional Maori hangi feast with food cooked in the traditional way on hot rocks buried under ground. The food is out of this world and really caps off an amazing experience, learning more about the Maori culture and helping you to understand more about how New Zealand was shaped over the years.
Overnight stay
If you really want to take your cultural experience to the next level, you can add on an overnight stay to your evening experience. Spending a peaceful night immersed in the Maori village is a great way of taking a step back from the hustle and bustle of modern day life. On top of all the activities in the evening experience, you'll also get the opportunity to sit around a traditional camp fire and learn more about Maori myths, legends and stories from history. After that, you can take a little step back into the modern era and relax in one of the stunning hot forest spa pools.
The opportunity to spend the night in this beautiful forest is a great opportunity to do something different on your trip around New Zealand and is highly recommended.
Tamaki Maori Village is an experience like no other and a 'must do' on any trip to Rotorua. New Zealand has such a rich heritage and this is celebrated like no other place in the country at Tamaki and other attractions on Rotorua. With your exclusive GO Play Card, you can save money on a wide range of attractions in Rotorua so make sure you check out where you can save and get planning your next trip to Rotorua.
We have heaps of road trip itineraries that will take you to Rotorua and you can also check out our awesome Complete Guide where you will find the best places to eat, play and stay. Check out our great deals on car rental in Auckland or car hire in Wellington and find out why we're one of New Zealand's favourite rental car companies.
Book a vehicle for this trip
We recommend: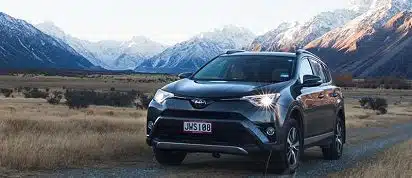 Intermediate 4×4
Toyota Rav 4
Seats

5 seats

Large Bags

3

Small Bags

4

Transmission

Auto trans