New Zealand is well-established as a beautiful country. That much everyone knows. There are also many other interesting things to learn about Aotearoa (the Maori name for New Zealand meaning 'the land of the long white cloud'). We decided to do some research and put together this list of 15 interesting facts about New Zealand to enrich what you know about our beloved country.
1. We're the first country to see the sunrise
View this post on Instagram
We start off with a mildly controversial one as the knowledgeable among you may know that Samoa is technically the first country to welcome the new day. However, thanks to the curvature of the Earth, the North Island city of Gisborne on the East Coast is the first to see the actual sunrise!
It's a great place to visit, particularly on New Year's Eve if you're a party animal, as it really kicks off. It's otherwise a good one to tick off the bucket list and the East Coast is an amazing place to visit. Read more about the world's first sunrise.
2. 'God Save The Queen' is an official national anthem of New Zealand
View this post on Instagram
No one in our team actually knew this, but 'God Save the Queen', England's national anthem, is (and was) the first national anthem of New Zealand. As a matter of fact, we're one of only two nations in the world to have more than one, the other being Denmark.
Our more widely recognised national anthem, 'God Defend New Zealand', didn't become the second national anthem until the 1970s by petition (with the Queen's blessing). That's all but taken over but if you're at a particularly regal event you might hear 'God Save the Queen' in full voice.
3. First country to give women the vote in 1893
View this post on Instagram
One of our more honourable New Zealand facts is that we were the first country to give women the vote in 1893. This was due, in no small part, to Kate Sheppard, an iconic figure in the women's suffrage movement.
Her efforts in gathering 30,000 signatures for parliament led to the establishment of universal suffrage and for that, she can be seen on our $10 note. As well as this, we were also the first country to have our three top positions held by women. These were Helen Clark (Prime Minister), Dame Silvia Cartwright (Governor General) and Sian Elias (Chief Justice).
4. We conquered Everest and discovered the proton
View this post on Instagram
Kiwis have a great track record of being experts in the very big and very small. This is proved by the fact that we were the first to conquer Everest and the first to discover the proton!
The two New Zealanders responsible for the above feats were, of course, Sir Edmund Hillary and Sir Ernest Rutherford. Interestingly, they are often mistaken for being British but they are Kiwis through and through. They also both have the honour of appearing on our $5 and $100 notes respectively.
5. Taumatawhakatangi – hangakoauauotamatea – pokaiwhenuakitanatahu
View this post on Instagram
This epic word is actually the name of a 300-metre high hill in the beautiful Hawke's Bay. What's so special about it, as you may have guessed, is that it is the longest place name in any English speaking country in the world.
There are 40 syllables in the place name which is a great one to practice to impress the locals. If that's a bit beyond you, you can use its shortened name of 'Taumata'.
6. Volcano country
View this post on Instagram
New Zealand is, you could say, slightly precariously placed on what's known as the Pacific Ring of Fire. Quite a few of them are classified as still being active including the iconic Mt Ruapehu otherwise known as Mt Doom from The Lord of the Rings.
On top of this, our biggest city, Auckland, sits on a large volcanic field of approximately 53 volcanoes. You need not worry though as the last eruption there was about 500 years ago and is most probably unlikely to erupt again.
Book a vehicle for this trip
We recommend: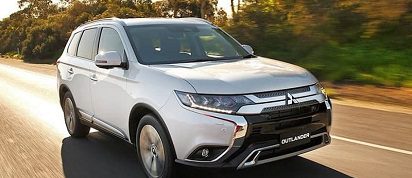 Large SUV
Mitsubishi Outlander
Seats

5 seats

Large Bags

1

Small Bags

2

Transmission

Auto trans
7. Clearest waters in the world
View this post on Instagram
People often talk about our pristine scenery and clear waters and they're not just being nice. It's actually true!
The Blue Lake, in the Nelson Lakes National Park, currently holds the record for having the clearest waters in the world. Remarkably it has a visibility range of up to 80 metres. Its Maori name is 'Rotomairewhenua' which means 'Lake of Peaceful Lands'.
8. Our insects are big
View this post on Instagram
If you're a bit adverse or have a phobia of the creepy crawlies, then New Zealand may not be the place for you. That's because our insects have a habit of being very big.
One of our best examples of this is the Weta, the largest insect in the world, which has ears on its knees, loves carrots and weighs in at 70g. Another is the Powelliphanta snail which has a carnivorous diet of earthworms (which it sucks up through its mouth), weighs 90g and can live for up to 20 years.
9. Our birds were big
View this post on Instagram
As well as big insects, there was a time when our birds were especially big as well. No, we're not talking about our kiwi birds. We're talking about the Moa and the Haast Eagle.
The Moa was a giant flightless bird, the largest species of which were as tall as 3.6 metres and 230 kg. The only predator species of Moa (other than man) was the incredible Haast Eagle, the largest species of eagle to have existed, weighing 15 kg with a wingspan of over 2.5 metres and an attack speed of 80km/h.
10. Our dolphins, not so big
View this post on Instagram
Like our achievements, our animals are either very big or very small and in this case, the latter. Hector's Dolphins (closely related to our Maui Dolphins) are recognised as the smallest dolphins in the world at 1.5m in length.
These beautiful creatures, with rounded dorsal fins and shades of white, grey and black are also very friendly. So much so that you can swim with them in the hidden gem that is Akaroa. An amazing experience to include on your next trip.
11. A land of a lot of sheep
View this post on Instagram
New Zealand is well known for its huge industry of agriculture and farming but most don't realise just how big it is.
There's a bit of debate about this, but the generally accepted consensus is that there are 9 sheep to 1 person living in New Zealand. That puts the total number at around 40 million sheep. When visitors hear that they must think they'll see sheep walking the city streets and relaxing at the beaches. You're actually more likely to see them in the countryside during your epic road trips.
12. And a lot of cars!
View this post on Instagram
Speaking of driving, cars are just as prevalent in New Zealand! It's not quite to the tune of 9:1 people ratio, but they estimate there are 2.5 million cars on our roads. That's a fair few considering there are only around 4.5 million people!
The car has always been the number one choice of travel in New Zealand. The roads are pretty good, the scenery is very good and you have the freedom to go where you want, when you want. We've got plenty more information about driving in New Zealand so feel free to check it out!
13. Plenty of cheese and butter to go around
View this post on Instagram
We've already mentioned the scale of farming in New Zealand and that results in a lot of two things. Cheese and butter. A crazy amount of it.
How crazy? Well, New Zealand produces the equivalent of 100 kg of butter and 65 kg of cheese each year for every person in New Zealand. It's a good thing it's enjoyed and exported to countries around the world because we could never get through it all on our own!
14. The Force is strong with our people
View this post on Instagram
We've always been big fans of the Star Wars movies in New Zealand, proving it in our enthusiastic attendance of all the films over the years.
That's not where our commitment has stopped, however. In the 2001 New Zealand Census, over 50,000 Kiwis entered their religion as "Jedi". That made it the second-highest religion in the country at the time and the highest per capita in the world.
15. Hobbits rule
View this post on Instagram
As strong as we are with the Force, we are all transfixed by the One Ring and the world of Hobbits.
Unless you've been living in an actual shire somewhere, you'll know the Lord of the Rings trilogy was filmed in New Zealand by Sir Peter Jackson. It was a massive project that involved 275 days of shooting at 150 locations with 300+ sets. The strange little fact here was that we even had a Minister of the Lord of the Rings in government. The minister's main responsibility was to make sure we took advantage of the tourism opportunities presented by the films.
New Zealand facts to remember for your next visit!
So there we have it! 15 fun facts about New Zealand to inform your next holiday to our wonderful country. We hope you've found it enlightening and that it may even encourage a few more of you to make the trip down under!
Related FAQs
It's amazing how many people want to find out more about New Zealand. Whether they are planning a trip from overseas, looking at places to go in New Zealand or simply looking for some fun facts about New Zealand, people are always searching Google for more answers. Here are some of the most frequently asked questions about New Zealand:
What is New Zealand famous for?
We've already covered quite a lot of these above but New Zealand is famous for a lot of things. Right up there are: sheep, rugby, kiwi fruit, manuka honey, wine, Lord of the Rings, stargazing, glaciers, geothermal wonders, adventure sports, bungy, and wildlife. We've missed loads off this list, however you can browse all our other posts to discover many of these amazing places, activities and attractions that New Zealand is famous for.
What food is New Zealand famous for?
Not only do people want to know what New Zealand is famous for, they also want to know more about the food we are famous for – it's good to get your priorities right when booking a trip! Thankfully, we have already covered this one in some depth so make sure you check out our post which covers 20 of the most famous foods in New Zealand and where you will find them.
Who are some famous New Zealanders?
Rounding off some of the most frequently asked questions is one about famous New Zealanders and we definitely have our fair share. We have already touched on two of our most famous Kiwis in Sir Edmund Hillary and Sir Ernest Rutherford but other names to join those two include another knight, Sir Peter Jackson, Dame Kiri Te Kanawa, Lorde, Neil Finn, Steven Adams, Flight of the Conchords, Jonah Lomu and Jacinda Ardern. You can read more about all of these famous New Zealanders here.
Updated: 1 September 2021
Related Posts