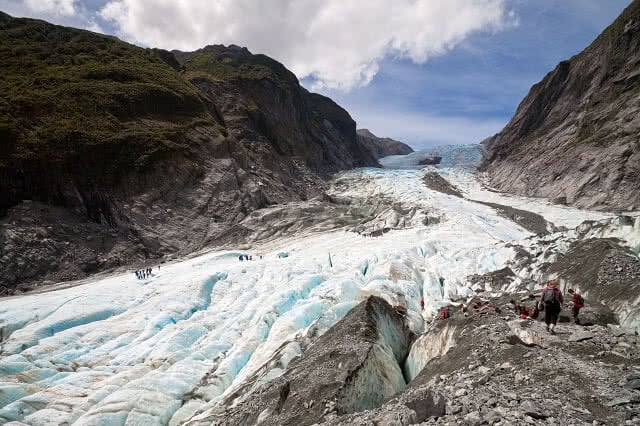 New Zealand is without a doubt one of the friendliest countries in the world. We love to welcome visitors from all around the world who flock to our shores each and every year. Before arriving in New Zealand, a lot of hours are spent planning trips; from booking rental cars to deciding which route to take to sorting out your accommodation. There is an awful lot to take care of to make sure you don't miss out on all the spectacular sights and sounds of our wonderful country.
Here at GO Rentals, we try to make your New Zealand trip planning as easy as possible. From our awesome Trip Planner itineraries with 83 classic New Zealand road trips to our Complete Guides which will help you to plan where to stay, where to eat out as well as some of the best kept secrets from some of New Zealand's most popular destinations.
One of the most popular and iconic journeys is the Queenstown to Franz Josef Road trip. A big favourite of our Australian visitors, this is one of the most spectacular road trips in the South Island as you head out via Wanaka along SH6, cutting through Mt Aspiring National Park before hitting the West Coast and heading north to glacier country. We have a number of itineraries that will take you on this spectacular journey so make sure you check these out for some inspiration, but we also wanted to take a deeper dive into the route and pick out some of the key spots along the way to make sure you don't miss a thing.
Queenstown to Wanaka – 1 hour 5 mins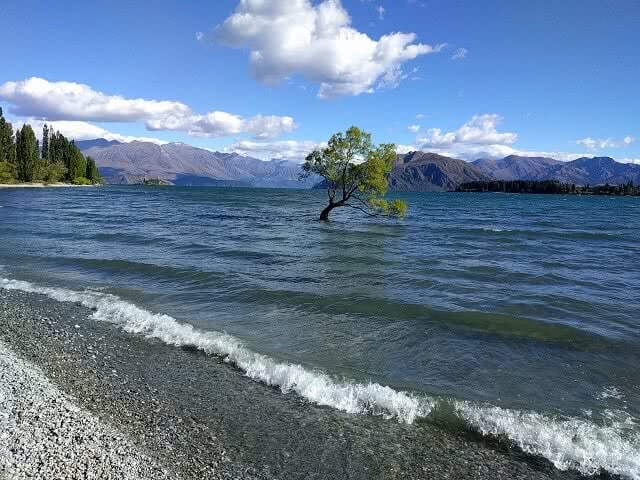 The journey sets off in Queenstown and hopefully you've had a few days to enjoy all the sights and sounds of this vibrant city. As you drive out of town, make sure you make a pit stop in Arrowtown if you have not already had the chance and tuck into one of their amazing pies from the town's famous bakery. Depending on the time of year, there are two ways to get over to Wanaka. When the roads are clear, heading over the Cardrona Pass is the most spectacular route to Wanaka as you travel up and up over countless switchbacks to the summit before descending into Wanaka. The road is a spectacular drive and if you have chance, stop in at the famous Cardrona Hotel for a refreshing drink on your way. Packed full of character and history, this beautiful hotel is one of New Zealand's oldest and well worth a stop off.
If you are taking the drive in winter, you may well have to take the alternative route out past Cromwell and Bendigo which will take you a bit longer but is still a beautiful drive. Stop in at the historic mining town of Bendigo or visit one of the many vineyards of the Central Otago located in and around Cromwell and Gibbston.
If you're still in the planning stage of your trip, make sure you check out the great deals on car rental in Queenstown – we're not one of New Zealand's favourite rental car companies for no reason!
Wanaka to Haast – 1 hour 45 mins

Hopefully you have got time on your road trip to stop off in Wanaka. Situated on a lake with the same name, Wanaka is a laid back town with heaps of character and a great place for those who love the outdoors with plenty of walking and biking trails which are accessible from the town. Here are a couple of our favourites:
Climb Mt Iron – a 4.5km loop track will take you to the summit at 260m which will give you amazing 360-degree views of the area which is truly stunning
Rob Roy Peak – perhaps the most famous walk in Wanaka, this one is not for the feint hearted. A 16km return track will take you to the summit at 1578m and some of the most amazing views in New Zealand – add it to your bucket list
Ruby Island Walk – take a walk around the shores of Lake Wanaka passing the famous tree in the lake and past the Edgewater Hotel for amazing views across to Ruby Island
You can find out more about Wanaka in one of our recent blog posts.
The drive from Wanaka to Haast is another spectacular one that cuts between Lake Wanaka and Lake Hawea. The road will first take you to the shores of Lake Hawea, another of the spectacular lakes to be found in the region before cutting back through the valley and re-joining the shores of Lake Wanaka. There are plenty of photo opportunities along this route so leave plenty of time and enjoy the views which are spectacular all year round.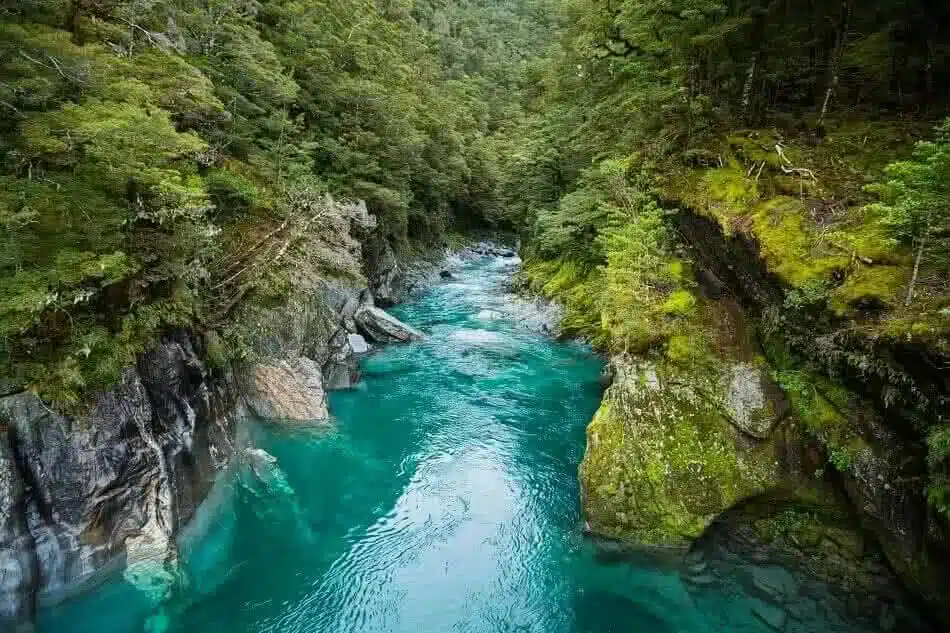 One of the highlights of this journey is a visit to the Blue Pools which are found just past Makarora. These are some of the clearest pools you are ever likely to come across. Brown and rainbow trout can often be found feeding in the waters and in the hot summer months, you will often find people taking a dip in the glacial waters which will definitely cool you off! There is a cool swing bridge that gives you a perfect view of the waters and the 1.5km return track is perfect for all levels.
After your pit stop at the Blue Pools, your journey will carry on into the Mt Aspiring National Park and it is a truly spectacular drive all the way into Haast. There is so much to see along the way and if you have the time, there are plenty of walking tracks along the way. A couple that are worth the stop off are:
Thunder Creek Falls – a short 5 minute return walk will take you to the spectacular and aptly named 28 m Thunder Creek Falls
Roaring Billy – a 25 minute return walk through native bush and silver beech forest to the Roaring Billy Waterfalls
Haast is another good place for a stop off before the final leg of your journey north to Franz Josef. Monro Beach is a favourite with our GO Explorers and if you're there between July and December, you might get lucky and spot a tawaki (Fiordland crested penguin).
Haast to Franz Josef – 1 hour 55 mins
The final leg of your journey will take you from Haast to Franz Josef. This is another great driving route with the rugged West Coast to your left as you make your way north. There are plenty of walking tracks along the way and we definitely recommend a stop off at the picturesque Lake Paringa although by this stage you will be itching to get to your final destination and explore the glaciers.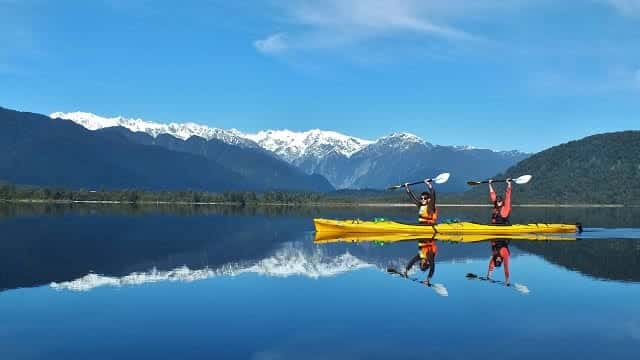 Once you arrive in Franz Josef, there is plenty to see and do but booking onto your glacier adventure will the top of your list. Franz Josef Glacier Guides are one of our amazing GO Play partners and will give you a pretty cool 10% discount on your glacier trip as well as free entry to the Glacier Hot Pools when you book your trip with them.
There is of course a lot more to Franz Josef than just the glacier so make sure you check out our recent blog post for ideas for things to do when you're in town.
Hopefully this has given you plenty of ideas for your road trip from Queenstown to Franz Josef. If you are planning a bigger trip, make sure you check out all our itineraries that will take you along this route including:
Queenstown to Franz Josef Return – 7 Days
Christchurch to Auckland – 24 Days
North and South Island Explorer – 28 Days
Check out our Trip Planner tool for more ideas and inspiration and plan your next adventure in New Zealand.
Book a vehicle for this trip
We recommend: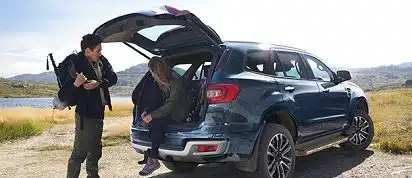 4WD SUV
Ford Everest Titanium
Seats

5 seats

Large Bags

4

Small Bags

6

Transmission

Auto trans