Franz Josef is without a doubt one of the most popular tourist destinations on the South Island and most have one thing in mind when they head to Franz Josef – a glacier experience. Whilst it's definitely a cool thing to do when you are over on the West Coast, there is a lot more to Franz Josef than the amazing glacier and Franz Josef Glacier Guides have pulled together this awesome video to show you some of the other awesome things you can get up to when you visit Franz Josef:
Looks pretty cool huh? Find out more about some of the other activities you can get involved with in Franz Josef and get them added to your itinerary for this summer.
Franz Josef Glacier Hot Pools – Exclusive GO Play partner
Whatever you get up to during the day, there is no better way to end your day than a trip to the Glacier Hot Pools. Nestled in lush rain forest, the Glacier Hot Pools offer a haven of natural tranquillity and the perfect way to ease those aches and pains away. If you have had a long drive or been out for a big hike, this is the perfect way to relax and de-stress, surrounded by the stunning Southern Alps. And the best thing of all? Glacier Hot Pools are a GO Play partner so GO Rentals customers get a 10% discount. Winner.
Skydive Franz
There are many spectacular place to skydive in New Zealand, but Franz Josef must be up there with the best. At 19,000ft, Skydive Franz's Kea Jump is New Zealand's highest skydive and the Lonely Planet described it as 'the most scenic jump you will ever do'. Sounds pretty awesome to us. The views as you spiral down from 13,000, 16,000 or a staggering 19,000ft will blow your mind. Nestled between New Zealand's largest mountain and the Tasman Sea, you will soar down over temperate rainforest, snow-capped peaks, mirror lakes and striking glaciers. Plus, you get the bragging rights that no one has jumped from higher. Boom!
Horse Riding Franz Josef
If you love horse riding, then this is a pretty unique opportunity to ride in some truly stunning terrain. South Westland Horse Treks offer a number of different trekking opportunities that will take you through the lush rainforest or up the river bed with spectacular views of the Franz Josef Glacier. Whether you want a short 1 hour trek or a two hour adventure trek, these guys have got you covered.
Walking in the region
If you don't fancy a trek on the Franz Josef glacier, there are heaps of other walking options in the town from a short leg stretch to a more challenging  tramp. If you're looking for something a bit more easy going, try the Callery Gorge Walk – a 1hr 20min trek that will take you up the Callery Gorge before dropping you down to the river. For the more advanced (and if you want a bit of a laugh) try tackling the 8 hour Alex Knob Track which is only recommended for the advanced walker. Find out more about the walking tracks in and around Franz Josef.
Kayaking and Stand Up Paddleboarding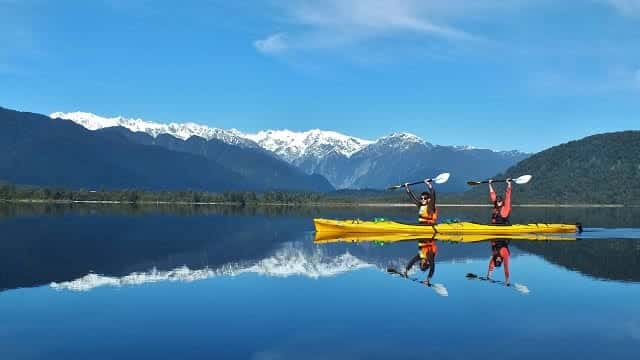 Stand Up Paddleboarding (SUP) may not be the first thing you think of when you are planning a trip to Franz Josef but it's actually one of the most spectacular places in NZ to give it a go. Glacier Country Kayaks offer hourly SUP rental during the warmer summer months or will even give you a lesson if you're new to the sport. In the main though, these guys offer some awesome kayaking tours so if you don't want to risk falling into the icy cold glacial water, give kayaking a whirl which will offer you the same breath taking views as well as the opportunity to paddle into a stunning conservation area. Pretty cool stuff.
Explore the Glacier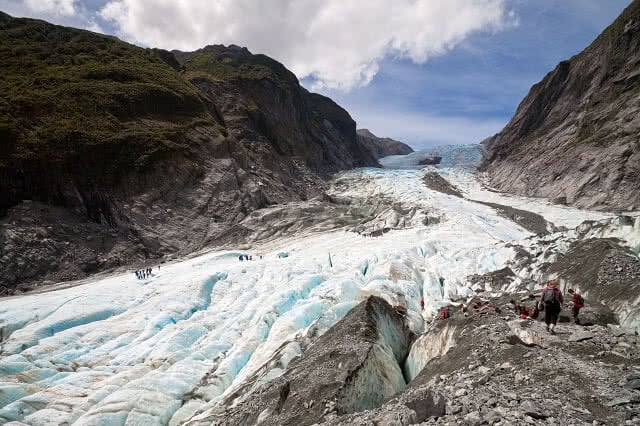 Of course if you do want to explore the glacier, that's a pretty awesome thing to do as well. GO Play partner Franz Josef Glacier Guides offer a number of different tour options from the Ice Explorer – a 4 hour adventure walk on the glacier to their Heli Ice Climb – a 5 hour experience which features expert tuition and a heli transfer. Getting to the glacier on any tour now involves a helicopter ride which is pretty cool and as a GO Play partner, GO Rentals customers get a 10% discount on all tours and all tours include a free entry to the Glacier Hot Pools – double winner!
All in all, Franz Josef is a pretty awesome place to visit no matter what you are interested in. There are some great places to grab a coffee and a bit to eat in town as well as some great places to grab a drink and talk about your amazing day. It's one of our favourite places to visit but remember, there's more than just a glacier at Franz Josef!