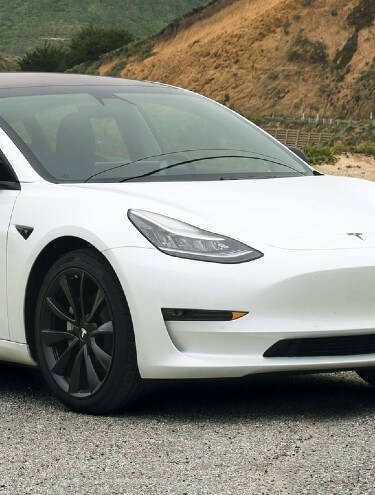 FAQ
GO Tesla
Answering your questions about
renting a Tesla Model 3 vehicle.
Can't find the help you're looking for?
Frequently asked questions
What happens if I lose the Key card?

Contact us and we will get a spare card out to you. If you need to access the vehicle, we can do this remotely and enable driving for you to drive to your destination.
---
What do I do if I run out of battery?

Please call a flat bed tow truck to tow the vehicle to a nearby charging station. On the Tesla in car screen, please enter transport mode which will allow you to move the vehicle. This can be found in the main menu under service.
---
Can I use the Tesla Supercharger network to charge the Tesla Model 3?

Yes, Tesla Superchargers are available to GO Rentals customers. Tesla Superchargers are a rapid way of charging the Tesla Model 3. Use the built-in touch screen or click here to locate the nearest Supercharger destination.
---
How will I be billed for using the Tesla Supercharging network?

Every time you use the Tesla Supercharging network, the cost of your charge will be billed directly to GO Rentals. From there, we will pass on the charge to you by charging the credit/debit card on your rental agreement (note, these are subject to a card processing fee).
---
How much battery do I need to return the Tesla with?

The best thing about hiring an electric vehicle is that you do not need to return it with a full charge. We ask you to return the Tesla with at least 20% battery.
---
Where can I find the spare tyre?

The Tesla Model 3 does not have a spare tyre in the trunk. If you need a spare tyre, Tesla Roadside Assistance providers carry loaner wheels to quickly replace a damaged wheel or tyre. Please contact GO Rentals and notify of any instances of tyre replacement as soon as possible. Pricing and availability are subject to change based on location. If a loaner wheel is not available, the Hirer is liable for any towing or associated salvage costs.
---
What happens if I need roadside assistance?

When you hire a Tesla through GO Rentals, you are covered by Tesla's dedicated roadside assistance service. Simple call 0800 005 431. Please note that not all breakdowns are covered by Tesla Roadside assistance. For more information click here.
---
Can I use the Tesla mobile app?

The Tesla mobile app cannot be used with the rental vehicle. However, make sure to download the GO Rentals app to access some of the cool functions such as remote lock/unlock, open trunk/frunk, honk the horn, flash the lights and locate the vehicle. These functions do require internet access so it is best to always keep the keycard with you.
---
Can I use my mobile as a Phone key?

The Tesla mobile app cannot be used with the rental vehicle and therefore the Phone Key Function is not availble.
---
Will I be billed for the mobile data usage in the Tesla?

GO Rentals Tesla vehicles come with Premium conectivity to allow you to get live traffic information, enjoy streaming music and entertain yourself during your hire. This will not be billed to you. Note: Connectivity is only available where there is 3G coverage.
---
Can I adjust the driving settings?

To ensure you're getting the most of the Tesla, we recommend you use the default settings our team prescribe to each vehicle. This will help preserve the battery and extend your range. If you'd like to customise your settings, please speak to a member of our team at pick-up.
---
What is Tesla Autopilot?

Tesla Autopilot is an advanced driver-assistance features. This feature requires complete active driver supervision. Tesla Autopilot enables lane centering and traffic-aware cruise control and is designed to be used on motorways with clear lane markings. Please note this is not Enhanced Autopilot or Full Self Driving.
---
How do I activate Autopilot?

To turn on Tesla Autopilot in a Model 3, press down on the right control stalk twice quickly when Autopilot is ready to be engaged.
---
Read more FAQs