Auckland is an amazing city to visit and one of the first places that many international visitors experience and we can't wait to welcome back people from all around the world to the City of Sails. After exploring the city, however, many people are looking to get out and explore the country and it's amazing how many beautiful places you will find within 3 hours' drive of Auckland. This post celebrates 10 of the best destinations within a relatively short driving distance from Auckland. We like to call them Auckland Escapes!
If you're looking for some awesome places to visit in Auckland, make sure you check out our post – 10 of the best secret spots in Auckland you need to visit
Back to our list of places to visit within close proximity to Auckland and for the Aucklanders amongst you, you will probably be surprised how many of these you haven't been to and visitors from other regions will be just as excited by all the options too. These destinations offer a great range of attractions and natural features including geothermal wonders, beautiful parks, golden beaches, dolphins to swim with and more.
If you have flown into Auckland and you are looking to explore the North Island without straying too far from the City of Sails, make sure you check out our great deals on car rental from either our Auckland Airport or Auckland City car rental branch – we have some great deals online already but make sure you sign up for our newsletter to get great car rental deals direct to your inbox.
In this post, we aim to answer some of the most popular questions people like to ask when they are exploring a new place or even a new country – "Hey Google, what are some of the best places to visit near me?"
OK, let's GO and explore the top ten locations within 3 hours' drive of Auckland!
1.      Whitianga – 2 hours 35mins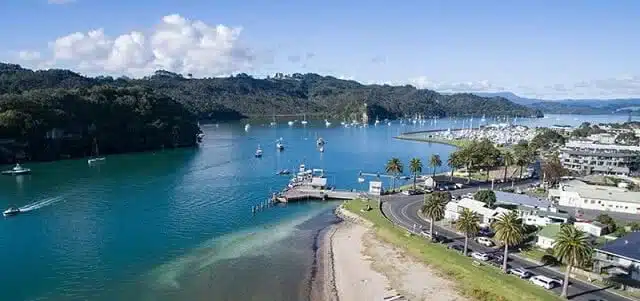 Yep, that's right. The stunning Coromandel Peninsula is just a short drive away at just over 2.5 hours. Whitianga is a great place to base yourself for exploring the peninsula with Cathedral Cove, Hahei and Hot Water Beach all within easy driving distance. You can also head north of Whitianga to uncover the stunning hidden gem, New Chums Beach. Once you get here, it's hard to believe that this is such a short drive from Auckland and one of the best places to visit near Auckland. Check out of Complete Guide to the Coromandel Peninsula for more ideas of things to do and places to see.
2.      Rotorua – 2 hours 50 mins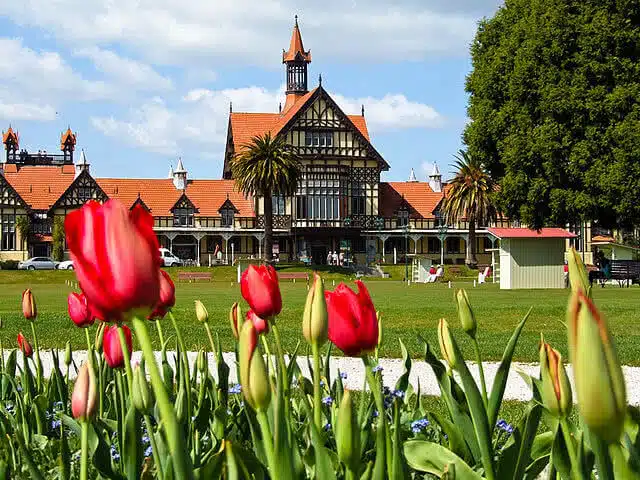 Rotorua is one of New Zealand's most popular destinations and within 3 hours of setting off from Auckland, you can be exploring this geothermal wonderland. From the geyser at Te Puia to the Champagne Pools at Wai-O-Tapu, you will not be short of wow-factor activities in Rotorua. If geothermal attractions are not your thing, Rotorua is also the adventure activity capital of the North Island with a host of exhilarating activities including zorbing, mountain biking, luging and skydiving to name but a few. Find out more in our Complete Guide.
3.      Raglan – 2 hours 1 min
If surfing is your thing, there is only one destination for you if you are in Auckland – Raglan. The surfing capital of New Zealand, Raglan is a super-laid-back town with plenty going on besides the waves. A trip to the Bridal Veil Falls is a must and there is some good walking to be found at Karioi where you can climb to the summit of the volcano. Manu Bay is the main surfing beach and Ngarunui Beach is also a great place to sit back and chill out on the black volcanic sands.
4.      Mt Maunganui – 2 hours 44 mins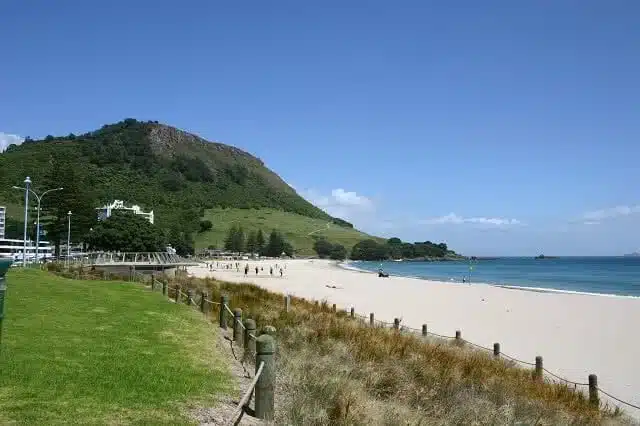 The Mount is a summer playground for Aucklanders and it's easy to see why. It takes less than three hours to drive to 'the Mount' yet you will feel a million miles away from the city humdrum as you kick back and relax in this holiday paradise. Whether it's catching a few waves, walking on the boulevard or grabbing some delicious food in one of the many bars and restaurants in town, Mt Maunganui is an awesome destination to explore. Find out more about the town in our Complete Guide.
5.      Hamilton – 1 hour 36 mins
Hamilton is a great place to head for a couple of days or even as a stopping off point on your way south to other destinations like Rotorua and Taupo. One of the highlights of a trip to Hamilton is a visit to the Hamilton Gardens. The Gardens include a number of elaborately themed gardens from around the world including Italian, Japanese as well as traditional Maori style gardens. The Waikato River runs right through the city making a great feature and there are some nice walkways and cycle paths to explore.
6.      Matamata – 1 hour 57 mins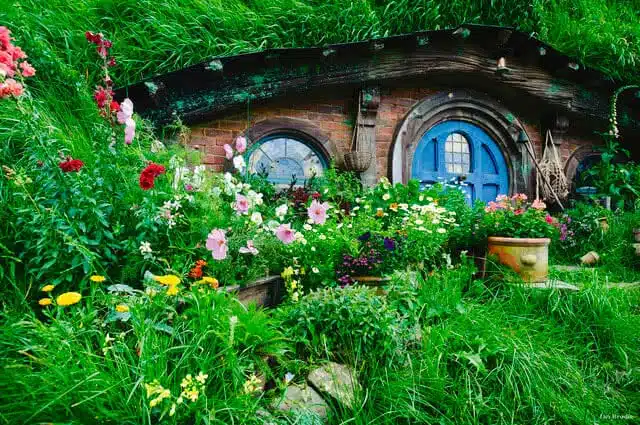 OK, so there is one very major reason you will want to pay a visit to Matamata – Hobbiton! That's right folks, the Hobbiton movie set is found in Matamata where you can experience all the magic of the Lord of the Rings and Hobbit Trilogies. Have a pint down at the Green Dragon Inn, take a wander around one of the Hobbit holes on Bag End and immerse yourself in the full Hobbiton experience. Other than your access to the Hobbit Movie Set, Matamata is a pretty quiet spot but a nice place to grab a coffee and check out the Hobbit-themed i-Site. If you're in Auckland, Google "tourist places near me", and hopefully, Hobbiton will pop up on your radar.
7.      Whangarei – 2 hours 6 mins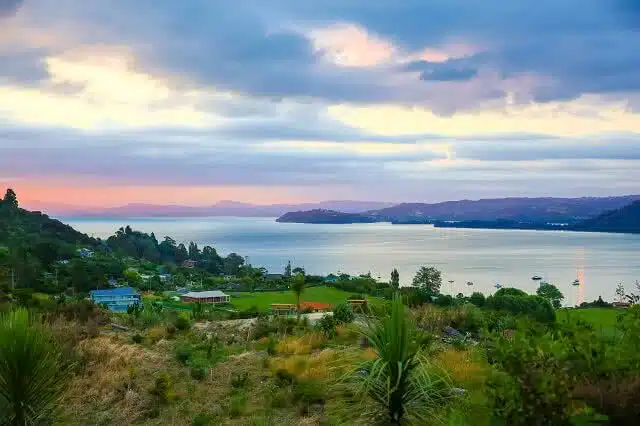 Whangarei is the regional capital of the Northland region and a bit of a hidden gem. It is a place that is more often than not used as a stopping off point for people travelling north to the Bay of Islands, however, those who choose to stick around for a few days will find some little delights including the Whangarei Falls, Mount Parihaka and the beautiful town basin area with its restaurants, shops and galleries. You can spend a few hours here exploring and you will find that Paihia in the Bay of Islands is just over an hours' drive away so you can get the best of both worlds.
8.      Mangawhai Heads – 1 hour 28 mins
Another hidden gem, Mangawhai Heads is described as 'a little out of the way, a lot out of the ordinary' and it really is a magical place to explore. It's a definite 'off-the-beaten-track' destination but one that offers up a lot of rewards for those who venture out this way. It's only an hour and a half from downtown Auckland and you will soon be discovering exquisite art, artisan produce, great restaurant, local markets and some of the best coastal and bush walks in Northland. There's plenty of great waves for the surfers and the beaches are stunning. Sold yet? Give it a go.
9.      Matapouri – 2 hours 45 mins
Heading further north up the coast from Mangawhai you will discover the stunningly beautiful Tutukaka Coast and Matapouri Bay. This spectacular white sand beach is one of the most Instagrammed locations in New Zealand and it's easy to see why. At low tide, discover the amazing Mermaid Pools with their clear waters, perfect for swimming and exploring. With few people, you will feel like this little piece of paradise belongs to you.
10. Kai Iwi Lakes – 2 hours 47 mins
Head out towards Dargaville north of Auckland and you will come across the stunning Kai Iwi lakes. These freshwater lakes are the perfect playground in the summer months for swimming, water skiing, kayaking and fishing. With great campgrounds right on the lake, this is a great place for a weekend getaway. Our favourite time to visit is in the winter on a crisp sunny day when there aren't too many people around. If you're brave enough, take a refreshing dip to blow off the cobwebs!
So there you go, some great inspiration to fill your local travel diaries with. If you are looking for further information and help planning your next road trip, make sure you check out our awesome Trip Planner with suggested itineraries, accurate driving times and some pretty awesome hidden gems and check out all the latest deals on our  car rentals from any of our six branches.
Updated: 21 October 2021
Related Posts