Looking for some inspiration for awesome things to do in the South Island? We've got you covered.
Here at GO, we're all about the adventure. We know New Zealand better than anyone – you will find hundreds of great travel tips in our blog, destination guides and partnerships with hundreds of New Zealand's best attractions through our GO Play programme. This post is all about sharing with you the best South Island activities – curated by the team here at GO and based on countless hours spent exploring the South Island.
No matter the time of year, the South Island of New Zealand is one of the best places in the world for a visit. Whether you have lived in New Zealand all your life and never made the trip south, or you are visiting New Zealand for the first time, there are so many things to do on the South Island, it can be tricky to know where to start.
There are some fantastic things to do in New Zealand's South Island, one of the most serene and idyllic places in the world. Many of the best sites and attractions rightly showcase the natural features of the South Island but you may be surprised by the overall mix of activities. Hopefully, our favourite picks prove this and inspire you to plan your next big adventure soon!
So, without further ado, here are our top 12 things to do in the South Island – let's do this!
1. Kayaking in Marlborough Sounds
View this post on Instagram
We start at the top of the South Island in the glorious Marlborough Sounds, a geographical marvel that consists of ancient sunken river valleys, sublime coastline and pristine waters. Upon arriving at Picton, the gateway to the Sounds, you'll have a number of options in how to experience them. This includes swimming, coastal walks and mail boat cruises to name a few. Of the lot, we enjoy kayaking the most as it allows you to create your own adventure and get up close and personal with the marine and birdlife too.
Related Post
2. Exploring the Wild West Coast
View this post on Instagram
The West Coast of the South Island has a different kind of beauty to the Marlborough Sounds. The West Coast is raw natural ruggedness. It's a great region to explore for those with a heightened sense of adventure and a can-do attitude. The chiselled coastline is a fantastic sight to behold which has resulted in some unique features like the famous Punakaiki Pancake Rocks which are over 30 million years old. Other great sights include the Buller Gorge and Hokitika Gorge which both have great walking tracks with native bush surroundings.
Related Post
3. Cycle Trails
View this post on Instagram
For those who are especially fit and partial to a bit of mountain biking then the South Island is certainly a place where you can make it happen. There are some fantastic mountain biking trails to choose from catering to a range of different levels. The one thing they all share is the incredible backdrops they're set against. Some great examples include the Old Ghost Road in Westport, the Rude Rock Track in Queenstown and the Craigieburn Forest Park in Christchurch. That's just the tip of the iceberg however as there are many other great options to consider to test your mountain biking skills.
If you are planning a trip to check out the mountain biking in Christchurch or Queenstown, make sure you check out the great deals on car rental in Christchurch and hire cars in Queenstown and find out why we're one of New Zealand's favourite rental car companies.
Related Post
The 7 Best Mountain Bike Trails in New Zealand
4. White Water Rafting
View this post on Instagram
Another activity that requires a bit of physical exertion is the thrilling pursuit that is White Water Rafting. New Zealand is home to some great adrenaline activities (with more to come) and White Water Rafting is one of the best. With oar in hand, you and a select group of companions, led by a skilled instructor, will battle against the raging torrents before you. Of all the options, the Rangitata Gorge is an excellent one to try with a range of grade 1-5 rapids on offer. This is one of the most fun things to do in the South Island and the crew at Rangitata Rafts will also have BBQ ready and waiting for you when you're done. Superb!
Related Post
7 of the best places to go White Water Rafting in New Zealand
5. Jet Boating
View this post on Instagram
If you're after a thrill on the water without the physical effort then this one is definitely for you. The Jet Boat was invented by a Kiwi in the 1950s to help negotiate shallow rivers at high speed. It was then identified as a vehicle for tourism providing would-be passengers with a ride of fast-paced thrills. Not only do they travel very quickly but they are highly manoeuvrable too with 360 degree spins the most popular move. Again there are plenty of places to choose from with our favourite being on the beautiful Lake Wanaka.
Related Post
7 of the best places to go White Water Rafting in New Zealand
6. Bungy Jumping
View this post on Instagram
Another unique homegrown invention that invokes the inner daredevil is Bungy Jumping made famous by the Kiwi legend, AJ Hackett. Again, there are a number of places to take the ultimate leap in the South Island, but we're going to focus on the place where it all began – Queenstown. The city itself has 3 different AJ Hackett Bungy Jumps to choose from. The original Kawarau Bridge for the purists, The Ledge for the freestylers and the biggest of them all, The Nevis Bungy which is a staggering 134 metre, 8.5 second freefall. How can one say no to that?!
Related Post
7 Epic Places to go Bungy Jumping in New Zealand
Book a vehicle for this trip
We recommend: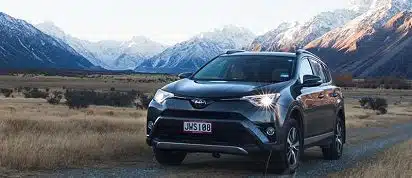 Intermediate 4×4
Toyota Rav 4
Seats

5 seats

Large Bags

3

Small Bags

4

Transmission

Auto trans
7. Photos at Lake Tekapo
View this post on Instagram
One of the best things about being on holiday is the joy you get from making everyone else envious with your holiday photos. One of the best places to do this in the South Island has to be Lake Tekapo, 3 hours drive from Christchurch. Lake Tekapo looks like a scene from a fairytale with its gorgeous lake and the breathtaking snow-capped mountains. It's also the home of the Church of the Good Shepherd which has been captured beautifully by photographers from all around the world. If you're there between November – February you'll also be able to catch the blossoming lupins that'll take your photos to the next level.
Related Post
13 things to do in Lake Tekapo for Ultimate Serenity
8. Hiking at Mount Cook National Park
View this post on Instagram
Not far from Lake Tekapo is the Mount Cook National Park home to the highest peak in New Zealand, the mighty Aoraki Mount Cook. Needless to say, it's an impressive sight to see when you're there. Better still, there are a number of fantastic walking tracks to enjoy. There are 10 in total ranging in difficulty and duration from 30 minutes to 2-3 days. Of the shorter walks, we like the Hooker Valley Track which takes you to the base of the Hooker Lake. This sits directly in front of the mountain itself and often has icebergs floating on its surface from the glacier above.
Related Post
10 of New Zealand's Best One Day Walks
9. Setting foot on the Fox and Franz Josef Glaciers
View this post on Instagram
Speaking of glaciers, you probably never thought you would go somewhere where you can step foot on one. Again this is one of the many unique experiences you can have in this country. Easily the most well known of these are the Franz Josef Glacier and the Fox Glacier. Both glaciers are, in a word, epic at over 10km in length each. Visitors are able to join guided tours or take scenic flights, like heli tours, that will land on the glaciers so you can feel them beneath your feet. It's a pretty cool feeling and definitely a good one to have ticked off your bucket list giving you a great story to tell.
Related Post
6 New Zealand Glaciers You Can Visit And Be Wowed
10. Stargazing at a Dark Sky Reserve
View this post on Instagram
We're very spoilt when it comes to natural scenery in New Zealand which includes the scenery above. Stargazing is a great pastime hobby in New Zealand because of the low light pollution and the incredibly clear skies. None are clearer than the International Dark Sky Reserve in the Mackenzie Region. Stargazing enthusiasts and astrophotographers from far and wide travel to the region to stare up at the millions of stars above. The region also has the Mount John Observatory which people can visit and go on tours.
Related Post
7 of the best spots for stargazing in New Zealand
11. Cruise on Milford Sound
View this post on Instagram
Famously described by Rudyard Kipling as the eighth wonder of the world, Milford Sound is widely regarded as one of the most beautiful places in the world. Based in the Fiordland National Park (a UNESCO World Heritage site), Milford Sound greets visitors with a view of towering peaks, waterfalls that descend from the clouds and a pristine waters of the Sounds themselves. It's an incredible sight and at sunrise or sunset and nothing short of mesmerising. A cruise is a nice and relaxed way to appreciate Milford Sound and if you've got the time, the same again at Doubtful Sound, a little further south, is pretty special as well.
Related Post
Queenstown to Milford Sound – 3 Day Driving Itinerary
12. Strolling in Stewart Island
View this post on Instagram
Technically speaking, Stewart Island is its own Island but we include it in this blog because it's very much part of the South Island experience. Of all the things to enjoy and appreciate, the most pleasant thing to do is the simplest. To stroll, in and around the area taking in the scenery and resident wildlife. There is much of it to speak of include native species of seals, penguins and birds and its untamed wilderness also has hidden pockets of history. This includes remnants of ancient Maori settlements and European timber milling. Stewart Island is just a short 1 hour ferry from Bluff (a great place to have oysters) but there are also flights available there as well.
Related Post
13 things to do on Stewart Island for Pure Tranquility
Some great things to do in New Zealand's South Island!
As you can see, there are some absolutely awesome things to do in the South Island of this great country. We hope you've enjoyed our recommendations and hope to see you here soon!
More Related Posts