We've been writing about adventuring and exploring different parts of our beautiful country for years now. In all that time, however, we realised we hadn't published a list of the best things to do New Zealand. We'd covered individual cities and towns through our Complete Guides and blog posts, but not taken on NZ as a whole.
We didn't want to simply list everything there is to do so decided instead to focus on the cream of the crop attractions, destinations and activities that we feel give the ultimate Kiwi experience. We tried our best to keep it to a Top 10 but couldn't bring ourselves to leave out any of our final choices so have thrown in a bonus inclusion to keep everyone happy.
1. Bay of Islands
View this post on Instagram
We start at the top of the country with something that no one can argue with. The Bay of Islands is an absolutely exquisite area of New Zealand that is not only rich with beauty but rich with history as well. There are actually over 140 islands that make up the Bay of Islands, many of which can be explored in a number of different ways. These include swimming, kayaking, cruises, parasailing and for the ultimate view – skydiving! With respect to history, the Waitangi Treaty Grounds is an absolute must as the place where the Treaty of Waitangi was signed. Another place to get to is Russell which was the first European settlement of New Zealand and retains much of its original heritage.
Related post
2. Waiheke Island
View this post on Instagram
From a place with over a hundred islands, we focus next on one. That one is the idyllic retreat that is Waiheke Island, a pleasant 40-minute ferry from Auckland. Waiheke Island is arguably the most popular and highest rated place to visit in the City of Sails. It enjoys a subtropical microclimate which suits its beautiful beaches like Oneroa and Onetangi beach, wonderfully well. The microclimate has also made it an ideal location for grapes to flourish, resulting in a good number of first-class vineyards like Cable Bay, Mudbrick, Man-O-War and more. There are plenty of other things to do on Waiheke Island too like walks, sculpture trails, water activities, ziplining – the list goes on. A great day out that always delivers.
Bonus: In late June 2022, we opened our latest car rental branch on Waiheke. As well as bringing our award-winning customer service and modern fleet of rental cars to Waiheke, we are also offering bike and e-bike hire on the island – a great way to get around. Check out our all-new Waiheke car rental branch today.
Related post
3. Hot Water Beach
View this post on Instagram
Another picturesque place to visit that comes with its own unique experience can be found at Hot Water Beach in the Coromandel Peninsula. Hot Water Beach gets its name because it is literally that. A beach that has hot water due to the geothermal rivers that run underneath it. There's a bit of a trick to accessing it which requires waiting until low tide before finding your spot amongst the crowds and digging. You can do this with spade and bucket or just get stuck in with your hands. As you dig, you'll find your hole will start to fill with hot water through the sand below. All you have to do then is sit back, relax and enjoy your own self-made hot pools experience.
Related post
4. Hobbiton Movie Set
View this post on Instagram
If you're from abroad, there's a good chance your decision to come to New Zealand was because of Lord of the Rings. For fans of the films, the Hobbiton Movie Set in Matamata is the top attraction they want to see and they're rarely disappointed. Restored from the original movie set, the Shire has been exquisitely recreated with 44 Hobbit holes to discover and explore. Visitors are completely transported into the world of Middle Earth as they wander around remembering their favourite moments from the film. A real highlight is The Green Dragon Inn where you can actually try a brew of real Hobbit Ale! It's a fantastic attraction for people of all ages and an easy one to include on our list.
Related post
5. Waitomo Caves
View this post on Instagram
New Zealand has an incredible array of indigenous wildlife that has flourished across the land for thousands of years. We even have animals that have flourished in our caves like the incredible glow worms of Waitomo Caves. The Waitomo Caves were known to Maori for about a hundred years before it became a visitor attraction in the early 1900s and it's one that's gone from strength to strength. Their professional guided tours not only showcase the wondrous glow worms themselves, but also the incredible limestone stalactite formations. As one of the oldest and most successful tourist attractions in our nation's history, it's a great experience for all.
Related post
Book a vehicle for this trip
We recommend: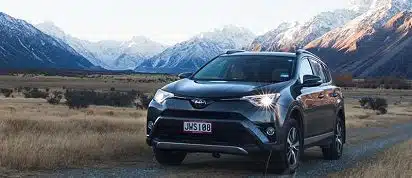 Intermediate 4×4
Toyota Rav 4
Seats

5 seats

Large Bags

3

Small Bags

4

Transmission

Auto trans
6. Maori Culture
View this post on Instagram
Getting to know the unique culture of a country is one of the great aspects of travelling. Visitors to New Zealand are able to do exactly with the many opportunities to learn and experience the Maori culture. One of the best places to do this has to be in the city of Rotorua in the North Island. There are a number of interactive and immersive Maori Village attractions like the Mitai Maori Village, Tamaki Maori Village and Whakarewarewa. There you'll be able to watch traditional dance performances, learn about customs and Maori arts, enjoy Maori feasts and even spend the night! It's another fantastic experience that can only be had here in New Zealand.
Related post
7. Jet Boating
View this post on Instagram
If you haven't heard of the phenomenon of jet boating, then you're in for a real treat. A jet boat is a Kiwi invention that was created in the 1950s as a fast way to navigate our many shallow streams and rivers at high speeds. The vision to turn it into a tourist attraction came a few decades later and was nothing short of a stroke of genius. The modern jet boats can travel at speeds up to 90kmph and their manoeuvrability is ridiculous with the ability to do 360 degree spins with ease. They're extremely popular along gorges where they'll skim within inches of rock faces. Another great option is Huka Falls Jet that takes you to the foot of the most powerful waterfall in New Zealand, Huka Falls, near the equally impressive Lake Taupo.
Related post
8. Bungy Jumping
View this post on Instagram
Another pioneering Kiwi invention in the field of adventure tourism that cannot be omitted is Bungy Jumping. We're not sure how the legendary AJ Hackett came up with the idea of bungy jumping or how he knew it would be popular, but popular it certainly has become. It now has iconic status not only here but around the world. As a matter of fact, when you tell people you went to New Zealand, the first thing people often ask is "Did you go Bungy Jumping?". You want to be able to answer "yes" to that question for the sake of personal pride and for an experience that is thrilling and unforgettable.
Related post
9. Abel Tasman Coastal Track
View this post on Instagram
If you're interested in a more peaceful pursuit it's hard to beat the splendour and serenity you'll find on the Abel Tasman Coastal Track. Located in the Abel Tasman National Park not far from Nelson, the track is one of the "Great Walks of New Zealand". The "Great Walks" are those that are considered premier walking tracks in the country and there are 10 in total. Most of them are multi-day hikes though in many instances, like the Abel Tasman Coastal Track, you'll be able to do sections as day trips. The full experience is extraordinary though with beautiful coastal views, golden sandy beaches with pristine waters, rock pools, rivers, incredible birdlife and marine life among the many things you can expect to encounter.
Related post
9. Whale Watching
View this post on Instagram
Of all the animals you can expect to see in New Zealand the most breathtaking are undoubtedly the whales of Kaikoura. Kaikoura is a small seaside town on the East Coast of the South Island about 2 ½ hours drive from Christchurch. It's got a great reputation for seafood (especially crayfish) but the main drawcard is definitely its whales. What makes Kaikoura so special for this is its deep-sea canyon just off the coast that encourages rich nutritious sealife and attracts the magnificent Sperm Whales, the largest toothed whales in the world. These can be seen all year round (a very unique trait) and they regularly breach the surface in dramatic ways. There's plenty more sea-life to be seen too like seals, dolphins and seabirds which only add to the enjoyment.
Related post
10. Franz Josef and Fox Glacier
View this post on Instagram
As well as amazing animals, New Zealand also has some incredible geographical features that include glaciers that you can see and explore. Given how rare an experience this is, it's one that simply has to be included. The two main glaciers for doing this are Franz Josef Glacier and Fox Glacier, both on the West Coast of the South Island. The Fox Glacier is the larger of the two at 13km and is the most commercially guided glacier in the country and is known for its deep crevasses and ice caves. The Franz Josef Glacier is slightly smaller at 12km and a UNESCO World Heritage site. The scenery here includes lakes, rivers, forests and even beaches too.
Related post
11. Milford Sound
View this post on Instagram
Last, but by no means least, we include Milford Sound, the place described by British author, Rudyard Kipling (writer of The Jungle Book), as the "Eighth wonder of the world". Visitors who go quickly realise this is no exaggeration. The sight that awaits is hard to completely do justice to in words. What you see are towering peaks that disappear into the clouds, from which hundreds of waterfalls descend. The effect it has on you, however, is nothing short of magical. The landscape itself was carved out as a result of massive glaciation and has remained largely untouched since. It gives the whole place an almost other-worldly quality with people completely transported by every visit. A cruise around the Sounds is a great way to give you memories that will last a lifetime.
Related post
Some Amazing Things to do in New Zealand
So there you have it. Our definitive list of must-do things in New Zealand. What's great about these attractions is that many of them can't be done anywhere else and certainly not all together. We hope you've enjoyed the read and enjoy the experiences when you get here!
More related posts