Every year, New Zealand welcomes thousands of visitors from Australia. Whilst we're both perched down here at the bottom of the world, New Zealand and Australia are very different countries. That's why Kiwis love to head over to Aussie for a holiday and vice versa.
We're obviously super-passionate about our own country, so it's always really great to hear what our friends across the ditch think about beautiful New Zealand. Thankfully of those thousands of visitors we welcome every year, lots of them have taken to the internet to write about their experiences! There are some truly awesome Australian travel bloggers out there and we've curated a list of some of our favourites!
So, here goes – 31 of the best Australian travel bloggers who just love to travel to New Zealand: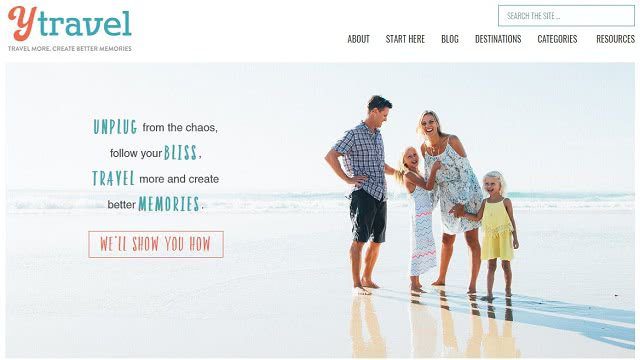 There's something about families who travel together that we simply love.  Caz and Craig Makepeace have been travelling together for 16 years. They're serial travellers and have lived in 5 countries and had adventures in 52 during that time. More recently, they've added two travelling companions to their air tickets – daughters Kalyra and Savannah.
Originally from the Central Coast of Australia, Caz and Craig prefer to call the world their home. As well as visiting New Zealand, they also squeeze in some really awesome interviews with locals which adds some great depth to their posts. Make sure you check them out and follow them on social media below.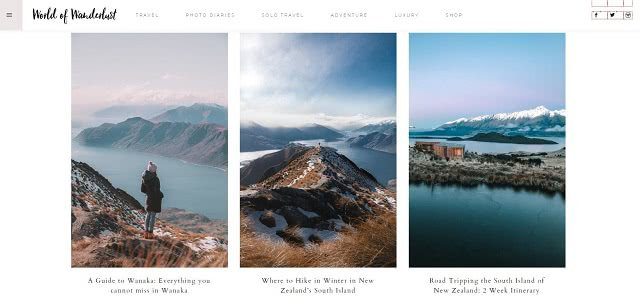 Like so many bloggers, Brooke, author and curator of World of Wanderlust started her journey on her own. With a one-way ticket booked to Paris, her adventures started when she was 20 and she's still going strong! Brooke grew up in Tasmania and couldn't wait to get out and explore what the world had to offer. After starting in Europe in Paris and later Budapest, Brooke has since been on to travel through Africa, Asia, the Middle East, North America, South America and of course, right here in New Zealand.
Brooke's most recent visit to New Zealand was back in August when she paid a visit to the South Island with visits to Queenstown, Wanaka, Mt Cook, Dunedin and the Catlins. Read all about her adventures and more and follow Brooke on social media.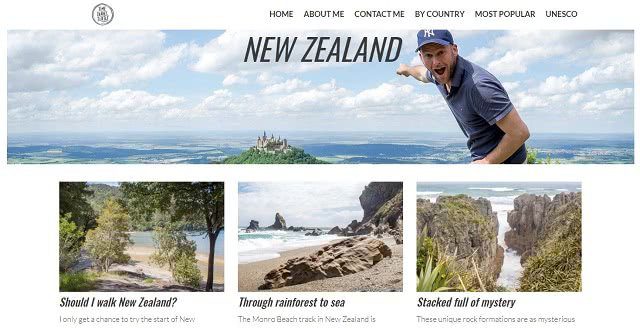 Michael Turtle is one of life's true storytellers. From his early days writing the student newsletter to his decade working as a TV and radio reporter, Michael has been telling great stories for as long as he can remember. His travel blog seemed like the most natural progression. Inspired by how much there is to see in the world, Michael no longer has a place to call home. Instead, he travels from country to country, creating and reporting new stories every day.
Michael does things a little bit differently though. He hates queues. That's why he made it his mission to start telling people stories from those off-the-beaten-track destinations where there are no queues. The little nuggets and hidden gems that will blow you away. Make sure you check out Michael's blogs about New Zealand and follow him on social media.
What a combination! Australian Journalist Megan Jerrard has partnered with husband and photographer Mike to bring you Mapping Megan. These two are intrepid travellers and adrenalin junkies. From skydiving in the Swiss Alps to walking with elephants in Africa, their journey is pretty incredible. Megan has visited over 50 countries across the world including right here in New Zealand and has been travelling since 2007. Mike is a wildlife photographer with over 25 years of experience. Together they bring you inspiring stories beautiful written and accompanied by some pretty amazing photography.
Be sure to check out their New Zealand posts and follow them on social media.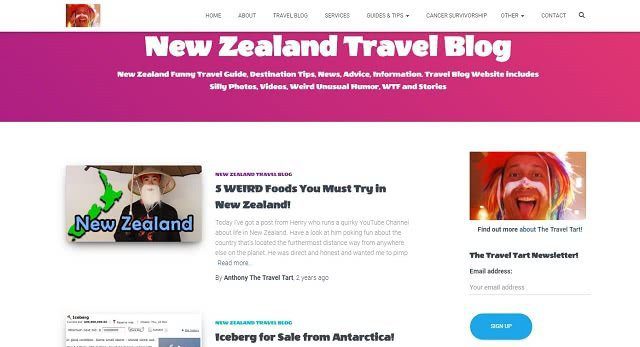 If you're looking for great travel tips and a good laugh, then make sure you sign up to The Travel Tart. Set up by Anthony, a self-confessed travel addict, The Travel Tart is a more light-hearted view of the world. Don't expect to see too many Instagram shots of buff shirtless men or bikini poses here. Instead, you can expect content like silly travel infographics, hilarious Russian swear words, how to find cheap flight tickets the dodgy way and the worst movies for travellers.
Sound up your street? Be sure to check out Anthony's posts about New Zealand and follow him on social media for a daily dose of laughter.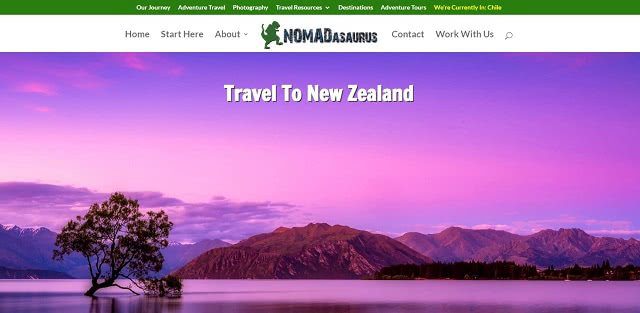 Nomadasaurus ate Australia's biggest travel blog written and curated by travel writers and photographers Alesha Bradford and Jarryd Salem. They started Nomadasaurus back in 2013 to document their journey overland from Asia to Africa. Since then, they've been blogging about their adventures all over the world including little old New Zealand.
These guys are all about road tripping which we absolutely love! They figured out they much prefer to travel overland than by plane so made it their mission to explore as much of the world by road as possible. These guys have some truly amazing stories and they've written a pretty cool little guide to New Zealand as well as some awesome blog posts. Follow them on social media for more adventure stories.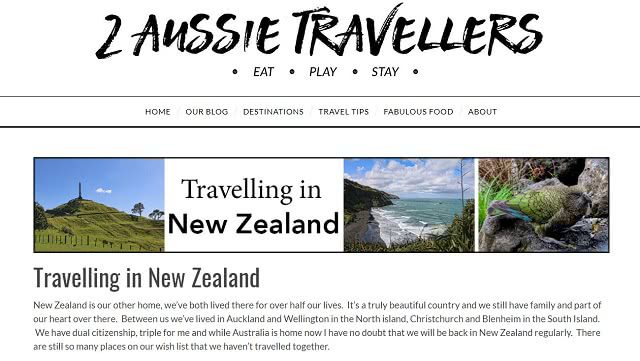 You guessed it. This awesome travel blog is written by 2 Aussies, Toni and Drew who love to share their travel photos, experiences and lessons learnt along the way. We love their philosophy; you shouldn't have to wait for your holidays to enjoy yourself. Get out and explore your own city, take short breaks and get away for the weekend. Even day trips can lead to completely new and amazing experiences.
They're both well travelled and have visited over 25 countries, claiming passports from three of them! Having spent a lot of time in New Zealand (both living and travelling), they have some amazing tips and advice for exploring our beautiful country. Check out their New Zealand posts and follow them on social media.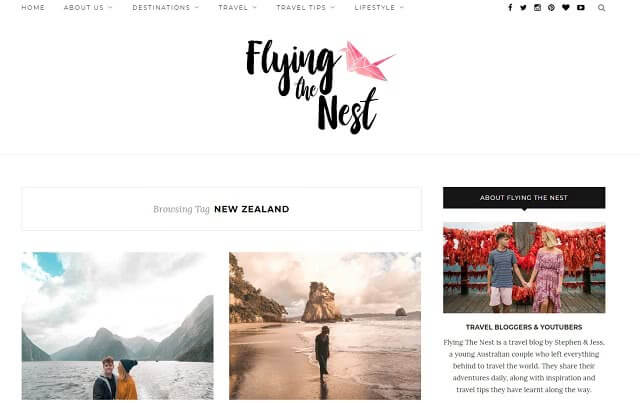 Flying the Nest is an awesome travel blog run by young Aussie couple Stephen and Jess. They are also pretty epic YouTubers so if you love to see videos from amazing destinations around the world, these are the guys you need to follow. They set up their blog back in 2014 and have been blogging pretty much daily about their adventures since.
They travel the world full time (lucky them) and do from time to time come to our beautiful shores. Their videos provide a really fascinating insight into life on the road as a full-time traveller – the highs and lows and all the amazing people they meet along their way. Make sure you check them out on YouTube and read through some of their posts about New Zealand.
Dean is an adrenaline junky and loves the outdoors and adventure. Growing up in Perth, this is understandable. No matter where he travels, whether close to home or thousands of miles away, he loves to make the most of every second of the day. He has done a lot of trekking both at home and right here in New Zealand as well as summiting Mount Kilimanjaro.
Dean is currently residing in Brisbane and from here he still gets out to explore as often as he can which means regular visits to New Zealand. Check out his posts and get some top tips for exploring New Zealand on foot and by road.
Lindsay is the author and curator of the Frugal Frolicker. An American native who now calls Australia home, Lindsay was late into travelling compared to some of the awesome bloggers on our list. After starting out a highly successful career in investment banking, Lindsay soon became disillusioned and set up her own wedding photography business and later worked for an online advertising agency before finally taking the plunge at 28 to head off and do some travelling in Southeast Asia. The bug had hit. Despite going back to work for a year, it was not long before Lindsay hit out again and this time for good!
Since arriving in Australia in 2014, Lindsay has also made quite a few trips across to New Zealand although her last was in 2016 so we think it's time you came back from a visit! Read all about Lindsay's adventures in NZ and follow her on social media.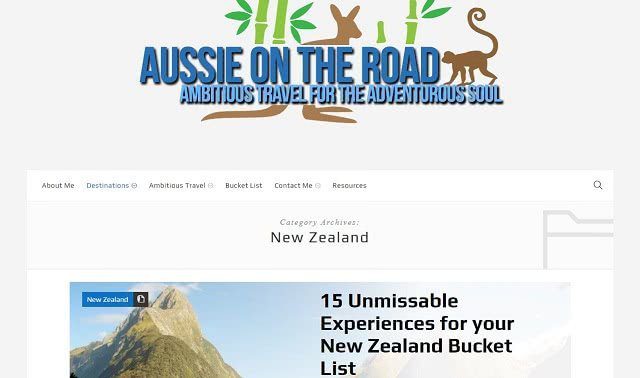 Chris is another one of our bloggers who is lucky enough to call himself a full-time traveller. Chris was never cut out for the 9-5 life although like Lindsay above, Chris was late to the travel game and only took his first flight away from Australian soil at 23. He has been making up for lost time ever since!
Chris specialises in what he likes to call ambitious travel. Basically, this involves embarking on long-term adventures that most people can only dream about. That might be travelling the length of the Trans-Siberian railway, circumnavigating Australia or undertaking the ultimate African safari. Whatever your wildest dreams can come up with epitomises ambitious travel. Chris has naturally spent a fair bit of time right here in neighbouring New Zealand. Make sure you check out his posts and follow him on social media.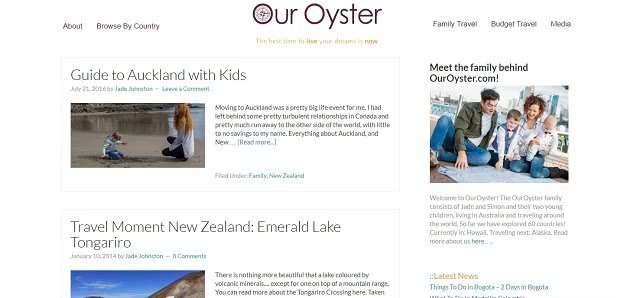 Another Australian family travelling the world together! Our Oyster Project is told by travelling couple Jade and husband Simon along with their two kids Jacob and Zach. They have a few mottos that they live by: 1) travel on a budget so you can get more done…for longer. 2) Travel now – tomorrow is just a dream. And finally 3) Who said you can't travel with a baby? All of these mottos mean the family are constantly on the move, exploring new places and letting their kids see the world!
Their posts are a mix of destination reviews but also great tips, especially for people travelling with kids. Check out their latest posts from New Zealand and follow them on social media.
We love these guys! Jan and Marty are an Aussie couple in their 60s who love to travel. Being retired an in their 60s, they have a flexible travel budget which means they often offer up some totally different experience to other travellers on our list. They were inspired to start writing a travel blog as a way of 'paying it back'. They used so many awesome travel blogs to research their own trips that they decided to help other out and set up Budget Travel Talk.
Despite their flexible budget, they still love to provide travellers with money saving tips like looking for housesitting opportunities and even caravanning. They've been to New Zealand a few times on their travels to make sure you check out their posts and follow them on social media.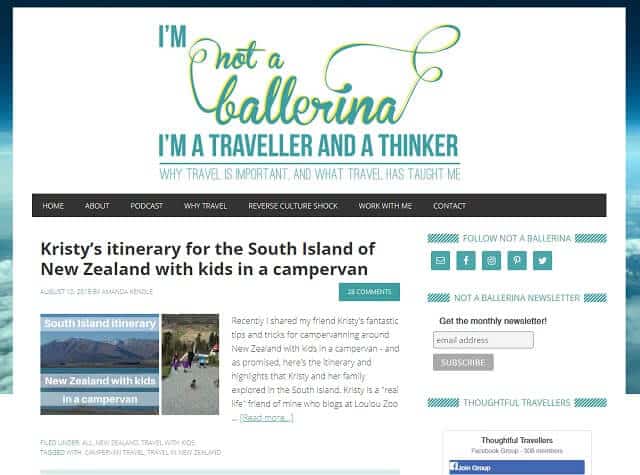 Whilst this one doesn't sound like much of a travel blog at first glance, the full name of this awesome blog is 'I'm not a ballerina, I'm a traveller and a thinker' and Amanda Kendle has been writing awesome blogs since 2005. Amanda started travelling young and when she was just nine, got her first taste on a family trip to Europe. In her twenties, she lived in Japan, Slovakia and Germany and has gone on to visit 40 countries and counting. For Amanda, there is nothing like breathing the air of a new destination, meeting new people, hearing new languages and discovering cultural quirks that make places so interesting.
Amanda writes a lot of her own content but also pulls in posts from friends when it can be super-helpful to her audience. That's why her recent New Zealand posts all come from her friend Kirsty who was campervanning around NZ with her kids. Read more and follow Amanda on social media.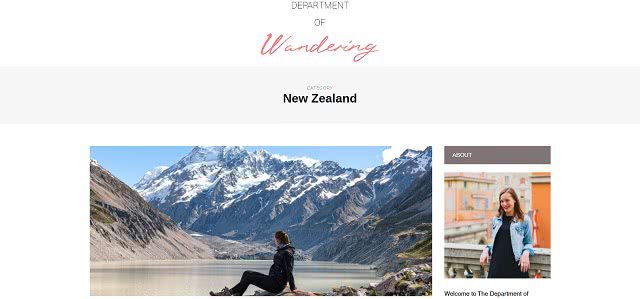 Another slightly different angle on the travel blog, the Department of Wandering is 'a travel and lifestyle blog for the design savvy trailblazers looking to take bold, new paths.' It's a blog that is more about the hidden gems than the common tourist traps and takes people beyond the guidebook. Born out of a desire to escape the 9-5 grind, Department of Wandering was set up in 2014 from Rachel's office in Berlin. It has since evolved into an awesome resource of travel tips, inspiring stories and exciting destinations all around the world.
Rachel's most recent trip to New Zealand was back in July 2017 but you will still find some really awesome tips and advice if you are planning a trip here. She loves weekend road trips so there are some great itineraries in there so check them out!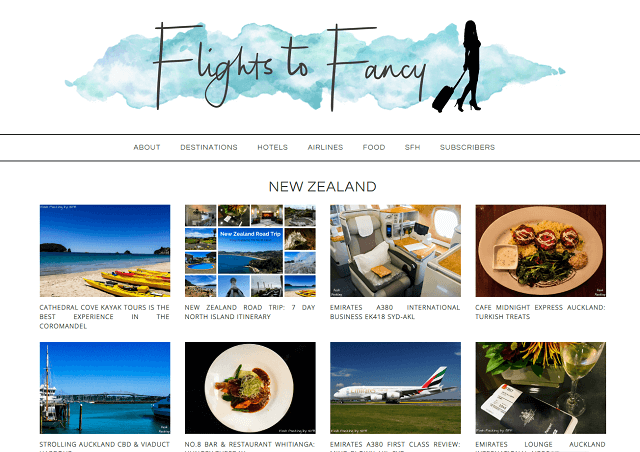 Allison is the author and curator of Flights to Fancy which she runs from her home in Sydney Australia. A Risk Manager by Day, Allison took her first international flight when she was just nine months old and has been travelling ever since. She has visited 23 countries in total and instead of living the dream of travelling full-time, manages to break up her annual leave into blocks of 1 week holidays to explore as much as she can.
Allison describes her travel style as 'luxury for less' and looks for bargains wherever she travels. Make sure you follow her blog for tips on amazing hotels, must-do activities and fabulous feasts!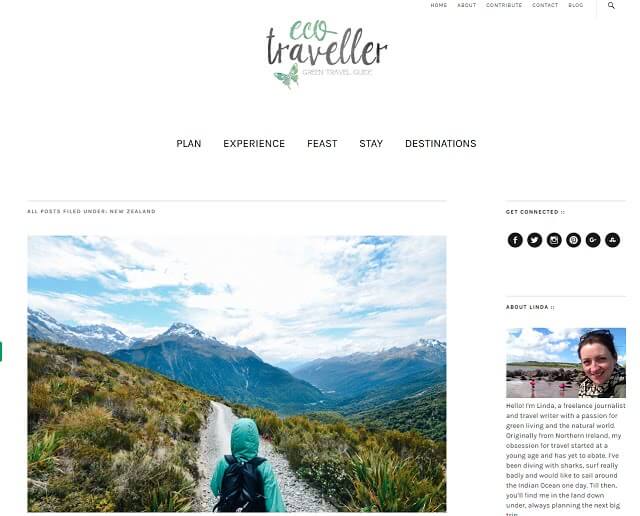 We think Linda is on to something big with her Eco Traveller blog. There is a growing movement towards eco-tourism and Linda has been on board since 2011 with her awesome blog. Whilst Linda is originally from Northern Ireland, she now calls Melbourne home and has travelled extensively throughout Asia, North America, Australia and of course, New Zealand. Linda's blogs are insightful and provide some awesome travel tips, but they always bring us back to eco travelling and how we should be thinking responsibly when we travel. Want to go to Phi Phi in Thailand but worries about overcrowding? She has a great alternative. Fancy trekking Machu Picchu but concerned about the damage caused by so many tourists? She has another amazing walk in Peru that has the wow factor.
When it comes to New Zealand, Linda has some great posts on conservation and sustainability in projects throughout the country. Make sure you check out her New Zealand blogs and follow her on social media.
OK, so technically Kirstie, author and curator of Venga, Vale, Vamos is not an Aussie. She did, however, spend two and a half years calling Sydney home before heading off to become a full-time traveller and has some awesome tips on travelling both here in New Zealand as well as Australia. She is a traveller of note having visited 72 countries and counting and caught the bug early on a trip to Granada in Spain (hence the Spanish influence in the title of her blog). Whether you're a traveller, thinking about travelling or maybe an expat living overseas, Kirstie has some awesome tips on doing it all!
Make sure you check out Kirstie's awesome blog posts on New Zealand – whilst Kirstie's last trip to New Zealand was back in 2016 when she spent a month travelling around the North and South Islands, she is eagerly awaiting her next trip.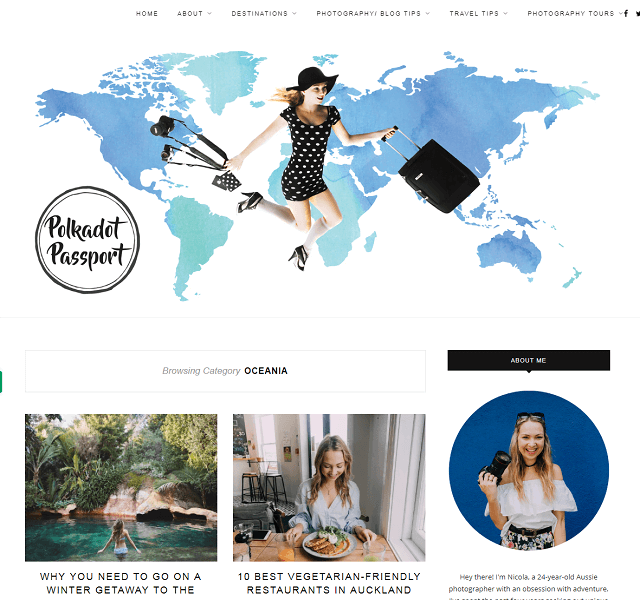 If you love fun-seeking adventure, then make sure you follow 24-year old Aussie photographer and blogger, Nicola and her fantastic Polkadot Passport blog. Nicola's journey is actually very different to a lot of the bloggers on our list. Instead of heading off to Uni and then on an OE, Nicola finished up with high school and followed her passions: photography and travel and has now carved out a full-time career from it. At only 24, Nicola has already visited 54 countries in 4 continents. Her blog is a mix of bucket-list experiences, destination guides, travel photography tips and some pretty amazing stories.
Make sure you check out Nicola's posts about beautiful New Zealand and follow her on social media.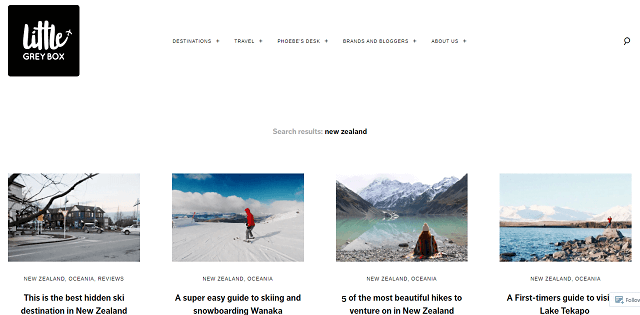 Amazing photos and awesome writing are what you can expect from Phoebe and Matt, award-winning Australian bloggers and professional travel creatives. These guys are the bomb when it comes to creating awesome content – Phoebe is a travel writer and photographer and Matt is a videographer and photographer – a perfect combination for producing and curating an award-winning travel blog.
Phoebe and Matt write a lot of content about travelling in Australia but they do like to pop over the ditch every now and again and have written some awesome guides to travelling in New Zealand. They love their skiing and have some great tips for hidden gem ski locations and love to get off the typical tourist path and explore some of our hidden gems.
A blog about food and travel – now that's our kind of blog! A Matter of Taste is an awesome blog where you will find recipes, hotels, flights and lounge reviews – all super-useful content that's for sure. The blog is authored and curated by Aga who was born and raised in Poland, however has been living in Australia since 2010 and now calls Melbourne home. Instead of ticking off bucket-list items when planning an adventure, Ada picks her destinations based on what she can eat when she gets there – we love that!
Along with her husband, Ada has travelled extensively through New Zealand since moving to Australia and has some awesome tips and driving itineraries – make sure you check them out!
Who says adventure has to stop once you have a family? That's when the fun just begins! Thrifty Family Travels is a great resource for anyone who is travelling with a young family. Melissa, Andy and young daughter Myla are travelling the world on a budget (with the occasional splurge of course!). They are currently based in Brisbane and like Ada above, they also have a strong focus on food (mainly Andy!). Their blog is packed with tips about packing light, where to go and how to save money once you get there.
The Thrifty Family have travelled to New Zealand a couple of times already and created an awesome family-friendly itinerary for the South Island as well as picking out some of the best free family activities along the way. Check out their New Zealand posts with more coming soon!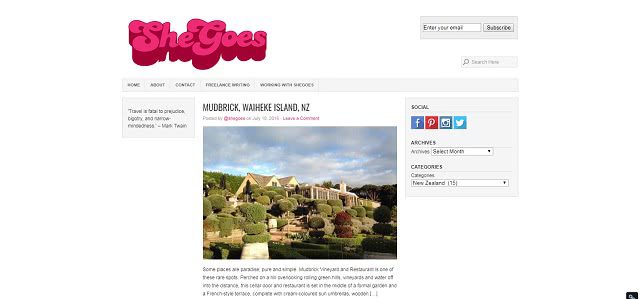 Emma is the author and curator of She Goes – a witty and informative travel blog which will take you to all four corners of the globe with some insightful and informative posts. Emma has been writing since a very early age and her unbiased opinion gives plenty of food for thought. Emma has travelled pretty extensively in New Zealand although it's a couple of years since her last visit (come back soon Emma!). From tips on things to do in the Bay of Islands to campervanning through New Zealand, Emma has some great content and wonderful stories from her time in New Zealand.
Make sure you follow Emma on social media to keep up to date with her latest travels.
24. Travel Boating Lifestyle
We love these travel writer/photographer partnerships! They certainly make for great travel blogs. Fiona is a travel writer, photographer and content creator and her partner David is a photographer, videographer and web producer. This is a super-experience team who have been creating stories for the best part of half a century (keep that one quiet!). Their blog is old school and has old-school values – high quality journalism and good old-fashioned values. These guys have been published in world-leading publications including Australian Geographic and World Travel.
Despite being based in Australia, these guys have had limited travels to New Zealand (come back guys!). They do have some great posts however which are well worth checking out, especially if you're into wine and/or hiking!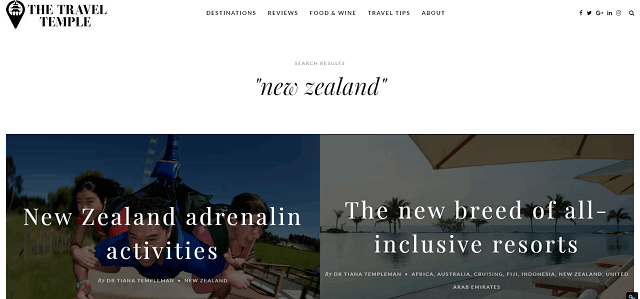 If you are over 30 years of age and have never really travelled before, you need to check out The Travel Temple. This is a blog written exactly with you in mind. Informative posts to help to get you out seeing the world. These guys try to cover off all your bases if you are planning a trip for the first time – big or small. From accommodation and airline tips to dining, tours and activities – they've got some awesome tips from their extensive travels across the globe.
These guys, Tiana and Trevor Templeman, have worked with some of the leading travel brands including Tourism Australia and Flight Centre so they have plenty of experience and expertise. They have travelled extensively throughout New Zealand so if you are planning your first trip to our shores, check them out!
Footprints and Memories is a curation of posts from around the world brought to you by Amy and Will. These guys like to get around and a lot of their travels seem to come on two wheels. They have some awesome blogging posts from all around the world which provides a different perspective to a lot of the bloggers in our list.
Most of Amy and Will's travels to New Zealand have focussed on the big cities like Auckland and Wellington so if you are planning a trip to either of these destinations, make sure you check out their New Zealand posts.
Coffee lover? Make sure you follow Traveling Honeybird – a travel blog fuelled by two coffee lovers – Jean and James. These guys are serious mountain bikers and hikers who also love the beach and the mountains so they cover off loads of great destinations and activities. It's been a couple of years since their last visit to New Zealand, however they love a winter trip here for the snowing and beautiful landscapes so they have plenty of great posts from their previous visits to our shores.
Make sure you follow the Traveling Honeybird on social media for all their latest posts.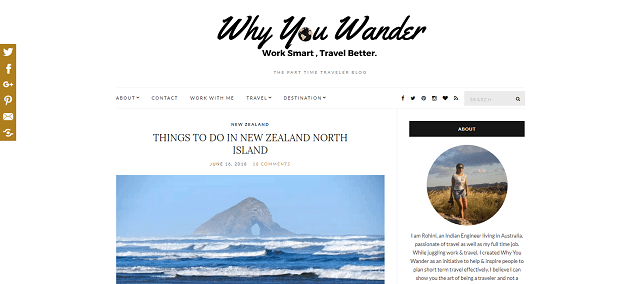 We love this blog as it offers a completely different take on travel to many of the bloggers on our list. Why You Wander is written and curated by Rohini and she decided not to quit her 9-5 job and instead tries to offer insights for people who struggle with time, money and opportunities to travel. Instead of focussing on full-time travel, Rohini instead writes articles that help travellers plan for short-term travels. Some of her itineraries are jam-packed full of things to do as Rohini always tries to maximise every second of her travels.
Rohini was over in New Zealand as recently as June 2018 and regularly visits so there are plenty of great blog posts on her blog so make sure you check them out!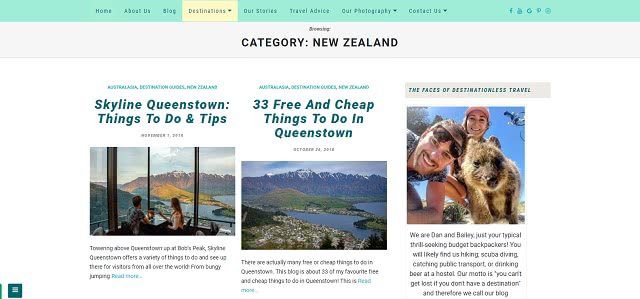 Dan and Bailey, authors and curators of Destinationless Travel, are your average backpackers, excited about discovering new destinations all around the world. These guys are super-relatable if you are planning any sort of backpacking trips – they travel on a budget, love to party with other travellers and write some pretty awesome stories on their blog. They are your typical Aussies – usually found in a hostel bar chatting to other people from around the world. Friendly and warm, their passion for travel comes out in their blogs.
These guys are regular visitors to New Zealand and unsurprisingly they love Queenstown! Make sure you check out their awesome New Zealand posts and follow them on social media.
Mick and Jen are a husband and wife team from Australia and as you can probably guess from their blog name, these guys love to snowboard and travel! They spend the winter in ski towns around the world and the rest of the year exploring and having fun. Their blog is great if you love the snow and you're a skier or snowboarder – they have so many awesome tips and advice for places to visit, things to pack, how to pick the best insurance and how to save to do all this travelling! There is more to their blog than just snowboarding though and mingled in between all the snow stories, you will find other inspiring tales from their travels together.
New Zealand features high on their list of places to blog about as the perfect winter playground for many Aussies. Get the inside track on winter trips to New Zealand straight from a couple of Aussies who make the regular pilgrimage across the ditch every winter.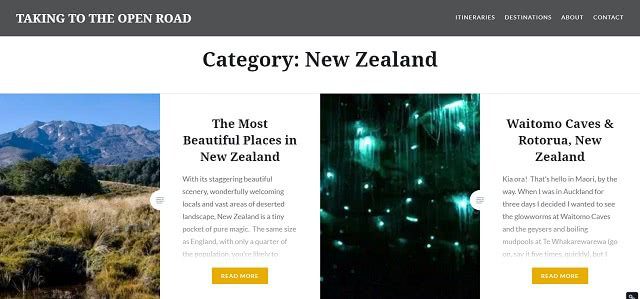 We know that for some people, planning an entire trip itinerary can be pretty daunting – that's why we created our awesome itineraries section. The guys behind Taking To The Open Road had exactly the same idea! They have some awesome information for seasoned travellers with itineraries ranging from 1-3 days all the way up to weeks of adventure on the road. With resources for over 20 travel destinations around the world, Peggy has pulled together some fantastic tips from the 40+ countries she has visited to date.
Whilst Peggy has not been to New Zealand that often, she does have a handful of informative posts on her blog so make sure you check them out and follow her on social media.
Round Up
With so many Aussie visitors coming to New Zealand every year, we hope you find these bloggers to be super helpful in giving you the lowdown – one Aussie to another! There are some really awesome posts from all of these guys and we hope you enjoy researching your trip and making the most of your time in New Zealand.
See you soon!
Related Posts