Top 5 popular destinations from
Dunedin Airport
Car rental in Dunedin made easy so you can enjoy the journey.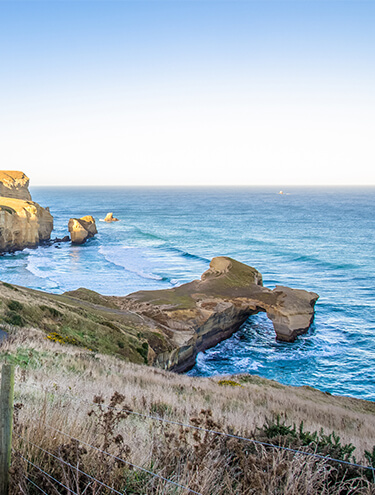 5 most popular driving destinations from Dunedin
Lying on the central-east coast of Otago, Dunedin is a diverse city with a rich culture, and is fast becoming one of the hotspots of the South Island. The city's architecture is brimming with historical and fascinating buildings, from Larnach Castle to the Dunedin Railway Station, making it a captivating city to explore.
Our Dunedin branch is located right inside the Dunedin Airport terminal building, making it incredibly easy to begin your journey. As soon as your plane touches the tarmac, you can walk off the plane and straight to our desk to pick up your keys and go.
We've perfected our pick-up process, so that when you arrive at our branch things couldn't be easier. If you've already pre-registered all your details using our handy App, checking in is a breeze.
Following the COVID-19 pandemic, we moved to a contactless checking in process using our App which not only helps to protect the health and wellbeing of our customers and staff, it also helps to ensure a speedy check-in process. Our App will save you time throughout your trip here in New Zealand so make sure you download it prior to your trip for the smoothest experience.
Once you're all checked-in and ready to go, it's time to hit the road. while a lot of people already know where they are heading, you might be looking for some inspiration for your holiday or a long weekend away. If you are looking for some awesome ideas for places to visit that are within easy driving distance from Dunedin, check out our top 5 destinations from Dunedin and get turn that daydream into a reality.
Dunedin is the South Island's second most populous city, so it'll come as no surprise that the most popular destination from Dunedin is the South Island's most populous city, Christchurch. The driving route takes you up the lower east coast of the South Island, with spectacular views and scenic lookouts along the way, so it's easy to see why it's the hot favourite for travellers.
Known as the Garden City, Christchurch is a wonderful place to explore and spend a few days as part of your South Island adventure. From the stunning botanical gardens to the meandering River Avon, Christchurch is a great place to explore for those who love the outdoors.
If you want to try something a bit different, pay a visit to the International Antarctic Centre, located out near the airport, where you can experience what life in Antarctica feels like. Take a ride on a Hagglund, experience an Antarctic storm, or visit the penguins – a great day out for adults and kids alike.
Christchurch is around 4 hours and 50 minutes from Dunedin and while people do make the trip in one day, we would recommend breaking it up and stopping off in any of the towns along the way, such as Oamaru, Timaru or Ashburton. It's a great way to freshen up and stretch, and also discover some hidden gems along the way!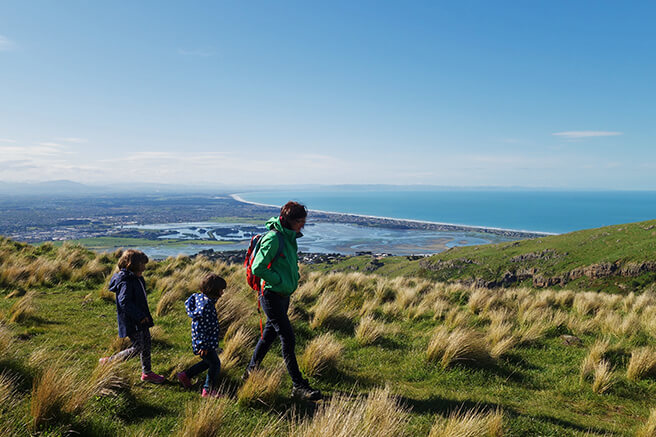 ---
The second most popular destination from Dunedin on our list should come as no surprise being the tourist hotspot of Queenstown. Regarded as one of the premier destinations in New Zealand, Queenstown is one of those places that has it all.
The first word that comes to mind when one thinks about Queenstown is 'excitement'. That's because Queenstown has established itself as a world leader in the art of adventure tourism. Bungy jumping and jet boating are its most famous thrilling attractions, but you could easily add white water rafting, canyoning, quad biking, skydiving and more to an exhilarating bucket list.
That being said, Queenstown is also a place that can be incredibly relaxing with its picturesque scenery to admire an enjoy. A cruise on the TSS Earnslaw, an authentic steamboat, across the beautiful Lake Wakatipu is a great way to take in the surroundings. If you're not afraid of heights, the Skyline Gondola offers its own amazing panoramic views of the lake and the snow-capped peaks of the Southern Alps.
If you happen to be travelling in New Zealand's winter, you'll be able to experience the atmosphere of a thriving ski season, the likes of which you won't see anywhere else in the country. The Remarkables, Coronet Peak, Cardrona and Treble Cone are ski resorts that are all within driving distance of Queenstown giving you plenty of options to hit the slopes.
Queenstown is a 3 hour 35 minute drive from Dunedin, and will also centre you in the centre of some beautiful destinations, meaning you can easily pop over to places like Arrowtown or Glenorchy for lunch or further Otago exploring.
---
It wouldn't be a list of the top destinations from Dunedin without the southernmost and westernmost city in New Zealand, Invercargill. This charming city is the commercial hub of the Southland region, offering a unique insight into the diverse landscape of New Zealand.
Invercargill is often referred to as the "City of Water and Light", and this is because it is one of the best places in New Zealand to see the Aurora Australis (Southern Lights). Due to its very southern location, the city has long summer daylight hours, meaning the city has frequent appearances of the phenomenon, which will leave you mesmerised with a memory you'll keep forever.
The area is surrounded by large areas of conservation land and marine reserves, meaning you'll get an appreciation for the stunning landscape of the Southland region, and why New Zealand is considered one of the most beautiful countries in the world. Queens Park in the centre of the city is a lovely place for a bike ride or day out with the kids, with over 80 hectares of immaculate gardens, playgrounds and wildlife habitats.
If you're looking for a place to relax and eat good food, Invercargill has it all, with lively cafes, bars and restaurants to keep you entertained and well-fed throughout your stay.
The drive to Invercargill from Dunedin takes just over 2 and a half hours, and passes through some stunning farmlands that'll give you the authentic Kiwi experience.
---
Unique, picturesque and a true South Island gem, the photogenic region is one our favourite destinations and is soon to be yours too.
A true Winter wonderland, a visit to the region in the cooler months will give you a chance to soak in the endless views of snow-capped mountains and idyllic lakes. One of the main hubs for snow sports in NZ, the region is home to two of NZ's top ski fields – Treble Cone and Cardrona.
Need to stretch your legs? From causal and relaxing strolls along the Lake, to some of the most iconic treks, you'll be spoilt for choice when picking a walking spot in Wanaka. Roys Peak is a crowd favourite for the breath-taking 360 degree views on offer at its peak. Don't forget your camera at home, this is a photo op you won't want to pass up.
Mt Aspiring National Park is another must visit spot for nature lovers. The World Heritage Area is home to glaciers, lush forests and braided rivers. From popular tramping and bike trails to jet boat and canyoning adventures, the adventure lover in you will be glad you made the trip out.
During the warmer months, the lakes and waterways are beaming with activity. Spend your day swimming, paddle boarding or kayaking beautiful Lake Wanaka. The 'Wanaka Tree' is one of the most photographed trees in the country, and you'll soon see why. Explore the famous waterways and rivers by taking a short drive North to Makarora, to walk the Blue Pools track. The suspension bridge takes you over the crystal clear turquois water of the pools and you'll be itching to go for a dip. The cool glacial water can be quite a shock, so best save this for a warmer day.
If you're looking to unwind and spend a few days relaxing, you can indulge your inner foodie by visiting the amazing selection of cafes and restaurants in town.
---
It's the last destination on our list and a definite must visit if you're travelling from Dunedin. Te Anau is often referred to as the gateway to the Fiords and is a great place to base yourself if you're planning a trip to Milford Sounds and the surrounding areas.
The town, located on the eastern shores of Lake Te Anau is a nature lover's wonderland. Within close proximity to the Fiordland National Park, it's a great place to stay if you're looking to conquer the Kepler Track, one of NZ's Great Walks. Although a little further North, The Milford Track is another one of NZ's eight Great Walks that's accessible from Te Anau.
As we've mentioned, one of the main reasons to base yourself in the idyllic town is get nice and close to Milford and Doubtful Sounds. Two fiords that are best known for their peaks and waterfalls, as well as amazing wildlife like dolphins, seals and penguins. Milford Sound is one of the most popular destinations in the South Island and even better in the rain - we really do think it's worth the trip out!
If you're wanting to plan a few more activities to fill the remainder of your days, Te Anau is home to a series of limestone caves, where thousands of native glowworms glitter and await your visit. The 12,000 year-old caves have passages that can be explored on foot, or by boat.
The 3 and a half hour drive from Dunedin to Te Anau is well worth it, as it puts you in a great spot to explore much of the Lower South's most popular spots.