Top 5 popular destinations from
Nelson Airport
Car rental in Nelson made easy so you can enjoy the journey.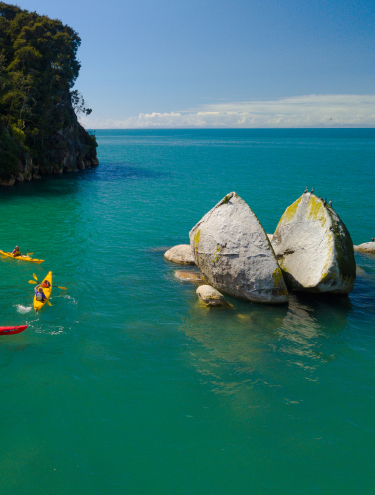 5 most popular driving destinations from Nelson
Nelson is located on the north-eastern tip of the South Island of New Zealand and has long been a popular holiday destination for Kiwis and international travellers alike. Whilst Nelson itself is a busy city with a laid back vibe, many people use Nelson as a base for exploring the wider Nelson region including Marlborough and the Queen Charlotte Sounds. The city is also home to museums, gardens, mountain biking and is recognised as the Centre of New Zealand.
Our brand new Nelson Airport rental car branch is located right inside the Nelson Airport terminal building and renting a car in Nelson couldn't be simpler. Once you enter the terminal, simply look for the big pink sign and our friendly, award-winning team will get you on your way in no time.
Nelson is the latest addition to the GO Rentals line-up that now features seven branches located throughout New Zealand. We've been in business for over 20 years, and we are delighted to bring our award-winning customer service and passion for travel in New Zealand to Nelson.
Over the past 20 years, we have perfected the pick-up and drop-off process so when you rent a car in Nelson, you will benefit from those years of experience with a speedy check-in process leaving you with more time to enjoy your journey.
The COVID-19 pandemic has changed the way we all work and at GO Rentals, we have put in place a number of processes to help to keep our customers and staff safe. All of our staff across all branches at 100% vaccinated and we encourage all customers to check-in via the app which will help to speed up the check-in process when you arrive at our Nelson branch. Our App will save you time throughout your trip here in New Zealand so make sure you  download it prior to your trip for the smoothest experience.
Once we've got you checked in, it's time to hit the road. Whilst you might have a good idea of where you want to go already, we wanted to provide you with some more inspiration in case you are still planning your trip and looking for things to do in Nelson and beyond. Whether you are heading to Nelson for a long weekend or longer, there are some pretty amazing destinations within a short driving distance of Nelson. Check out the top five destinations from Nelson below and start planning your next New Zealand adventure today.
Despite being located 5 hours' drive from Nelson, Christchurch is the most popular destination for searchers here in New Zealand when it comes to destinations they are looking to explore. As the South Island's most populated city, it's perhaps no surprise to find so many people looking for directions and route planning ideas for a trip from Nelson to Christchurch.
The drive from Nelson to Christchurch is a spectacular one and will take you through at least two of the most popular destinations on our list: Blenheim and Kaikoura. The drive will first take you east across the top of the South Island before you follow the coastal road south to Christchurch.
Known as the Garden City, Christchurch is a wonderful place to explore and spend a few days as part of your South Island adventure. From the stunning botanical gardens to the meandering River Avon, Christchurch is a great place to explore for those who love the outdoors.
If you want to try something a bit different, pay a visit to the International Antarctic Centre, located out near the airport, where you can experience what life in Antarctica feels like. Take a ride on a Hagglund, experience an Antarctic storm, or visit the penguins – a great day out for adults and kids alike.
With the drive taking around 5 hours, we would recommend stopping off along the way. Maybe sample some wine in Blenheim (passengers only!) before heading off for some whale watching in Kaikoura.
---
Picton is another popular destination to base yourself for exploring the Nelson and Marlborough region and it is located around 2 hours' drive from Nelson. Picton is a popular spot for those who take the ferry across the Cook Strait to or from the North Island but there is more to Picton than simply being a transit town.
Picton is one of New Zealand's hidden gems. Often overlooked by nearby destinations like Nelson and Blenheim, there is more to Picton than meets the eye. Those who take the time to stick around and explore are never disappointed.
Picton is a great place from which to explore the Marlborough Sounds and the Queen Charlotte Sounds. With some outstanding tramping trails and mountain biking tracks, Picton is a great destination for those who love the outdoors. The town is also home to the Edwin Fox Maritime Museum – a museum to showcase the ninth oldest ship in the world!
The Ecoworld aquarium is a great place to take the whole family and if you want to really get out and explore the area, try taking on the Queen Charlotte Track – a 3-4 day tramp that is one of the most exquisite coastal walks in the country.
Jump in your rental car in Nelson and make the short 2-hour drive to Picton – we promise you won't be disappointed, and this is an easy day trip from Nelson.
---
Blenheim is one of New Zealand's most popular tourist destinations and it's not hard to see why. Blenheim is responsible for the production of 75% of New Zealand's wine and this is the primary drawcard in the area although there is more to Blenheim than simply relaxing and drinking wine.
Located just under 2 hours from Nelson, Blenheim is another great day trip destination for those basing themselves in Nelson or it can be added on as part of a South Island road trip, especially if you are heading to or from Christchurch. The vineyards in the region are the biggest attraction and with a number of cellar door experiences, it would be a crime not to sample some of New Zealand's finest wines whilst you are in the area.
The Marlborough region is best known for its Sauvignon Blancs, however, a number of varietals thrive here and you will find some of New Zealand most popular wine brands located in and around Blenheim including Wairau River, Wither Hills, Saint Clair and Villa Maria. A wine tour by bike is a great way to explore the region and if you don't have to drive, it means you can sample a few wines along the way.
Outside of the vineyards, Blenheim is also home to the Omaka Aviation Heritage Centre – Peter Jackson's personal collection of WWI planes and memorabilia. There are also stunning parks and reserves in the area including Pollard Park, Harling Park and Riverside Park.
---
Located around 3 and a half hours from Nelson, Kaikoura is one of the South Island's premier tourist destinations thanks to the opportunity to whale watch all year round. The drive from Nelson to Kaikoura is around 250kms and will take you through Blenheim before you turn south down the east coast towards Christchurch. Kaikoura sits in the middle of SH1 between Blenheim and Christchurch making it the perfect stop-off point for people making the drive between Nelson and Christchurch.
If you are going to Kaikoura, the chances are it's because you want to see whales. The Whale Watch Kaikoura experience is a must-do attraction and gets you pretty much as close as you can get. Sperm Whales are some of the most magnificent and mesmerising creatures in the world, an undeniable fact when witnessed in the flesh.
As well as the opportunity to see whales, Kaikoura is also home to dolphins and a big bucket list item for many people is the opportunity to swim with dolphins which you can tick off in Kaikoura. Kaikoura is definitely a town with plenty of things to see and do on the water and is also home to albatross and seals, both of which you can see on guided tours in the area.
Heading inland, make sure you check out the Lavendyl Lavender Farm - an easy and relaxing way to spend a peaceful few hours. The gardens are incredible in full bloom and there are also tea rooms to enjoy and plenty of lavender products that make great gifts for your friends and family back home.
---
Despite not driving as many searches as the other destinations in the top five, Kaiteriteri is the gateway to the Abel Tasman National Park and is one of the most popular destinations for people visiting Nelson.
There are a number of places you can access the National Park including Motueka and Marahau and wherever you choose, you will be blown away by the spectacular surroundings. The Abel Tasman National Park is home to the Abel Tasman Coastal Walk – one of New Zealand's Great Walks and this is a popular activity for people exploring the park.
You can also get out of your comfort zone and give canyoning a try. Tasman Canyons will have you testing the limits of your comfort zone as you abseil down gorgeous granite canyons, zip through unspoiled rainforest and slide into some of the purest water and natural rockpools one can find.
Kayaking is one of the most popular activities in the National Park thanks to the crystal clear waters and calm conditions that make it ideal for novices and those looking for a relaxing time on the water. Pick a quiet and secluded beach for a picnic and explore at your own pace on a self-guided tour of the bays.
Finally, don't miss the iconic Split Apple Rock – an Abel Tasman landmark that sits in between Kaiteriteri and Marahau. No one is quite sure how the rock was formed – possibly when water filled the gaps between the rock, and then froze, causing it to split. However, it was formed, it is a spectacular landmark and something you can explore by kayak.