Over the past couple of years, self-drive day trips have become incredibly popular as the getaway of choice. We're extremely lucky in this country as no matter where you are, you can pretty much hop into a car and a short drive later, be somewhere extraordinary.
This is especially true our biggest city, Auckland – the city of sails, which has so many day trip destinations on its doorstep. While some articles we've seen suggest places like the Bay of Islands and the Coromandel Peninsula as day trip options, we think that 3+ hours drive each way is a little unreasonable for that.
So, we decided to pick our 9 favourite self drive day trips from Auckland that are no more than 2 hours drive (give or take a few mins) from the CBD to give you plenty of quality time while you're there.
Pick up your car from either of our Auckland car rental branches and head out for the day.
1. Puhoi
33 minutes drive from the city
View this post on Instagram
Puhoi Village is a quaint little place with a fascinating and unique history. Established in the 1860s just off the picturesque Puhoi River, the settlers were migrants from Bohemia (now known as the Czech Republic). The Puhoi Heritage Museum shares many great stories about this which makes the perfect starting point when you arrive. Once acquainted with its history, there are plenty of choices for things to do with one of the more unique things being trying some of its world-famous (in New Zealand), Puhoi Valley Cheese at the local cafe and shop.
2. Whangaparaoa
42 minutes drive from the city
View this post on Instagram
Auckland has no shortage of peninsulas within a short drive of the city and one of the best is the Whangaparaoa Peninsula. The Whangaparaoa Peninsula is said to be the first landing point for Maori when they first came upon these lands some 800 years ago. First impressions must have been very positive back then as Whangaparaoa has some spectacular bays and beaches to set your eyes on. It is also home to Shakespeare Regional Park, a beautiful sanctuary of conservation and recreation. For movie buffs, the coastline of Whangaparaoa was also used in the filming of the 2018 blockbuster, The Meg, which is a fun fact to take with you.
3. Hunua Ranges
48 minutes drive from the city
View this post on Instagram
The Hunua Ranges Regional Park is an awesome place to visit as the largest area of native forest in the Auckland region. On arrival, you're greeted to the fantastic sight of the Hunua Falls and from there you can follow any number of different walking tracks that take you around the park including one that includes glow worms. As well as all the natural beauty you'll see including the flora, fauna and birdlife, you'll also get to see the spectacular reservoirs and dams that constitutes the main supply of water for Aucklanders. A great choice for nature lovers.
4. Matakana
1 hour drive from the city
View this post on Instagram
Matakana has quickly become one of the most popular weekend getaway destinations for Aucklanders thanks to its fantastic Farmers Market every Saturday. This may be appealing or not for some people but it definitely adds to a great vibe with delicious food and produce available as well as live music, arts and crafts. The surrounding area is just as nice to explore as well with nearby vineyards like Brick Bay and Plume, beaches like Snells Beach and Omaha and a great little ice cream parlour called Charlie's.
5. West Coast Beaches
All around 1 hour's drive from the city
View this post on Instagram
The West Coast beaches are a great place to spend a day for an altogether different type of coastal experience. You won't find the golden sands and calm shores present on the East Coast of the country. Here, you'll encounter black sand beaches and an untamed coastline clashing against the powerful force of the sea. It's an awesome sight to see and is one that offers a different type of scenery that is wild but calming in its own way. There are a number of beaches to choose from along the coast like Muriwai, Piha and Te Henga all with their own unique characteristics that include gannet colonies, surfing, walks, waterfalls and more. Each one of them is a winner in our book.
6. Awhitu
1 hour 15 minutes drive from the city
View this post on Instagram
Awhitu is located on a beautiful peninsula just over an hour's drive southwest of the CBD. It's a lesser-known destination for Aucklanders which is great as it offers an escape from the hustle and bustle that comes with crowds. It has a lovely regional park that has some peaceful and serene coastal walks as well as some interesting historical sites as well. Driving to the top of the peninsula you can also visit the wonderful Manakau Heads Lighthouse which offers great elevated views across the Manukau Harbour and Tasman Sea. You might also be tempted to stop at Awhitu Wines Vineyard on the way back to take home a nice bottle of Peninsula Chardonnay too.
7. Hamilton
1 hour 28 minutes from the city
View this post on Instagram
The biggest city within driving distance of Auckland is Hamilton, a very easy drive down State Highway 1 and a nice place to spend a day too. Hamilton has some great natural features within its boundaries which include the mighty Waikato River (the longest river in New Zealand) and the picturesque Hamilton Lake Domain. It also has a spectacular display of natural beauty that's been curated by hand in the Hamilton Gardens. Easily its most popular attraction, the Hamilton Gardens has over 20+ gardens and walks with a diverse range of flowers, plants, trees, arrangements and displays to see and enjoy. It's an Instagrammers paradise and one you won't want to miss.
8. Waiheke Island
2 hours (including car ferry) from the city
View this post on Instagram
Most people think of Waiheke Island as a destination by foot and ferry but there is also a car ferry service that you can take as well. There are quite a few advantages to taking a car to Waiheke that might not be obvious at first glance. Waiheke is bigger than you might think and having a car makes it so much easier to get to attractions at different parts of the island, whether its the Man O War Vineyard on the Eastern side or Oneroa Village, 35 mins drive to the west. You can also bring more things with you, like a boot load of gear for the beach or goodies for a pleasant picnic in the sun. You'll also have the freedom and flexibility to do things at your own pace without having to wait for the local busses and/or taxis which means you can make the most of all the awesome things to see and do there.
Bonus: In late June 2022, we opened our latest car rental branch on Waiheke. As well as bringing our award-winning customer service and modern fleet of rental cars to Waiheke, we are also offering bike and e-bike hire on the island – a great way to get around. Check out our all-new Waiheke car rental branch today.
9. Hobbiton
2 hours and 4 minute drive from the city
View this post on Instagram
The furthest day trip recommendation on this list is one that's well worth the drive time. That's because it literally takes you to another world – the world of Middle Earth. If you're a Lord of the Rings fan, Hobbiton will already be on your life's bucket list if you haven't been already. It's an immaculate recreation of the actual set used in Sir Peter Jackson's epic films with hobbit holes that looked like they've been lived in for years. If you're really keen (as many fans are) you're more than welcome to dress up as a character from Middle Earth to make the trip all the more memorable. We also recommend a pint or two of Hobbit ale at the Green Dragon Inn.
Some Great Self Drive Day Trips From Auckland
So there you have it. Our 9 favourite self drive day trips from Auckland for that quick, easy and fun getaway you're looking for. Whether its the coastal beauty of the Whangaparaoa Peninsula or the fantasy world of Middle Earth you'll have plenty of time wherever you go to create some wonderful memories.
Related Posts
Book a vehicle for this trip
We recommend: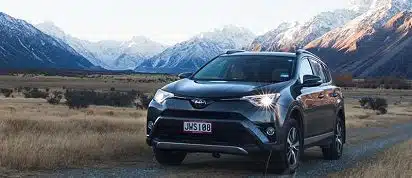 Intermediate 4×4
Toyota Rav 4
Seats

5 seats

Large Bags

3

Small Bags

4

Transmission

Auto trans