Top 5 popular destinations from
Auckland City
Car rental in Auckland made easy so you can enjoy the journey.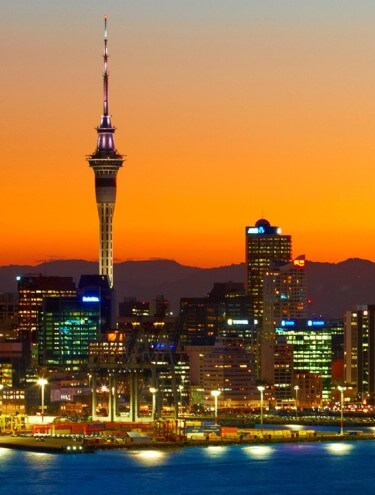 5 most popular driving destinations from Auckland
Auckland is the starting point for many people travelling around New Zealand. While we have a branch conveniently located at Auckland Airport, we also know that many people, especially Aucklanders, want to pick up their rental car from the city. That's why we also have a branch located right in the heart of the city.
Our Auckland City branch is located just a short 15-minute walk from downtown Auckland and the transport hub, Britomart. Hop in an Uber and you'll be there in less than 5 minutes.
Once you arrive at our state-of-the-art branch at Auckland City, things couldn't be easier.
If you've already pre-registered all your details using our handy App, checking in is a breeze. Following the COVID-19 pandemic, we moved to a contactless checking in process using our App which not only helps to protect the health and wellbeing of our customers and staff, it also helps to ensure a speedy check-in process. Our App will save you time throughout your trip here in New Zealand so make sure you download it prior to your trip for the smoothest experience.
Once you're all checked-in and ready to go, it's time to hit the road. Whilst a lot of people already know where they are heading, you might be looking for some inspiration for your holiday or a long weekend away. If you're looking for some great ideas for places to visit that are within easy driving distance from Auckland, check out our top 5 destinations from Auckland City and get planning your next trip.
This might be a surprise to a lot of people; however Hamilton is one of the most popular destinations from Auckland. Whether it's locals travelling for work or visitors flying in and checking out this beautiful Waikato city, Hamilton is a pretty popular destination for people driving from Auckland.
Hamilton does have a lot to offer visitors and if you're a New Zealander who has never paid a visit, we encourage you to give it a whirl the next time you're in town.
The most popular attraction in Hamilton is without a doubt the beautiful Hamilton Gardens. With over 1 million visitors every year, the Gardens regularly top the list of things to do in Hamilton. With 20+ themed gardens, there's a bit of something for everyone. Even if you're just passing through, the Hamilton Gardens are easily accessible on the drive south from Auckland.
If you're looking for a bit of a hidden gem, make sure you check out Hamilton Lake (also known as Lake Rotoroa). Located in the heart of the city, the Hamilton Lake Domain and Walkway is a popular spot for walkers and runners and a great place to enjoy the beautiful surrounds of the Waikato.
Hamilton is a short 1h 45 minute drive from Auckland making it a great start to any trip from Auckland.
---
If you continue on the road south past Hamilton, you will reach Rotorua.
One of the North Island's most popular tourist destinations, Rotorua has a big appeal to locals and international visitors alike.
Famed as the geothermal capital of New Zealand and the adventure capital of the North Island, there is no shortage of things to do in and around Rotorua.
The main attractions in the city are geothermal based. From the stunning Champagne Pools at Wai-O-Tapu and the towering geysers of Te Puia, to the relaxing hot pools at the Polynesian Spa – Rotorua has a bit of something for everyone.
If it's adventure activities you're looking for, the mountain biking in the Redwoods is some of the best in the country and nothing quite beats the thrill of a jet boat ride on Lake Rotorua.
It's easy to see why so many people make the short drive to Rotorua. It'll take you just under 3 hours to get from Auckland to Rotorua.
---
Continuing our journey south, Taupo is the next on our list of popular destinations from Auckland.
Taupo is home to New Zealand's largest lake and is a great place to spend a weekend or longer. Taupo is another destination that is jam-packed with things to do – no matter what you're into.
The lake is home to plenty of activities including jet boating, fishing, parasailing and even golf. It's also one of the most popular places in the country to go skydiving as you throw yourself out of a plane from 15,000 ft with stunning views over the lake as you glide back down to earth.
The Huka Falls are one of the most popular tourist attractions in town and are a sight to behold. The Huka Falls are one of New Zealand's most powerful waterfalls and it's a pretty impressive sight to watch 300,000 litres of water tumble over the 11-metre-high falls every second!
Cycling and golf are two other attractions that bring people to Taupo with two world-class golf courses located in the town and an annual bike race around the lake which attracts hundreds of entries.
The drive to Taupo will take around 3 and a half hours from Auckland but maybe consider a stop off in Hamilton or Rotorua on the way down.
---
The Coromandel is a true New Zealand gem. A popular holiday destination for Aucklanders, it's also a haven for Kiwis and international visitors too.
The Coromandel Peninsula offers a number of options when it comes to places to stay. One of the most popular in Whitianga which is located to the north east of the peninsula. It's just over 2.5 hours' drive from Auckland which makes it such an attractive destination – within a few short hours of hitting the road, you can be sitting back and relaxing on one of New Zealand's most beautiful beaches.
The Coromandel Peninsula is full of absolute gems. The most popular tourist attraction is Cathedral Cove. This truly idyllic destination is accessible by boat or a one-hour clifftop walk before a steep descent but it's well worth the trek.
Other popular spots around the Coromandel Peninsula include Hahei, Hot Water Beach, Deep Creek Railway and Tairua.
It's a great spot for a weekend away but if you can, extend your stay and truly explore everything the Coromandel Peninsula has to offer.
---
Our fifth and final destination is the only one located north of Auckland.
The beautiful Bay of Islands has long been a popular destination for locals and tourists alike and is easily accessible from Auckland. Head straight up SH1, heading north and you'll find yourself in a tropical paradise.
The most popular destinations if you are looking for place to stay is the centrally located Paihia. Providing a great base for exploring on land and sea, Paihia is a real tourist town and caters perfectly to holidaymakers and weekend getaways.
A trip out on the water is a must when visiting the Bay of Islands. Whether it's a cruise out to the famous Hole in the Rock or a dolphin cruise, there are plenty of options for exploring the 144 islands that make up the Bay of Islands.
A popular trip on land it to make the pilgrimage to Cape Reinga – the most northerly point in New Zealand. It's a good drive from Paihia but worth it to see the amazing sight of two oceans colliding. It's also a good opportunity to explore 90 Mile Beach.
Paihia is also home to the Waitangi Treaty Grounds – New Zealand's most important historic site which attracts thousands of visitors every year. Learn about the history of New Zealand and explore the stunning grounds.
Paihia is around 3.5 hours from Auckland.