Top 5 popular destinations from
Christchurch Airport
Car rental in Christchurch made easy so you can enjoy the journey.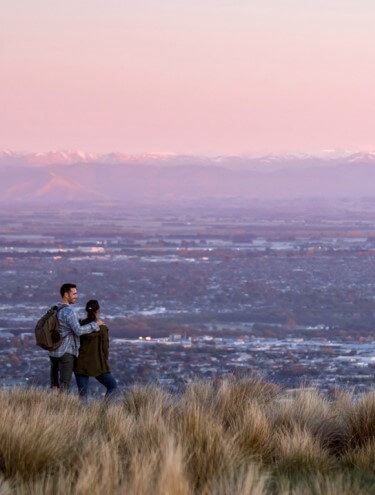 5 most popular driving destinations from Christchurch Airport
Christchurch is the entry point for many travelling to the South Island and the most frequent starting point for locals (as the South Island's most populous city) embarking on an adventurous road trip.
The GO Rentals Christchurch Airport branch is only a few minutes' drive from the airport with a pink shuttle available to pick you up after you land and exit the terminal.
On arrival at our branch, we do everything we can to make picking up your rental car as easy as possible and if you've pre-registered all your details using our handy App, it'll be even quicker.
Following the COVID-19 pandemic, we moved to a contactless checking in process using our App which not only helps to protect the health and wellbeing of our customers and staff, it also helps to ensure a speedy check-in process. Our App will save you time throughout your trip here in New Zealand so make sure you download it prior to your trip for the smoothest experience.
Once you've checked-in, you'll be free to be on your way. While many people might already know where they'll be heading, for those still in the planning phase, we decided to do a bit of research to help inspire your adventures. Below you'll find the top 5 driving destinations from Christchurch, all with their own unique attractions and experiences that await.
The most popular destination from Christchurch on our list should come as no surprise being the tourist hotspot of Queenstown. Regarded as one of the premier destinations in New Zealand, Queenstown is one of those places that has it all.
The first word that comes to mind when one thinks about Queenstown is 'excitement'. That's because Queenstown has established itself as a world leader in the art of adventure tourism. Bungy jumping and jet boating are its most famous thrilling attractions, but you could easily add white water rafting, canyoning, quad biking, skydiving and more to an exhilarating bucket list.
That being said, Queenstown is also a place that can be incredibly relaxing with its picturesque scenery to admire an enjoy. A cruise on the TSS Earnslaw, an authentic steamboat, across the beautiful Lake Wakatipu is a great way to take in the surroundings. If you're not afraid of heights, the Skyline Gondola offers its own amazing panoramic views of the lake and the snow-capped peaks of the Southern Alps.
If you happen to be travelling during New Zealand's winter months, you'll be able to experience the atmosphere of a thriving ski season, the likes of which you won't see anywhere else in the country. The Remarkables, Coronet Peak, Cardrona and Treble Cone are ski resorts that are all within driving distance of Queenstown giving you plenty of options to hit the slopes.
Queenstown is a 5 hour and 54-minute drive from Christchurch Airport.
---
The second most popular destination from Christchurch is Dunedin. The second largest city in the South Island is known as the 'Edinburgh of the South', due to its strong Scottish roots. Its fascinating history is one of the big appeals of the city and can be seen and experienced in many of its great sights.
One of the most popular is undoubtedly Larnach Castle, the only castle to be found in New Zealand that was built in the late 19th Century. Stunningly restored with gardens that are equally immaculate, a visit to Larnach Castle is one that never fails to amaze and engage.
Larnach Castle isn't the only bit of historical architecture to see in Dunedin as the city is full of man-made marvels from its early days. Other must-see buildings include the Dunedin Railway Station, the First Church of Otago, the Registry Building at the University of Otago and St Paul's Cathedral in the main plaza of the city.
Dunedin's not short on natural wonders either as the gateway to the gorgeous stretch of coastline that is the Otago Peninsula. Considered by many to be the wildlife hub of New Zealand, the Otago Peninsula is a great place to go to experience high quality ecotourism. During a visit, you'll have the opportunity to see Hoiho (Yellow Eyed Penguin), Royal Albatross and the New Zealand Sea Lion.
Dunedin is a 4-hour 42-minute drive from Christchurch Airport.
---
The top of the South Island is another popular region to explore for those driving from Christchurch with some great sights to see. Nelson is the pick of the lot there among a strong field of contenders and (hopefully) after this read you'll easily understand why.
The idea of the Great Outdoors is one that is captured so very well in Nelson. If you're a keen walker/hiker you can experience one of New Zealand's Great Walks (national premier walks of significance), the Abel Tasman Track. It's a multi-day coastline walk (though half and single day options are possible) that offers spectacular sea views and natural scenery.
Nelson also has the privilege of being close to a National Park in the Nelson Lakes National Park. Here you'll find a different type of landscape and wilderness altogether with a number of different walking tracks to follow. You'll traverse deep into forests rich with birdlife with views of some of the most beautiful lakes in the country including Lake Rotoiti and Lake Rotoroa.
Last but not least, Nelson is a fantastic place to enjoy food and wine with some fantastic seafood as a port city and a great wine region with plenty of world class vineyards to boast. It has also become a hub for craft beer breweries too with its very own craft beer trail that you can follow from the heart of the township.
Nelson is a 5 hour and 5-minute drive from Christchurch Airport.
---
There are some great destinations closer to Christchurch for those looking at shorter trips for their South Island experience. One of those is the beautiful coastal city of Kaikoura, famed throughout the world for being the home to one of the most magnificent creatures on the planet.
The creature we're talking about is the Sperm Whale, the largest toothed whale on the planet and one of the most mesmerising to experience in person. Kaikoura is one of the few places in the world where they can be seen with great accessibility, all year round. Whale Watch Kaikoura operate fantastic boat tours that get you incredibly close with the opportunity to get the perfect 'tail' shot.
Kaikoura is rich with other wildlife experiences as well. In addition to seeing the Sperm Whales, you can also do Dolphin Encounters, Albatross Encounters and Seal Swims (for those that don't mind getting a little wet). For a dryer alternative, much of the region's natural bird and marine life can be witnessed when walking along the 3-hour Kaikoura Peninsula Walkway.
And just when you thought that was the end of Kaikoura's blessings, the city is also famous for a particular culinary delicacy - Crayfish. 'Kaikoura' itself means 'Eat Crayfish' in Maori making it something you are absolutely compelled to try during your trip there. You'll find no shortage of places to sample it so make sure that you do.
Kaikoura is a 2 hour and 27-minute drive from Christchurch Airport.
---
Last but not least, the fifth most popular driving destination from Christchurch is the closest to the city on the list. Akaroa, a quaint harbour town on the Banks Peninsula is less than 90 minutes' drive from the Garden City.
Akaroa is another special destination in New Zealand due to its unique roots, in this instance, by French settlers. This is one of the key attractions of the town and it is something that can be seen and experienced in the buildings, shops, and restaurants.
It's also a naturally idyllic destination and one which is great to explore on foot (or bike) with a number of extremely pleasant walks in the area. There are coastal walks along the Banks Peninsula as well as peaks you can summit including Mount Bernard and Flag Peak. There's even an old volcanic rim walk (called the Volcano Summit) that you can do for a bit of fun.
We also can't talk about Akaroa without mentioning the amazing Hector Dolphins that call its waters home. The Hector Dolphins are considered some of the rarest, smallest, and friendliest species of dolphin in the world - so much so that you can even go swimming with them. It's the special sort of experience that leaves lifelong memories that few others can match.
Akaroa is a 1 hour and 26-minute drive from Christchurch Airport.