Top 5 popular destinations from
Queenstown Airport
Car rental in Queenstown made easy so you can enjoy the journey.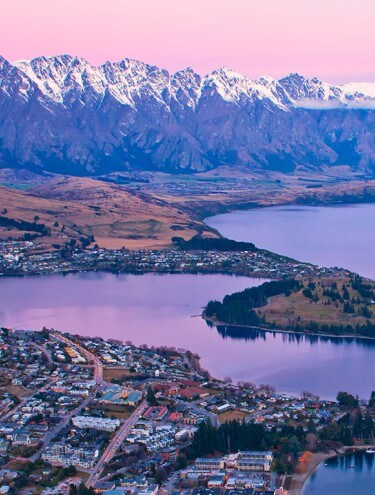 5 most popular driving destinations from Queenstown
Queenstown is definitely one of the most popular destinations in New Zealand. From Kiwis to international visitors, Queenstown has been welcoming people to come and explore the adventure capital of the world for years and is showing no signs of slowing down anytime soon! From bungy jumping to wine tasting to the stunning vistas, Queenstown really does have it all and is a 'must-do' on anyone's New Zealand to-do list.
For those heading to Queenstown and looking to rent a car, we've got you covered. We recently moved our branch location, which is now located within the airport property, making things even easier when you rent your car from GO in Queenstown. Simply walk out of the main terminal doors and look out for the big pink sign – we're about a 30 second walk from the door and in no time at all, you'll be hitting the road and ready to start your South Island adventure, wherever it may take you.
Once you arrive at our state-of-the-art branch in Queenstown, things couldn't be easier.
If you've already pre-registered all your details using our handy App, checking in is a breeze. Following the COVID-19 pandemic, we moved to a contactless checking in process using our App which not only helps to protect the health and wellbeing of our customers and staff, it also helps to ensure a speedy check-in process. Our App will save you time throughout your trip here in New Zealand so make sure you download it prior to your trip for the smoothest experience.
Once you're all checked-in and ready to go, it's time to hit the road. While a lot of people already know where they are heading, you might be looking for some inspiration for your holiday or a long weekend away. If you are looking for some great ideas for places to visit that are within easy driving distance from Queenstown, check out our top 5 destinations from Queenstown Airport and get planning your next trip.
Whilst Christchurch may seem a million miles away from Queenstown, it's one of the most popular driving routes in the South Island and easy to see why it's a popular destination for those flying into Queenstown.
Of course, most people will break this journey up after spending a few days in Queenstown exploring the local area, however the route north and east to Christchurch from Queenstown takes you through the heart of the South Island with some amazing places to stop off on the way.
Once you get there, Christchurch is an absolute gem. Known as the Garden City, Christchurch is a wonderful place to explore and spend a few days as part of your South Island adventure. From the stunning botanical gardens to the meandering River Avon, Christchurch is a great place to explore for those who love the outdoors.
If you want to try something a bit different, pay a visit to the International Antarctic Centre, located out near the airport, where you can experience what life in Antarctica feels like. Take a ride on a Hagglund, experience an Antarctic storm, or visit the penguins – a great day out for adults and kids alike.
Christchurch is around 6 hours 20 minutes from Queenstown and whilst people do make the trip in one day, we would recommend breaking it up and stopping off in Wanaka, Tekapo or Mt Cook Village.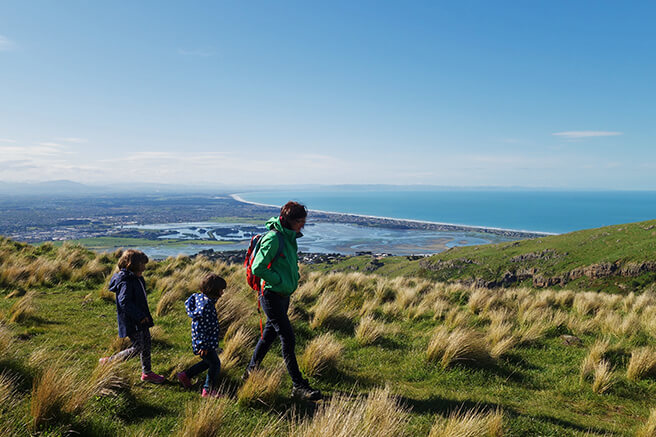 ---
Ah Wanaka. One of our all-time favourite South Island destinations and a great spot to head to for anyone flying into Queenstown.
No matter what time of year you visit, Wanaka has a bit of something for everyone. In the winter, the ski fields of Cardrona and Treble Cone are both within easy driving distance and Wanaka offers a more laid-back experience than Queenstown, especially for après-ski.
In the warmer months, Wanaka is a haven for walkers who head down to enjoy the stunning mountains that surround this lake-side town. Roy's Peak is one of the most popular walks in the area and up there with one of the most-photographed views in all New Zealand.
For those looking for some rest and relaxation, take a stroll along the lakeside, check out the famous tree or head out on a day trip to do some wine tasting – it's all here waiting to be discovered.
The nightlife in Wanaka is definitely more laid back than Queenstown, however there is no shortage of places to eat or grab a drink.
If you are looking for something a bit different, make sure you check out Puzzling World – a place full of wonders including a giant maze that can keep you entertained for days (just kidding!). Great for adults and kids alike.
Wanaka is just over an hours' drive from Queenstown making it a great destination for those looking to get out of the hustle and bustle of Queenstown.
---
Dunedin is fast becoming one of the most popular destinations in the South Island with many people tagging on a trip to a visit to Queenstown or Christchurch.
There's a good reason for it – Dunedin has a lot going on.
One of the most popular attractions in Dunedin and a big draw for many people is Larnach Castle – New Zealand's only castle. It's a stunning place to visit anytime of the year and is packed full of history.
Dunedin itself is one of New Zealand's most historic, dating back to the early settlers from Scotland as far back as 1848. A gold rush in the 1860s caused Dunedin's population and wealth to increase significantly and for several years, Dunedin was New Zealand's largest and most prosperous city.
The city's architecture certainly reflects this wealthy heritage and another big draw is the Dunedin Railway Station – one of New Zealand's most beautiful buildings.
The Otago Peninsula, where Dunedin is located, is also one of the finest bits of coastline in New Zealand and is home to some incredible native wildlife. It's a great place to go exploring for those who love the outdoors.
Other highlights of the city include Baldwin Street, the steepest street in the world, the Toitu Otago Settlers Museum, and the Royal Albatross Centre.
Dunedin is around 3 hours 40 minutes' drive from Queenstown and the route will take you through some stunning parts of the lower South Island.
---
Milford Sound is one of New Zealand's most popular tourist attractions and was once described by Rudyard Kipling at the eighth wonder of the world. High praise indeed.
For most people, Queenstown makes a great base from which to explore Milford Sound. There are day trips running every single day, taking tourists by the coachload out to explore the wonders that Milford Sound has to offer.
It's a stunning drive and a great one to self-drive. That way you're in control of all the places you choose to stop off along the way and there are so many, you won't want to miss out on any.
Once you get to Milford Sound, you have a number of options in terms of how you explore this wonderous place. The most popular by far is to take a boat cruise on the sound. There are a number of providers offering trips throughout the day and these cruises will take you all the way to the entrance of the sound, getting you up close to some stunning waterfalls that flow into the sound.
If you have some cash to splurge, a helicopter or scenic flight is an even better way to get a bird's eye view of Milford Sound. From up high, you will get an even better view of the stunning waterfalls that flow into Milford Sound as well as exploring the surrounding mountains that make Milford Sound so difficult to get to.
It's roughly three and a half hours to drive from Queenstown to Milford Sound although we recommend allowing closer to five hours to factor in traffic and stop offs along the way.
---
Rounding off our list of the top five places to visit from Queenstown is Te Anau. This is perhaps a surprise entry in the list given the popularity of other South Island destinations including Invercargill, Tekapo and Mt Cook, however Te Anau rightly claims its place in the top five.
Often seen as a stop off point on the drive to Milford Sound, Te Anau offers so much more than a place to grab a coffee and stretch the legs.
Located on the shores of a lake that shares the same name, Te Anau is a great place for those who love the outdoors and want to escape the hustle and bustle of busier South Island destinations. Te Anau is the starting point for some of New Zealand's great walking tracks including the Kepler Track – one of New Zealand's eight Great Walks. The Milford Track another of the Great Walks of New Zealand also passes through Te Anau making it a great base for exploring these amazing tramps.
From Te Anau, you can also easily make a trip to explore Milford Sound or for something a bit different, try Doubtful Sound, equally as stunning but much quieter in terms of tourists.
Sitting in the heart of the Fiordland National Park, Te Anau is a hidden gem and a place you should add your list of places to visit in New Zealand.
If you are looking for something a bit different, check out the amazing Te Anau glow-worm caves or the Te Anau Bird Sanctuary.
Te Anau is just over a two-hour drive from Queenstown and an hour and a half from Milford Sound making it a great place to base yourself for exploring this wonderful region.