Top 5 popular destinations from
Wellington Airport
Car rental in Wellington made easy so you can enjoy the journey.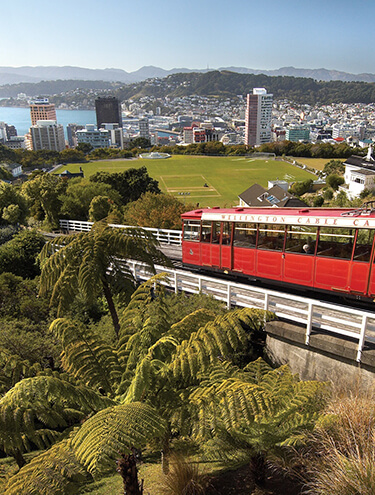 5 most popular driving destinations from Wellington
Wellington is the capital city of New Zealand and is widely regarded as one of the 'coolest little capitals in the world'. The city conveniently sits at the very centre of New Zealand at the bottom of the North Island, making it a versatile place to start your travels.
Our Wellington branch is located only minutes away from the Wellington International Airport, making it convenient for anyone flying in to hop over to our branch and start their Kiwi adventure.
We've perfected our pick-up process, so that when you arrive at our branch things couldn't be easier.
If you've already pre-registered all your details using our handy App, checking in is a breeze. Following the COVID-19 pandemic, we moved to a contactless checking in process using our App which not only helps to protect the health and wellbeing of our customers and staff, it also helps to ensure a speedy check-in process. Our App will save you time throughout your trip here in New Zealand so make sure you download it prior to your trip for the smoothest experience.
Once you're all checked-in and ready to go, it's time to hit the road. While a lot of people already know where they're heading, you might be looking for some inspiration for your holiday or a long weekend away. If you're looking for some great ideas for places to visit that are within easy driving distance from Wellington, check out our top 5 destinations from Wellington and get planning your next trip.
From one end of the North Island to the other, one of the most popular destinations from Wellington is in fact New Zealand's largest city, Auckland. We always say the best way to experience New Zealand is by embarking on an unforgettable roadie, and the Wellington to Auckland route is nothing short of spectacular!
With over a third of New Zealand's entire population residing in Auckland, you'll never run out of fun and exciting things to do in the bustling city.
Auckland's most iconic building is the Sky Tower, the tallest structure in New Zealand at a whopping 328 metres tall. You can get the family together and head to the top for 360-degree panoramic views of Auckland city, spanning 80km in every direction - it's definitely a unique and exhilarating way to take in views of the beautiful city.
One of the best things about Auckland is that there are countless numbers of beautiful destinations within 45 minutes' drive of the city centre - if you're a fan of surfing, then head out west to some of NZ's best surf beaches like Piha or Muriwai.
The drive from Wellington to Auckland certainly isn't a short one - taking close to 9 hours with lunch and bathroom breaks. Luckily, there are many beautiful cities and towns along the way where you can stop for a night to give yourself a rest if you need it.
---
If you were to head in the complete opposite direction, you'd hit the Cook Strait, the passage of water separating the South Island from the North Island.
You can take your car with you on the ferry, and once you reach the South Island, you'll dock in the beautiful town of Picton.
Known as the gateway to the islands and inlets of the Marlborough Sounds, Picton's waterfront is known as one of the most idyllic in New Zealand, with its ever-changing vibrant colours.
One of the biggest attractions in the area is the Queen Charlotte Track, a must for any hiking enthusiasts. The track will take you along the head of the sound and promises beautiful forests and views that you'll never forget.
If you're looking for something a bit more adventurous, then we'd highly recommend the dive trips in the area. You can catch dive charter boats from Picton that'll take you out to one of the world's largest and most accessible shipwrecks.
The ferry from Wellington to Picton will take between 3 and 3.5 hours, so grab a drink or bite to eat, and relax while soaking in the stunning views of the sounds you'll pass through.
---
If you're looking to head north of Wellington and plan stops in the most popular destinations, put Martinborough as your first stayover. Martinborough is conveniently located in the Wairarapa, making it a short trip from the capital.
The town has garnered a reputation for being one of New Zealand's most famous wine villages, and locals and tourists alike flock to the city every month to spend their days wine-tasting and exploring the lush vineyards.
If you're looking for a weekend away with your friends, or potentially a week-long retreat with relaxation and unwinding as your goal, then Martinborough is most definitely the place to book in.
If wine isn't your thing, don't be discouraged, the town has some stunning cycle tracks, and a vibrant jazz music community, meaning the town will always have something exciting to offer you for your days spent there.
Martinborough is an hour-long drive from Wellington, perfect for both day trips and longer holidays.
---
Continuing your journey north, you'll reach Palmerston North which is next on our list of popular destinations from Wellington.
Palmerston North is rich in heritage and New Zealand culture, making this a great place to visit for both tourists and locals wanting to learn more about our beautiful country and its roots.
One of the most identifiable parts of being a New Zealander is our love for the game of rugby, and in Palmerston North you'll find the New Zealand Rugby Museum. There you'll learn about the history of the game, and the history of the All Blacks, New Zealand's national rugby team, and also the most successful sports team in the entire world.
The city sports a prominent art scene, with a number of galleries and colourful street art pieces. This makes a stroll through the city a treat for your eyes and will introduce you to some new local artists you might not have encountered before.
The trip from Wellington to Palmerston North will take just under 2 hours and is a very easy and enjoyable drive up the west coast of the lower North Island.
---
Heading further north on your journey, the last destination on our list is none other than Taupo, one of New Zealand's favourite summer spots.
Taupo is a beautiful town which is home to New Zealand's largest lake, and is a great place to spend a weekend - though we recommend planning a longer stay as the amount of activities and places you'll want to visit in the area will certainly exceed a weekend visit.
If you start with the lake itself, you can partake in activities ranging from fishing and kayaking to jet boating and parasailing, and even golf! If you're looking for a bird's eye view of the town, then you can go on a helicopter ride over Taupo, and if you're daring enough you can throw yourself out of the plane from 15,000 feet (with a parachute on, of course!).
One of the most visited attractions in Taupo is the stunning Huka Falls, one of New Zealand's most powerful waterfalls. You can walk along a bridge over the top of a narrow section of the river and watch over 300,000 litres of water rush over the 11 metre high falls every second - it's a spectacular sight to behold.
The drive to Taupo will take around 4 and a half hours from Wellington, but a stop along the way is definitely recommended, and will allow you to experience more of the North Island which is always a plus.