Update: 21 July 2020
GO Explore fans – we need you!
It's been a couple of years since we last updated our 'Best Waterfalls in New Zealand' blog so it's time for a refresh. We know all of the falls in our top ten are absolute crackers, but we want to hear about the ones we don't already know about.
Have you got a secret waterfall that not a lot of people know about? Are there any amazing waterfalls here in New Zealand that we haven't included in our list? We need your help!
We've already had some great suggestions sent in below and all of these are included below, but we'd love to hear more from you. Drop us a comment over on our Facebook page and try and include a photo if you can – we will look to update our list and add in any of your amazing suggestions so your fellow Kiwis can explore them this winter or as we head towards the warmer months.
Our waterfalls are in prime season right now – with heavy rainfall throughout the country in July, our waterfalls are flowing at the moment so there has never been a better time to go and get some great pictures and send them in. Make sure you take care out there – some of the falls are flowing faster than ever so only pay a visit if it is safe to do so.
We get some great tips from our GO Explorers when it comes to waterfalls in New Zealand that you simply have to go and see. Here is our top ten courtesy of our GO Explorers:
1.      Marakopa Falls – Waitomo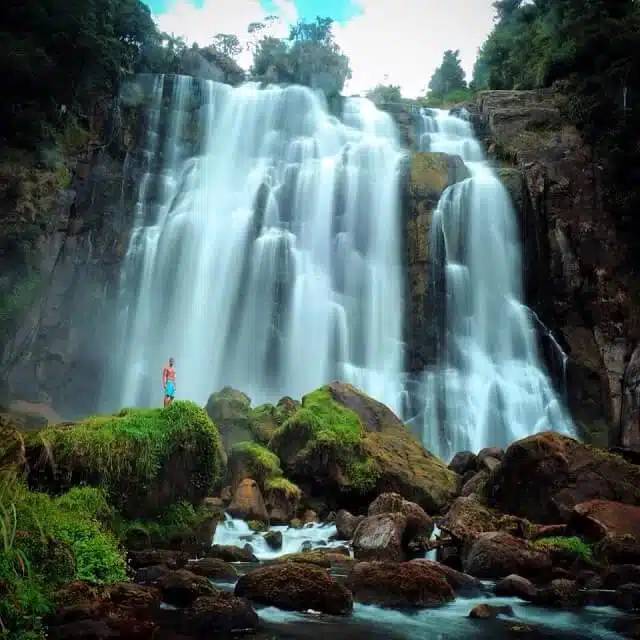 The 35 m high falls are often described as the most beautiful in the country. This is an awesome photo sent in by one of our GO Explorers to our GO Snap Happy competition. Just check out the stunning falls as the waters of the Marokopa River cascade over the undercut greywacke basement rock. A pretty cool way to kick off our list of New Zealand's best waterfalls.
2.      Huka Falls – Taupo
Perhaps some of the most famous falls in New Zealand, you won't be doing any swimming here! Located just a short 5-10 minute drive from Taupo, the Huka Falls are like no other. At 11 metres high, they are not the tallest however the 220,000 litres that flows over the falls every second makes them the most powerful. There are some great walks all around the area and if you are feeling brave, you can also take a jet boat ride up to the base of the falls for a close up view of these thundering waterfalls. A must visit on any trip to New Zealand.
3.      Purakaunui Falls – The Catlins
Located in the stunning Catlins region in the lower South Island, the Purakaunui Falls used to be a bit of a hidden gem but like all amazing sights, they tend to be a bit busier these days! GO Explorer Sue Duffield remembers the days when there was just her and a lone bagpiper at the falls but even nowadays, the falls should be on your South Island to do list. The Catlins is a stunning part of New Zealand and often a road less travelled. You can check out more things to do on one of our awesome road trip itineraries which will take you down through the Catlins from Dunedin to Invercargill.
4.      Kitekite Falls – Auckland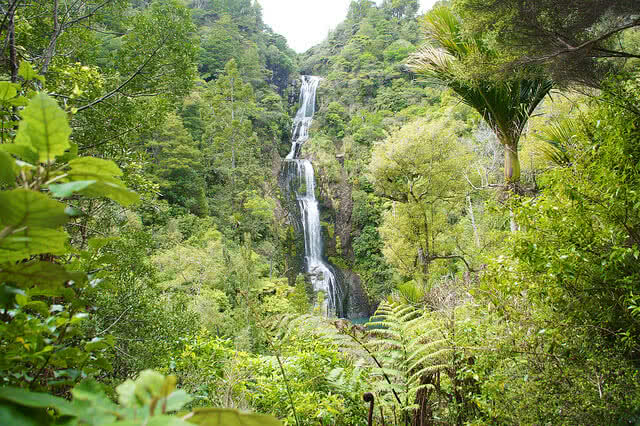 If you are planning on spending any time in and around Auckland, then a visit to the Kitekite falls is a must. Located in the Waitakere Ranges, these beautiful falls are a great introduction to the area where you will find hundreds of kilometres of walking tracks. Getting to the falls will take you along a great walking tracks which is hilly in parts but well worth it when you get there. It's around 1.8 kms return and will take you around 45 minutes. Planning a trip to Auckland? Make sure you check out our great deals on car rental in Auckland City and find out why we're one of New Zealand's favourite rental car companies.
5.      Stirling Falls – Milford Sound
We could have picked a number of falls located in and around Milford Sound. This place has got waterfalls in abundance! If you have got the budget for a helicopter of plane flight, the Sutherland Falls are perhaps the most spectacular – you can just about see them on a cruise of Milford Sound but they are even more impressive from the air. Stirling Falls on the other hand are some of the most photographed in New Zealand. Your cruise ship will take you up close and personal with these falls that flow into the Sound getting those brave souls who sit up the front of the boat an absolute soaking!
6.      Bridal Veil Falls – Raglan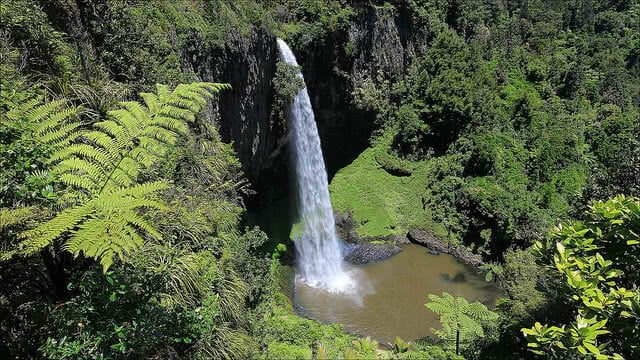 As you can see, there is a real diversity as to where you will find these spectacular waterfalls in New Zealand. Head on over to the west coast and the surfer's paradise of Raglan to discover the Bridal Veil Falls. Located just a short 15 minute drive from this laid back surf town, these spectacular 55 metre high falls definitely have the wow factor. Easily accessible via a short walking track, there are two viewing platforms at the top of the falls and a steep set of steps that will take you down to the pool at the bottom of the falls. This is a popular swimming spot in summer and in winter the gushing water is a great sight.
7.      Devils Punchbowl Falls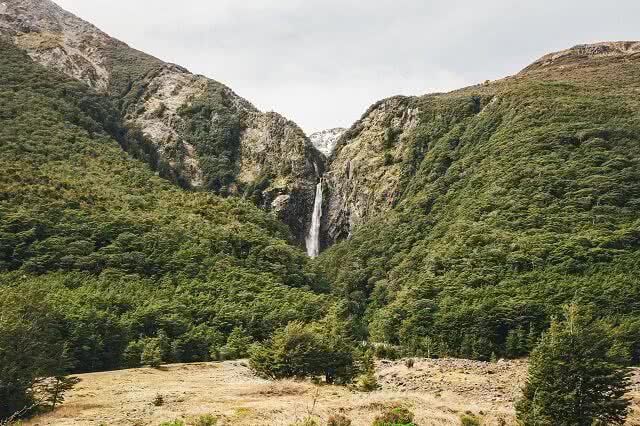 If you are taking the drive across Arthur's Pass (which we definitely recommend!) then there are some great walking tracks all along the route from the Canterbury Plains to the top of the pass. One great track is the 1 hour return loop to Devils Punchbowl Waterfall. At 131 metres high, these spectacular falls can be seen from the road but the walk to the base of the falls is well worth it and a good chance to stretch the legs. Well signposted from the Punchbowl Car Park, wrap up warm at this time of year – it can get a bit nippy up at the top of Arthur's Pass.
8.      Wairere Falls – near Tauranga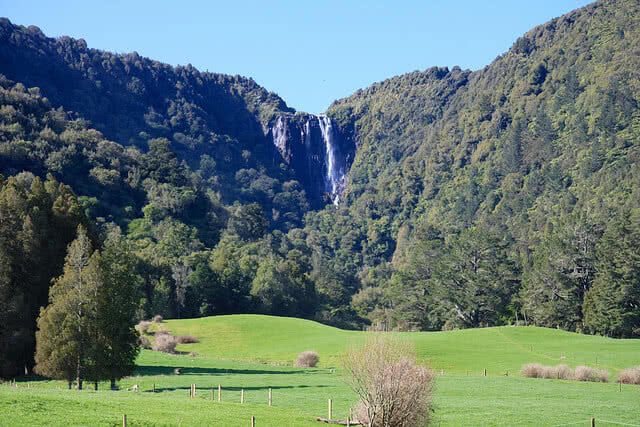 Located in the Kaimai Mamaku Forest Park in the Bay of Plenty, the Wairere Falls are super-impressive. Standing at 153m high, these are the third highest waterfalls in New Zealand behind Browne Falls (619m) and Humboldt Falls (275m) and they are breathtaking. Located just a short drive from Tauranga, take the Wairere Track, a 5km return loop which can take between 3-4 hours due to the terrain, especially in winter.  In summer there are heaps of pools to explore and paddle in but during the winter months, these falls are full of fast flowing water which makes them an awesome sight to see.
9.      Tawhai Falls – Tongariro National Park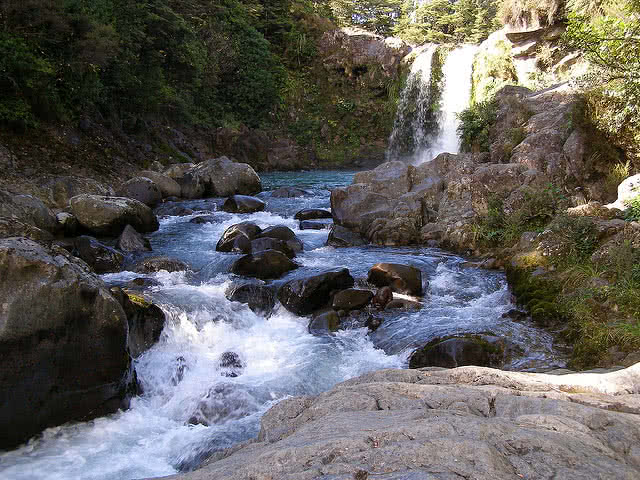 At 13m high, the Tawhai Falls are certainly not the biggest but they are perhaps the most well-known. Located just 4kms from the Tongariro National Park Visitor Centre, fans of the Lord of the Rings and Hobbit trilogies will immediately recognise the falls more commonly known as 'Gollum's Pools'. Pose for those classic Gollum shots or play a game of 'Guess the location' on your Facebook page. The falls are accessed by an easy walking track and it will take you around 20 minutes return to visit these famous falls.
10.      Thunder Creek Falls – Haast Pass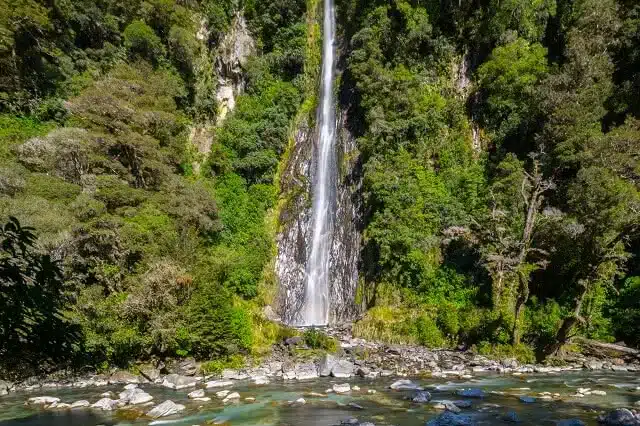 The final falls on our list are the awesomely name Thunder Creek Falls which are found on the Haast Pass that separates Queenstown and Wanaka from the wild West Coast.  Situated close to the Haast end of the pass, the Thunder Creek Falls are accessed by an easy sealed track which is just 0.2kms. The walk to the falls will take you around 5 minutes return but it leads you through beautiful native silver beech and kamahi to the 18 metre high falls. As you can imagine with a name like that, they make a rather impressive roar, especially in the winter months.
Bonus Falls
Whangarei Falls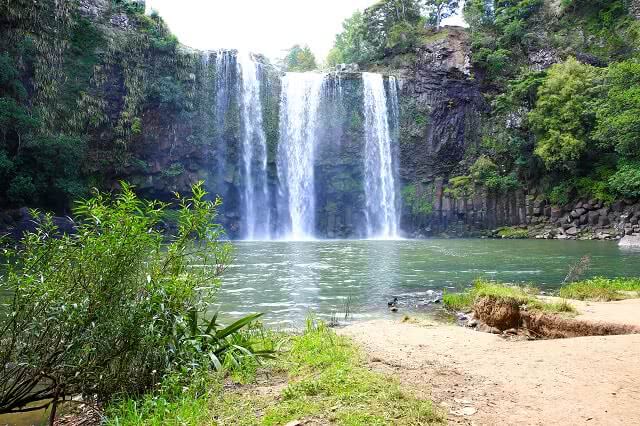 If you're feeling particularly lazy or you're strapped for time and don't want to walk too far to check out some amazing waterfall, make sure you pay a visit to the Whangarei Falls. Thanks to GO Explorer Jeremiah Potts for this top tip – the Whangarei Falls are easily accessible and are just a short 2-minute walk from the adjacent car park. As you can see, they're pretty impressive so worth the short detour when you're travelling north.
OK, so that's the end of our top ten waterfalls in New Zealand. Did we miss any off? Let us know in the comments below or on our GO Explore Facebook page and share your best images from any of New Zealand's amazing waterfalls. Don't forget, if you're looking for the perfect rental car to get you to these amazing falls, we have great deals on throughout the year at all of our branches throughout New Zealand.