With the summer just around the corner and Kiwis in need of something to look forward, now is as good a time as ever to start planning your summer holidays and we definitely recommend adding glamping to your list of activities to try this summer.
Glamping in NZ has become super-popular and for good reason. It's the perfect mix of camping and staying in a hotel – often found in remote and stunning locations, you get many of the luxuries you would expect from a hotel but the sheer joy of staying in the outdoors.
If you're still not convinced, have a little think about this – how good did camping used to be? There was nothing like heading off on an adventure with your mates or even your parents with just a sleeping bag and a canvas tent for company. Those were the days!
For many of us, our camping days are behind us. Our lasting memories of camping tend to be more around sweltering hot tents, the loud snores coming from nearby campers or the endless bugs in our tent. That is camping though, not glamping.
If you still love the romance and the excitement of a camping adventure but you want a few home comforts, then glamping in NZ is the future.
What is glamping?
Glamping is actually not a new thing. It's been around for quite some time, but for those not in the know, here's a little bit about it.

We reckon someone was on a camping trip and was pretty fed up with someone snoring or the air bed deflating in the night and thought 'I know, let's make camping more enjoyable!' And glamping was born.
Just like the quality of tents can massively differ, the luxuriousness of glamping here in NZ can also range quite dramatically. From the 5-star luxury glamping (which can sometimes be better than a hotel!) to the more basic glamping where the luxuries include a bed and a toilet.
New Zealand is not short on amazing glamping spots. From the far north to the deep south, we have some truly incredible glamping spots in New Zealand and we wanted to share our favourite five with you.
Glamping in the North Island
There are some really amazing glamping spots in New Zealand's North Island. From Northland to Wellington, you will find a huge variety of glamping spots located all around the North Island – below, we have highlighted just a few of our favourite North Island glamping destinations:
1.      Castaways Coastal Tents – Karioitahi Beach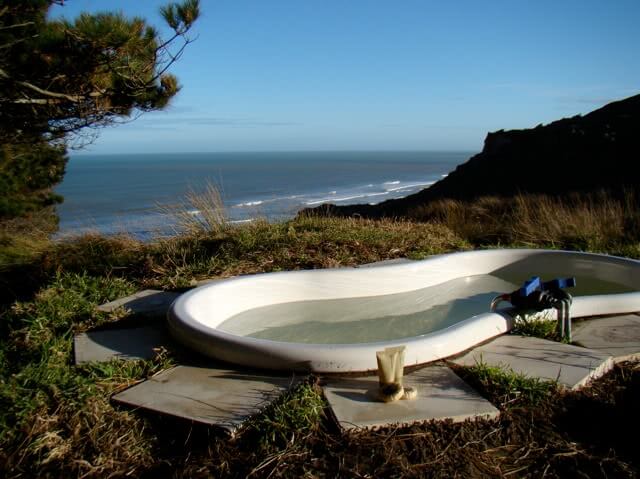 It's hard to believe that this amazing spot is located just a 50-minute drive from Auckland CBD. Castaways actually have a number of glamping options available including a pretty cool treehouse, however, the Coastal Tents option overlooking Karioitahi Beach is our favourite. Just look at the view from the tub for starters! The coastal tents are located 10 minutes by golf cart from the main resort so you really feel like you have your own little secluded corner of paradise.
Find out more: https://www.canopycamping.co.nz/castaways-coastal-tents
2.      Underhill – Waikato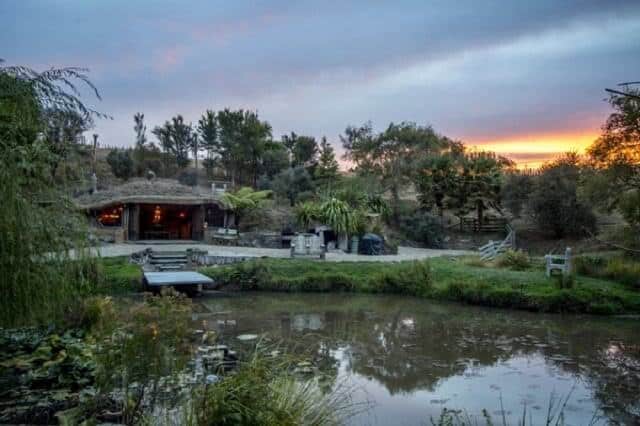 Ever wondered what it would be like to stay in a Hobbit Hole for a night? For fans of Lord of the Rings or The Hobbit, this is the ultimate glamping experience. Built into the hillside, these hobbit-like glamping sites are so picturesque. Built from native timbers and overlooking a peaceful lake, this is an amazing place to come glamping for the weekend and a must for all LotR fans! This is one of the best glamping sites in Waikato and understandably it books out pretty quickly so make sure you plan well ahead for this one!
Find out more: https://www.canopycamping.co.nz/underhill
3.      Kahikatea Farm – Bay of Plenty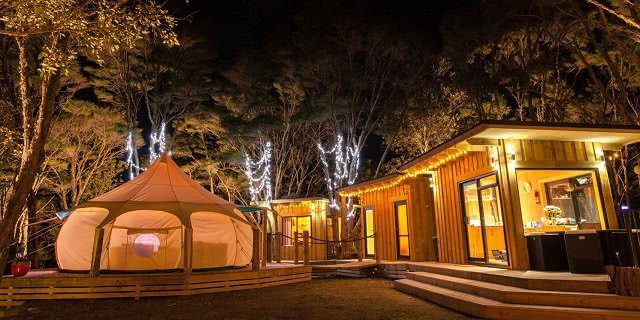 Whakatane is a beautiful place to head for a secluded weekend away and the glamping site at Kahikatea Farm is simply perfect for those looking to kick back and relax. Situated on an elevated position amongst the pristine native bush, this is a very picturesque glamping site but it's also one for those looking for an activity-packed weekend. There are some great bush walks that are accessible straight from the farm and you will also see glowworms at night.
Find out more: https://www.canopycamping.co.nz/kahikatea-farm
4.      Waipu Glamping
This rustic glamping retreat, based near Waipu, in the stunning Northland region of Bream Bay is your place to get away, breathe, relax and unwind. Overlooking a native reserve, and just a short drive from some of Northland's most beautiful beaches and walks, Waipu Glamping is the perfect getaway for a romantic weekend, a holiday with friends or even a whole family adventure. The outdoor bath is a favourite feature and the large outdoor deck is perfect for enjoying a sundowner at the end of another amazing day here in New Zealand.
Find out more: https://www.waipuglamping.co.nz/
Glamping in the South Island
Not to be outdone, there are also some amazing glamping opportunities in the South Island. From Nelson to Invercargill, the South Island has caught the glamping bug and there are new sites popping up all the time. The South Island has some amazing remote destinations and these are proving to be extremely popular spots when it comes to glamping. Check out a few of our favourite South Island glamping destinations:
5.      Kissing Gate – Nelson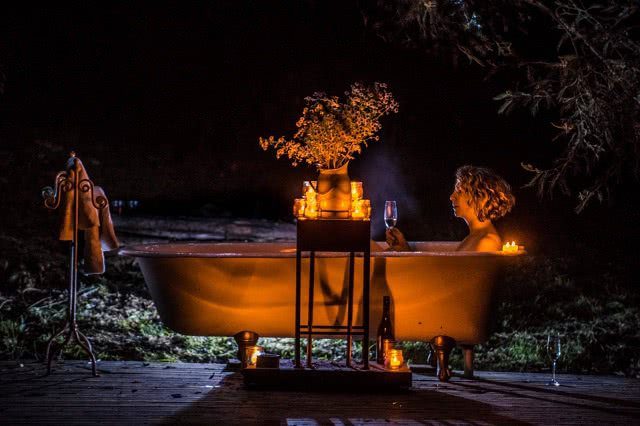 How about that for a bath?! Located in the beautiful Mapua district, just 30 minutes from Nelson and 30 minutes from the Abel Tasman National Park, the Kissing Gate is an amazing glamping spot. The accommodation itself is retro but super-comfortable and the location is out of this world. There's plenty to do in the area including the stunning Mapua coastal walk. Rabbit Island is within easy driving distance, making the Kissing Gate a great place to base yourself for exploring the upper South Island.
Find out more: https://www.canopycamping.co.nz/kissing-gate
6.      Woodpecker Hut – West Coast, near Punakaiki
Woodpecker Hut is the final entry in our top 5 glamping spots in New Zealand. Located on a coastal cliff top near Punakaiki on the West Coast, Woodpecker Hut consists of two small, off-grid timber huts adjoined by a covered kitchen and living area. Featuring a beautiful wood burning stove, the lounge hut is a great place to sit back and enjoy the magnificent views. In fact, the views from every window in the property are pretty stunning. The cedar hot tub set into the deck is a great place to kick back in either the summer or the winter and the world-famous Pancake Rocks are just a short drive away.
Find out more: https://www.canopycamping.co.nz/kissing-gate
7.      Valley Views Glamping – Waitaki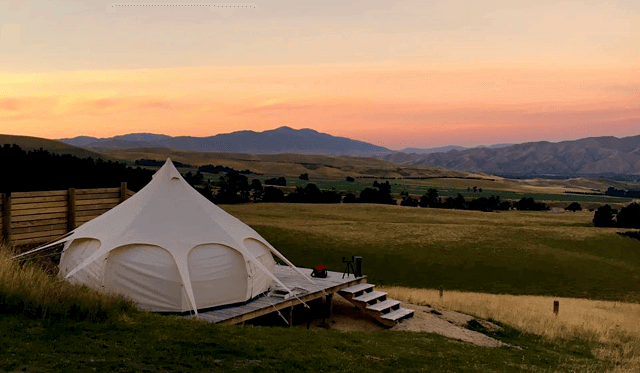 An awesome new addition to our exclusive GO Play programme, Valley Views Glamping in the Waitaki Valley is an awesome place to head for the weekend or longer! With the mighty Waitaki River rushing below and the mountains rising up on the horizon, this is a truly stunning place to spend a few days and the glamping itself is pretty special with a range of luxury bell tents to choose from. Each 'tent' is decked out with a king-size bed, luxury down duvets and pure woollen blankets as well as an ensuite toilet and private balcony.
Find out more and save 10% when you hire your car with GO Rentals – https://www.valleyviews.co.nz/ 
*All images courtesy of Canopy Camping
Updated: 8 September 2021
Book a vehicle for this trip
We recommend: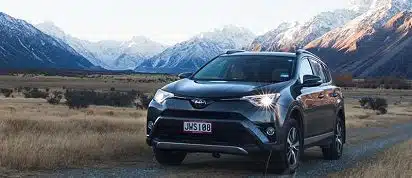 Intermediate 4×4
Toyota Rav 4
Seats

5 seats

Large Bags

3

Small Bags

4

Transmission

Auto trans