If you happen to be planning a trip to Invercargill, the southernmost city in New Zealand (making it one of the southernmost cities in the world) then a visit to Bill Richardson's Transport World is a must.
That's not just our point of view, but those shared by all visitors to Invercargill who have rated it the No.1 thing to do in Invercargill.
Some of you might be thinking 'Not for me. Not a petrol head.'
A fair enough conclusion on the face of it, but in doing so you would be doing yourself a disservice because there's absolutely more to it than meets the eye!
Who was Bill Richardson?
Before we get into all that, we pay a small tribute to the man who started it all, Bill Richardson, a Southland businessman who carried a passion for all things transport from a young age.
He owned a transport company in his early days and in 1967, began his own private collection acquiring old trucks and other automobiles along the way. He also collected petrol pumps and other transport related memorabilia like signs and toys.
By the time of his death in 2005, he had amassed an incredible 150 vehicles, many of which were very rare and/or unused.
In 2015, Bill Richardson's daughter Jocelyn and her husband Scott decided to open this collection to the public and Bill Richardson's Transport World was born!
The largest automotive transport museum of its type in the world!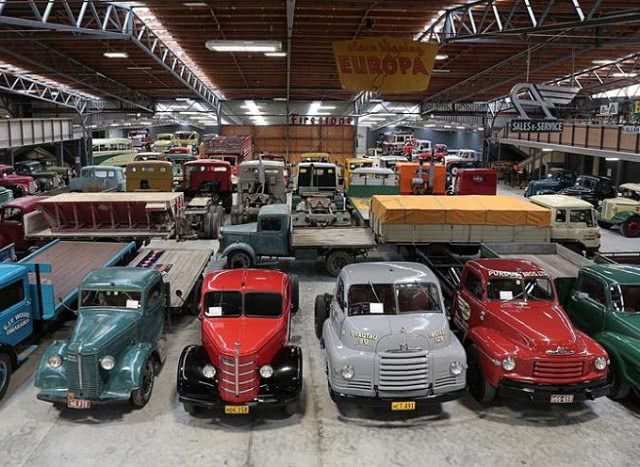 It's quite a bold statement but it's true! With hundreds of vehicles (include 270 vintage trucks alone) and other hidden gems in a space that covers 15,000sqm, nothing else comes close to Bill's lifetime collection spanning some 50+ years.
For the enthusiasts, there are some great automobiles to be seen with some of the most popular ones including Diamond T Trucks, Henry Ford Letter Cars, Model T's, retro Kombis and the awesome 1930's V8s. They also have the only working Dodge RX70 Airflow in the world.
Those are some impressive facts to boast but that's only the start of what there is to see!
Something for everyone
As we said earlier, there is something for everyone at Bill Richardson's Transport World.
For example, if you're less into trucks and more into something like fashion, you'll be interested to know that the Transport World has its own local wearable arts fashion collection! The pieces are all handcrafted from new, recycled and reinvented materials having featured in Southland's FibreOctave Wearable Art and Musical Extravaganza and is a great showcase of artistic creativity.
Speaking of artistic creativity, there's also something for the movie buffs too with respect to the Pork Pie Corner exhibition. This exhibition features extra footage from the 2017 film, props from the set including the actual 2016 Mini S Cooper used during filming in Invercargill, a decommissioned police car used in the film and a replica 1978 British Leyland Mini 1000 from the original Goodbye Pork Pie classic.
Lastly (and this is an important one), there's something to keep the kids entertained with dedicated spaces for families like the Construction Zone Lego Room. Here they can play with Lego (obviously), iPads and play dress-up, letting their imaginations run wild.
Plan a trip today for Bill Richardson's Transport World
As you can see, Bill Richardson's Transport World offers so much more than its already impressive collection of vehicles and memorabilia. With visitors rating it the best attraction in Invercargill on TripAdvisor, the proof is in the pudding and is a place you won't want to miss as part of your trip to the Deep South.
GO Play discount: 10%
GO Play cardholders enjoy a 10% discount at Bill Richardson's Transport World. Book direct – use your GO Play card (Discount for General Admission tickets only).