Wondering about the best route from Christchurch to Picton or vice versa? You've come to the right place!
Following the powerful magnitude-7.8 earthquake to hit the South Island and lower North Island in November 2016, the traditional coastal route SH1 from Christchurch to Picton was completely blocked off. This caused devastation to the towns that rely on tourism at that time, most notably, Kaikoura which is one of the most popular stop-offs on SH1 between Christchurch and Picton.
Thanks to a huge effort by all involved, the road was finally full reopened in April 2018 for 24-hour access – prior to that, it had been possible to travel on the road during daylight hours.
Whilst the earthquake and subsequent closure of SH1 between Picton and Christchurch caused many issues for those living and working on the upper east coast of the South Island, it did present an opportunity for Kiwis and international visitors at the time to explore an alternative route from Christchurch to Picton.
The alternative route, which follows SH7 was the only way to get between Christchurch and Picton for some time and this was a huge plus for those towns located along the alternative route who saw a big pick up in tourism during that period.
Now, just because SH1 is open again, doesn't mean you shouldn't consider the alternative route, especially if you have a bit more time on your hands. Whilst SH1 is much quicker (4.5 hours vs 6 hours), the alternative route is pretty spectacular, especially if you have already spent a lot of time driving on the coastal roads of New Zealand.
We wanted to make sure you knew all your options when deciding on the best route from Christchurch to Picton, so, grab a car rental in Christchurch because without further ado, here is a guide to exploring the alternative route from Picton to Christchurch.
EXPLORING THE ALTERNATIVE ROUTE
At the time, it was seen as a bit of a pain to have to take the alternative route. SH1 is a pretty stunning drive and some of the destinations on the route are well worth a visit. However, there is a lot to be excited about on the alternative route. The inland highway is absolutely packed full of great places to stop off and our friends over at the Department of Conservation (DOC) have not only pulled together a super handy map that shows you all of the best stop off points, but they've also sent Kenneth off to explore the alternative route and you can check out his video exploits below:
HEADING SOUTH TO NORTH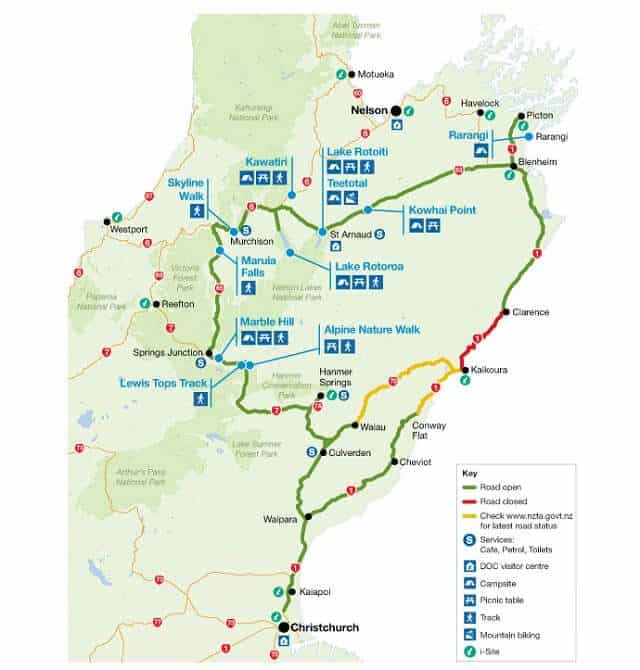 Whether you are travelling South to North or North to South, the inland highway is a great way to get from Christchurch to Picton and you can still include a detour to visit Kaikoura and swim with the dolphins. Heading out from Christchurch, we recommend taking the trip to Kaikoura first. Following the 2016 earthquake, many Kaikoura businesses were the hardest hit, however, like all good Kiwi businesses, they have bounced back stronger than ever. Go and grab some lunch, take a tour and enjoy an ice cream in the sun before heading back inland towards Waiau and out to SH7.
Before you hit Springs Junction and head north, there are a couple of great walking tracks to stretch the legs.
Alpine Nature Walk (800m loop)
The Alpine Nature Loop walk is found along the Lewis Pass and is truly spectacular.  The loop walks takes around 20 minutes and takes you through alpine wetland with views of the stunning (and often snow-capped) Gloriana Peak and Spenser Mountains.
Lewis Tops Track
If you are looking for a bit of a longer tramp, the Lewis Tops Track is a 3 hour return walk which takes you out through native beech forest and climbs up into the open tussock tops with superb views of the surrounding mountains and beautiful tarns. This is a track for the more advanced tramper so make sure you pack accordingly.
HEADING NORTH UP SH65
Once you take SH65 north at Springs Junction, there are plenty more stop-off points whether you fancy a nice picnic spot or to get out and explore. Two of our favourites are found near Murchison which is a great place to stop off for a bite to eat as well as some great activities.
Maruia Falls Track (10 minute return)
Created following the 1929 earhtwuake, the Mariua Falls are easily accessed from the car park which is found 23 kms south of Murchison. The falls are pretty spectacular and this is a great place for a spot of lunch.
Skyline Walk (3km track)
Situated 1km west of Murchison, this 3km track zigzags uphill to the skyline and offers great views down to the Buller River which eventually flows into the Buller Gorge, arguably New Zealand's most spectacular. The return walk will take around an hour and a half.
APPROACHING PICTON
After exploring Murchison and the Buller Gorge area, it's time to keep heading north where there are still a few great places to stop off for a walk and explore. One of our favourites is Lake Rotoiti:
Lake Rotoiti
Situated in the Nelson Lakes National Park, Lake Rotoiti is one of the most photographed lakes in New Zealand. You may have seen the beautiful picture below of the pier extending out into the lake with the mountains in the background – pretty iconic! There are heaps of walks in the area so be sure to check out the DOC website for more information.
GET OUT AND GO EXPLORE
Whilst it may take you a bit longer than the more direct SH1 route from Christchurch to Picton, we think this is an opportunity to explore the road less travelled. The inland highway is packed with amazing sights and sounds and we recommend taking the time to explore some of the amazing destinations above.
For a full breakdown of all the great walking tracks, camping spots and activities along the alternative route from Christchurch to Picton, make sure you check out the DOC website and use their interactive map to explore and pick out your top places to explore.
As always, if you are travelling between Christchurch and Picton, we highly recommend checking out the NZTA website for the latest travel information and stay safe out there.
Updated: 22 July 2021
Book a vehicle for this trip
We recommend: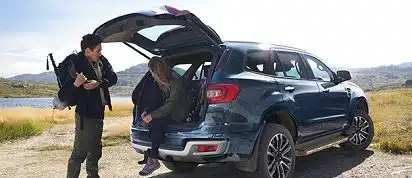 4WD SUV
Ford Everest Titanium
Seats

5 seats

Large Bags

4

Small Bags

6

Transmission

Auto trans