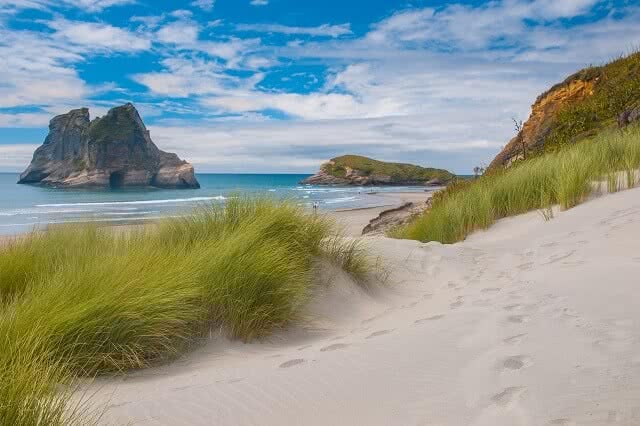 New Zealand has no shortage of paradise destinations to explore – we've visited most of them on our GO Explore adventures but one that always comes out close to the top of our list of places you have simply got to visit is Golden Bay at the tip of the South Island. This place is something very special and offers up such a diverse landscape, that there is always something for everyone here no matter whether you enjoy laying back on a golden sandy beach or tramping through an alpine valley or maybe a spot of tranquil fishing.
Top of the South Adventures
Whether you visit in the summer or winter months, the northern tip of New Zealand's South Island is a great place to visit any time of the year. Nelson and Picton are both great places to base yourself for trips out to explore places like Marlborough for some wine tasting or the Sounds or maybe you fancy immersing yourself in all the joys of the Abel Tasman National Park. If you truly want to explore the delights of Golden Bay however, we recommend take the full plunge and basing yourself out there – you won't be disappointed.
Things to do in Golden Bay
There are no shortage of things to do in Golden Bay and all within short walking or driving distance. Here we take a look at some of the highlights:
Walking
There are some truly stunning walks in and around Golden Bay from a short stroll through some stunning reserves to the longer tramps to one of New Zealand's 'Great Walks', the Heaphy Track. Take you pick from the Kaituna Forks Walkway where you can go and explore the old gold works to the quirkily named Knuckle Hill Track – a 3 hour return walk to the top of Knuckle Hill where you will be rewarded with stunning views of the bay and even as far as Farewell Spit.
There are of course many more walks in the area just waiting to be explored so get stuck in!
Beaches
With a name like Golden Bay, you would expect some pretty stunning beaches and you won't be disappointed! Pohara beach is one of the main holiday centres of the bay and its beach ranks amongst New Zealand's safest. A great place for paddle boarding and kayaking. Ligar Bay is one of our favourites and only a few minutes' drive from Pohara. With some great barbeque areas, some shady trees and a stunning sandy beach, this is a great place to spend the day.
Horse Treks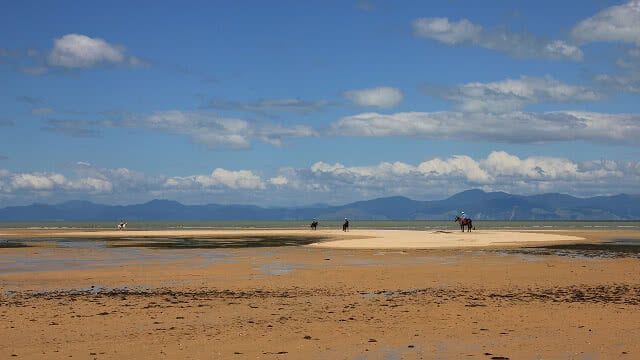 If you're into horse trekking, we can't think of many better places in New Zealand to give it a go. With a changing landscape which switches from grassy paddocks to sandstone tracks that wind you through some stunning flora and fauna, Golden Bay is widely regarded as one of the best places for horse riding in New Zealand and that is saying something!
Kayaking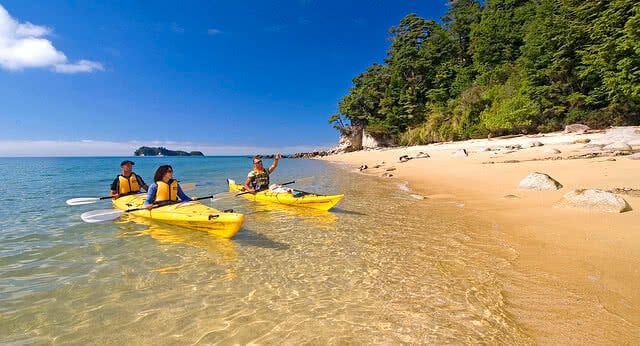 There is no shortage of places to hire a kayak when you are staying down in Golden Bay and the bay provides a gateway to the northern end of the Abel Tasman National Park. A kayaking trip is one of the best ways to explore the park and you will get up close and personal with some amazing wildlife as well as exploring rock formations and exploring the coastline of the national park.
Where to stay in Golden Bay
Golden Bay has no shortage of accommodation options from the budget backpacker to motels to luxury lodges so no matter what your budget, there will be something here that ticks your boxes. If you're into the great outdoors, the best way to enjoy your time down in Golden Bay is camping. We Kiwis love camping. It's in our blood. And whilst we know it's not for everyone, it is a great way to enjoy the great outdoors (although maybe not during the winter months!). We love our creature comforts too but there is something special about camping out under the stars and waking up to the sound of the waves lapping against the shore.
Accommodation can be found all along Golden Bay from Collingwood to Wharakiri Beach and everywhere in between.
Getting here
Golden Bay is a bit of a trek let's make no bones about it. The road to get there is windy and will take you a fair while but we promise it will be worth it. Whether you are going for the day, a weekend, a week or longer, think less about the journey and more about the destination! We have some great road trip itineraries from Christchurch and Queenstown that will get you to Nelson but from there it's just over 2 hours to get you to Collingwood in the heart of Golden Bay.
Check out our road trip planner for some ideas of place to visit and also make sure you check out the Golden Bay website for lots more information on accommodation, things to do and places to visit in the Golden Bay area.