Visitors and holidaymakers are spoilt for choice when it comes to things to do in New Zealand, especially if they've rented a car (from GO Rentals of course!) and included a few days in Rotorua as part of their itinerary.
With some amazing geothermal wonders and engaging cultural performances, you'll have a great variety of activities to keep you busy.
Another thing you should definitely include is a unique nature experience that will both enlighten and excite. This opportunity presents itself through Rotorua Canopy Tours, the No.1 rated Outdoor Activity in Rotorua according to TripAdvisor with fans the world over.
A ziplining experience like no other
If you hadn't guessed by the title, Rotorua Canopy Tours is a ziplining experience that is one of the premier eco-adventure attractions in the country.
New Zealand is a place you come to with an expectation to see greenery. With ziplining, you're completely immersed in this greenery from the vantage point of the treetops as you glide from one canopy to the next. It's a way of experiencing something in a way that is not ordinarily possible to create memorable moments that last a lifetime.
There are two experiences you can choose from when you visit Rotorua Canopy Tours. The first is the Original Canopy Tour and the second is the brand new Ultimate Canopy Tour.
The Original Canopy Tour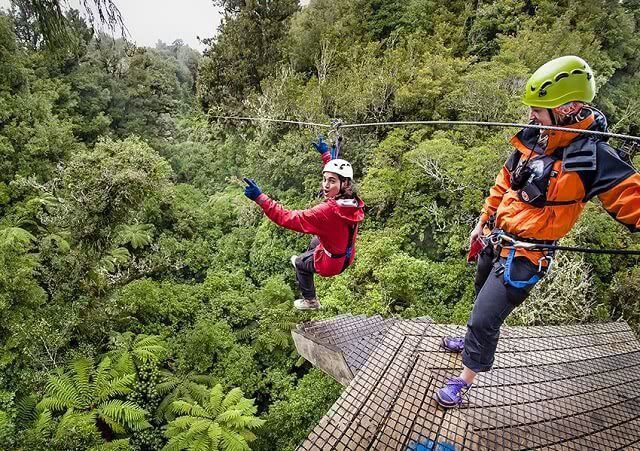 The Original Canopy Tour has been in operation since 2012 and is the one that started it all. It has won multiple tourism awards and garnered rave reviews from its visitors.
In small groups (of up to 10) you are led by knowledgeable Kiwi guides, deep into an ancient native New Zealand forest. From there you will cross swing bridges and ride down 600m of ziplines, with the longest stretching being 200m.
You'll reach tree platforms as high as 22m where you'll enjoy some fantastic views and be able to take some epic selfies. Over 150,000 individuals have experienced the Original Canopy Tour with very few regrets amongst them.
The Ultimate Canopy Tour
The Ultimate Canopy Tour is by no means an oversell and is absolutely the best way to describe the experience. It is one that'll test the nerves a little more as a longer and even more spectacular version of the original.
You'll go deeper into the native New Zealand forest with some altogether new features like the spiral staircase, cliff walk and a controlled descent. This is on top of the 1200m of ziplines with the longest stretch going for 400m.
With the highest point being a clifftop at 50m you'll get unbelievable photos that'll make your friends and family very jealous indeed. If you want the very best ziplining experience in the country, you need not look further than this.
Leaders in ecological restoration
There's another side to the Rotorua Canopy Tours experience which isn't all about the thrills and that's the remarkable conservation efforts that are bringing the native forest back to life.
Before the Rotorua Canopy Tours moved into the area, the forest was riddled with possums and rats that had devastated the natural bird and wildlife.
They decided to do something about it and raised funds to start a comprehensive trapping programme. To date, they have eliminated thousands of these pests which has seen the return of some incredible species including the rare striped skink and pacific geckos.
The project is ongoing with the ultimate goal being to return the area back to its pest-free pre-human state with the reintroduction of rare native birds.
That's just a brief summary of the story, the full version of which will be shared with you on the day!
Book your ziplining experience with Rotorua Canopy Tours today!
It's hard to think of an experience you'll talk about more and remember for longer than the one you'll have at Rotorua Canopy Tours. Not only is it highly rated, but it's very popular too so make sure you give yourself enough time to secure a time to avoid the disappointment of missing out!
GO Play discount: 10%
GO Play cardholders enjoy a 10% discount at. Book direct – use your GO Play card (Book direct, Maximum Weight 120kg, Min age 6 years)