Here at GO Rentals, we're passionate about travel. That's why we set up our amazing GO Explore travel blog which has gone on to include our trip planner tool, city guides, hidden gems and Spotify playlists.
We try to share as many amazing tips as we can about travelling in New Zealand. We are super-passionate about all things New Zealand and want to make sure that people who are visiting our shores, or even those who have lived here all their lives, get the best possible information when it comes to places to go, things to see and do and how to get there.
We're not the only ones who are passionate about New Zealand though. There are so many amazing bloggers out there who are exploring this beautiful country and beyond. We follow as many of them as we can so we can keep on discovering new and amazing places to visit and recommend and we wanted to share with you some of our favourites.
Here is our list of the top 19 bloggers from right here in New Zealand that you really need to be following as we move into 2019:
1.      Flashpacker Family
The Flashpacker Family are one of the coolest families we have ever read about! These guys are living the dream. Travelling the world together as a family and trying to visit 100 countries before they turn 40 (should be pretty easy for their 5 year old and 16 month old!).  They describe 'Flashpacking' as a style of travel, 'Think of it as the evolution of a backpacker. More money, more comfort but same adventurous spirit.'
All we know is that they write some pretty awesome blogs with some amazing travel tips.
2.      Blogger at Large
Megan Singleton is all about 'travel inspiration made easy'…something we definitely agree with! She has been travelling the world since 2000 and blogging about it since 2006 and during that time has written over 900 blog posts on Blogger at Large – pretty epic! Megan travels far and wide in search of travel inspiration, however if you're looking for the best travel tips for New Zealand, she has a whole section of her blog dedicated to her beautiful home country.
Megan has won countless awards for her blog and we love to follow her adventures. Make sure you check out her top New Zealand travel posts and keep tabs on her travels through Facebook and Instagram.
3.      Four Jandals
One of the most Kiwi sounding blogs on our list, Four Jandals was started by Cole and his then girlfriend (now wife) Adela back in 2009. Like many Kiwis, he packed up his bags and headed off for his big OE, starting in Canada. After 10 months and a stint in hospital, Cole and Adela were not ready to give up on their travels and managed to squeeze in 45 countries in the next four years. After returning to New Zealand, they didn't want their travel blog to stop so instead, they started providing awesome travel tips and advice for adventurous couples, helped by Moss and Rebecca who have taken over the blogging exploits.
For top travel tips, some thought-provoking posts and a fair amount of wit and humour, follow Four Jandals and step outside of your comfort zone.
4.      Migrating Miss
Sonja is a full time travel blogger and author of the amazing Migrating Miss travel blog. She started travelling the world when she was 16 and has not stopped since. Sonja is, by her own admission, someone who can't sit still. Having lived in several countries including New Zealand, Australia, the USA and Canada, she finally settled in Scotland – about as far away from her native New Zealand as you get!
So far Sonja has ticked off over 40 countries on her travels and as well as being an awesome travel blogger, is also a qualified lawyer right here in New Zealand. Be sure to follow her travels and keep up to date on social media.
5.      What's Dave Doing?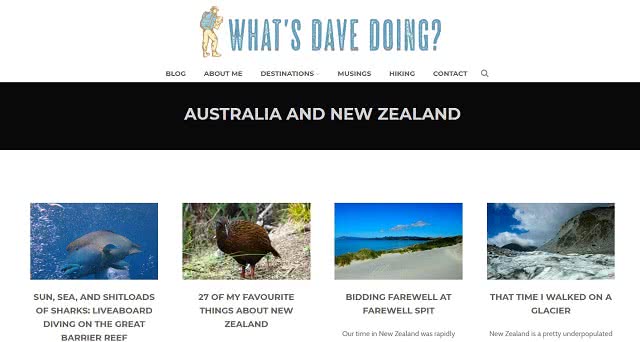 We love people with an adventurous spirit. In 2011, Dave Dean quit his job, sold everything he owned and set off to live and work around the world – no return ticket. Dave is one of life's true explorers and after deciding to pick travel over a career, he has been living the freelance lifestyle whilst traveling to all four corners of the globe. His awesome travel blog – What's Dave Doing? – includes some awesome travel blogs, but also includes some pretty insightful musings including a recent post about rediscovering his love of travel.
Dave's blog posts are a mix great destination posts and super-helpful travel tips. He has written some awesome posts all about travelling in New Zealand so make sure you check them out.
6.      Man Vs World
Simon Petersen is another of our best exports when it comes to travel blogging. Another one who started young, Simon set off with his then girlfriend (now wife and expecting their first child) back in 2008 headed for Europe. This was quite possibly one of the worst years to set off on an OE as the world went into a financial meltdown, however despite the obvious issues, Simon loved it and has been blogging on Man vs World ever since.
Simon travels pretty extensively and it's the real mix of places and experience that make his blogs so compelling. From cruising in the Caribbean to exploring the delights of New Orleans, Simon is always off gallivanting. This doesn't mean he forgets his native New Zealand.  There's a whole section on his blog dedicated to Australia and New Zealand with some great travel tips and suggestions for places to eat out and things to do.

7.      Anita Hendrieka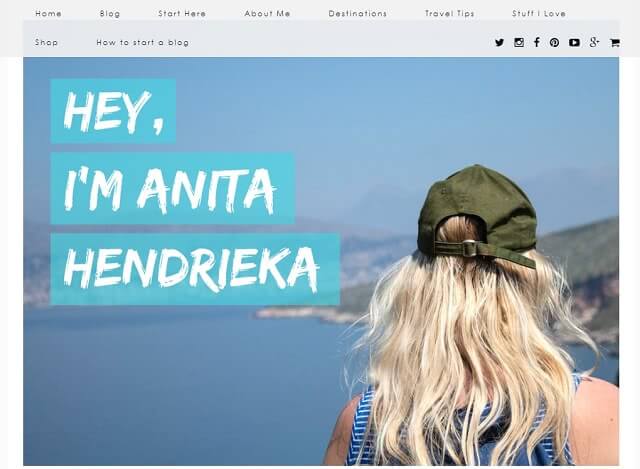 If you are looking for a different take on the world, be sure to follow Anita. Anita's mission is to change misconceptions about travelling to certain destinations around the world. Brought up in New Zealand, Anita headed on her big OE to the UK back when she was 19. Her one way ticket kept her in the UK for two years and during that time she ventured to some pretty amazing places. She currently calls Albania home but her blog covers so many destinations around the world including Oceania, Europe, South America, North America, Africa and Antarctica.
As well as great destinations tips, you can also pick up some awesome travel tips whether your luxury travelling, backpacking or somewhere in-between. New Zealand still holds a place close to her heart so make sure you check out her latest posts on travelling in New Zealand.
8.      Bren on the Road
It's amazing how many of our top Kiwi bloggers started off in the 9-5 life. Brendan is no different. After graduating, Bren worked the office life, training to become a Chartered Accountant. 2 months after 'graduating', he quit his job and took up the travel life for good. We're glad he did! Bren writes some really awesome blog posts. For Bren, however, it's not just about travel tips and destinations. It's about the stories that make those destinations so special. The people he meets, the adventures he undertakes and the memories he creates. His storytelling is like a good book that's hard to put down. Add into the mix his self-improvement posts and tips specifically for Kiwi travellers and you have all the makings of a top New Zealand blogger.
Make sure you follow Bren on the Road to keep up to date with his latest adventures but be sure to bookmark his Kiwi Travellers section and New Zealand destination page for top tips on travelling in New Zealand.
9.      Jon is Travelling
If you hadn't guessed it, this is a blog written by Jon…who is travelling. Right now, Jon is back travelling in the South Island so make sure you hop onto his blog if you are planning a trip down there as he has been posting some awesome new blogs recently. He is also pretty passionate about Southeast Asia after working there just after graduating from University. Jon doesn't stop there however – he has travelled widely through Asia, Europe, North and Central America, South America and Africa, ticking off a fair few countries along his way.
Jon's posts are insightful and humorous (be sure to check out his About page for a laugh) and he provides some awesome tips for those planning a trip to New Zealand.
10. The World on my Necklace
With a passport filled by over 60 countries already, Katie is one of the most well-travelled bloggers on our list. Her excellent blog, The World On My Necklace, takes you on a journey over the past 14 years as she has travelled throughout the world. Her love of travelling comes from her parents and after been born and raised in New Zealand, she is still very passionate about a place she still calls home. You will still find lots of recent posts about New Zealand and some really awesome tips. She is passionate about New Zealand and ensuring people she meets on her travels come across and experience New Zealand at its finest.
She is a huge walking and hiking enthusiast and has a whole section dedicated to hikes and walks as well as a section for those travelling on a budget. Make sure you bookmark the New Zealand page for her latest travel tips.
11. Tiki Touring Kiwi
If you love sport and you love travel, you need to start following Tiki Touring Kiwi. The blog is expertly written and curated by Jub – a self-confessed sports nut who truly believes that sport is the way to genuinely get to know the locals. Jub has used sport as a way of breaking down barriers all around the world and uses sport of a way of telling stories – both in words and in amazing photos.
Jub's blog does more than just talk about sport though. Jub is a proud Kiwi and as well as travelling extensively throughout the world (52 countries and counting), he writes some really awesome posts about New Zealand including some recent crackers from his expedition to the Manawatu Gorge and a day out in Wellington!
12. The Global Couple
There's something pretty cool about couples who travel together. The blogs always seem a bit more…balanced! Petra and Shaun are two of New Zealand's most popular travel bloggers through their The Global Couple blog. Both haul from Auckland and after 8 years together, they finally tied the knot in April 2015. Both hold down full time jobs here in New Zealand but still travel as much as they can and are working through their extensive bucket list (107 items and counting!)
They are super-passionate about New Zealand travel and have a whole section of their site dedicated to it as well as great destination and city guides. They are also in the process of building a tiny house – a movement that sees house builders stripping back to the bare minimum requirements – there house will be a total of 8.6 square metres and we look forward to watching the progress!
13. Exploring Kiwis
Another travelling couple who have recently returned to New Zealand after two and a half years away travelling in the Middle East and South America are Sarah and Nathan.  Sarah is the main blogger in the couple but is ably supported by Nathan as they pull together to create Exploring Kiwis. These guys have travelled far and wide ticking off 20 countries in Europe, 15 in the Americas, 15 in Asia, 4 in Africa and 2 right here in Oceania. Not bad going at all!
Since returning to New Zealand, they have certainly not stopped their travel blogging and have been out exploring the beautiful country they call home including a recent trip to Rotorua and a trip to explore the wild West Coast. Their blogs are really well written and Sarah brings here obvious passion for travel into all her blogs. Be sure to bookmark their New Zealand section on the site and follow them on social media below.
14. Sarah Sees the World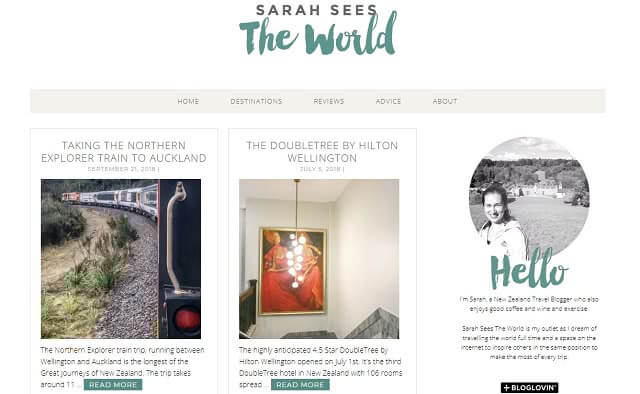 You guessed it – this blog is expertly written and curated by Sarah as she explores the world. Sarah is based in Wellington and started Sarah Sees the World in 2011 as an outlet for her travel frustration, stuck behind a desk working 9 to 5. In 2012, she quit her job and went travelling through the USA, UK and Europe. Sarah is a bit different from some of the other bloggers on our list. Don't get us wrong. She is a super-passionate traveller, but where many have opted to live the life of a traveller, Sarah loves her base in Wellington and uses her employment to fund her adventures around the world.
Sarah has managed to combine working right here in New Zealand with travel throughout Europe, Asia, North America, Australia and the Pacific Islands. Her posts are refreshing and offer a different perspective to some of the other bloggers on our list as she allows herself a little bit of luxury here and there.
15. Travelgal Nicole
Nicole is an honorary Kiwi having lived here for the past 10 years. Originally from Wisconsin in the USA, Nicole has travelled extensively throughout the world and wants to visit every country (she is at 115 and counting). Over the past few years, she has used downtime from her consulting business in order to fuel her passion for travel and recent trips have included Africa, China and South America. This year she has a big trip planned to West Africa which will also include trips to Europe and South Africa – a busy year indeed! All of her travels are documented in her insightful Travelgal Nicole blog and it's great to hear how Nicole has come to call New Zealand home.
As well as providing some awesome and inspirational posts about her travels all over the world, Nicole also has some super-handy posts for those who want to travel and gives some really great tips on using Instagram to showcase your stories.
16. Bare Kiwi
Perhaps best known for his exploits on Instagram, The Bare Kiwi (aka Kyle 'te Kiwi' Mulinder) also has a really awesome travel blog which we urge you all to bookmark immediately! Kyle has been inspiring people on Instagram since the very early days with his amazing photography. He has partnered with GoPro to produce some truly inspirational footage of our beautiful country and he is a man who is very passionate about New Zealand.
He uses his blog to expand on his amazing Instagram profile with amazing photo-led posts talking about his experience both here in New Zealand and across the world. He also has some super-handy posts on using GoPro equipment when you travel which is really great for the budding travel/photo journalist. Perhaps unsurprisingly, The Bare Kiwi is a brand ambassador for GoPro, Macpac, SunGod and more.
17. Broken Limitz
Phil is the founder of Broken Limitz and compared to some of the bloggers on our list, Phil was pretty late to travel. Born and raised in Gisborne, Phil worked 60 hours a week for 10 years as a carpenter. Desperate for a change, he was inspired to travel after reading the book 'The 4 hour work week' by Tim Ferriss. After finishing the book, he quit his job, packed his bags and set off with a one-way ticket in hand and nothing but adventures ahead. That was 3 years ago and he hasn't stopped since!
Phil is another of the bloggers on our list who not only covers inspirational travel destinations, but also writes engaging and thought-provoking posts about starting online businesses and travelling on a budget. Phil has so far ticked off 11 countries in 3 short years so plenty left to explore. Make sure you check out his posts on New Zealand.
18. The Travel Natural
The Travel Natural is written and curated by Kiwi chef Emma. After years of dreaming of travel, it was actually reading blogs like the ones on this list that finally inspired Emma to get out and see the world. Despite a rocky start (homesickness is pretty common with most travellers) she soon grew to love life on the road. After 5 months solo travelling, she returned to New Zealand to save money and make sure her partner Jack was part of the next adventure. More travels followed but now Emma is back in New Zealand and falling in love with her home country all over again.
Emma has so far ticked off 15 countries on her travels and has aspirations for more! For now however she is very happy to be back in New Zealand and blogging about our beautiful country (which is great for all of us who get to read here awesome and inspiring posts!). Make sure you check out Emma's latest posts and keep up to date with her exploits on social media.
19. Sophocles
Sophocles is an awesome travel blog written and curated by Auckland-based freelancer Sophie. She lives for adventure and experiencing destinations off the beaten track (here here!) and works with some pretty huge brands including Trivago, Expedia and Air Asia. Her blog is more about the story than the destination and Sophie does an amazing job of using some awesome photography to help tell her amazing stories.
Sophocles is a highly polished blog which has a super-professional look and feel. Once you start to delve into the various posts however you will find stories that are warming and highlighted with beautiful photography. Being based in Auckland, Sophie writes some great posts about home and has a section dedicated to these posts.
Round up
So there you have it, 19 of our favourite Kiwi bloggers you should be following if you want some pretty amazing travel tips both for New Zealand and travelling around the world. Most of these guys have an option to sign up to regular newsletters so make sure you get their top tips straight to your inbox.
Related Posts