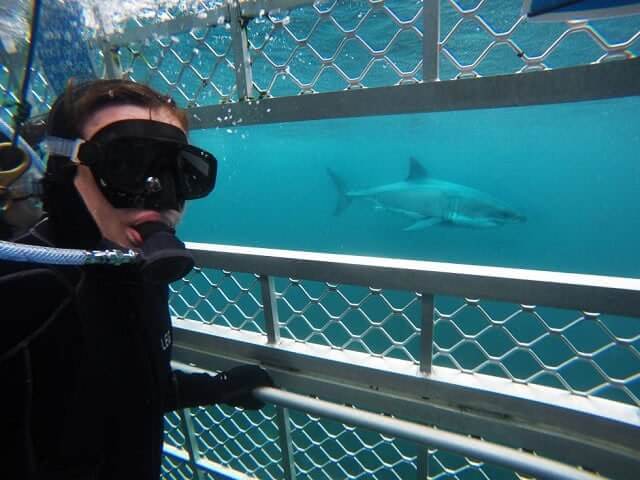 Ever wanted to cage dive with Great White Sharks? Well, there are only five places in the world where you can do it safely and New Zealand happens to be one of them! A new addition to our awesome and exclusive GO Play programme, Shark Experience is taking New Zealand by storm and is sure to be one of our most popular GO Play activities this summer.
Where can I cage dive with Great White Sharks?
The only place in New Zealand where you are able to cage dive with these magnificent sharks is down in Bluff at the southern tip of the South Island. And there is only one operator who will get you up close and personal with a great white shark – Shark Experience.
Shark Experience has been operating in the southern region of New Zealand for 20 years and has specialised in cage diving with great white sharks and sightseeing tours in the Foveaux Strait for the last eight years.
These guys are all about the sharks. They are a team committed to providing education, protection and promotion of New Zealand's very special marine environment and part of that includes offering people the opportunity to cage dive with great white sharks.
Shark Cage Diving Experience
If you want to do something really different when you come to New Zealand, then you need to head to the far south. Not that that's a bad thing. Bluff, Invercargill and of course Stewart Island are some of the most beautiful places in New Zealand and are often skipped by visitors due to the distance to travel south. Well, hopefully, this might persuade you that the journey is well worth it!
The local Department of Conservations estimates there to be around 100 great white sharks swimming off the Northern Titi Islands which is about 8kms from Oban on Stewart Island. That's a lot of great whites!
The opportunity to cage dive with great white sharks is a rare one with only five destinations around the world where it is possible. The opportunity to go eye to eye with one of the ocean's most feared predators is an adrenaline rush like no other and a great chance to tick off a bucket-list item for many people. The shark cage is a super-safe environment from which to watch these predators at close quarters so don't miss out!
When can I see great white sharks in New Zealand?
The season starts in December and there are opportunities for sightseeing and cage diving with great whites right through to May and even into June so there are plenty of opportunities for you to spot and cage dive with these wonderful marine animals.
January has already started apace with eight separate sightings on the 8 January and good sighting on all the other carters in the month so now is the time to start planning your trip down there.
What happens if I don't see a great white on my tour?
Great whites are not a trained animal so sightings are not guaranteed although the early signs for 2018 are that there are a lot around in the waters off the bottom of the South Island. Whilst a sighting and the opportunity to cage dive cannot be guaranteed, if you don't see a great white on your trip, you will be given a voucher to come back another day within the next 12 months to try again.
Save money with GO Play
If you rent your car with GO Rentals, you will get access to our exclusive GO Play card with discounts at over 170 activities and attractions throughout New Zealand. Shark Experience is just one of a handful of tourism operators who are part of our programme down in Invercargill, Bluff and Stewart Island so you will have lots of opportunities to save money and try lots of different things on your trip down there. Renting with GO will save you 10% on your shark diving experience – boom!
You can find out more about Shark Experience on their official website where you will find details of daily sightings as well as further information about the sharks and the cage diving experience.