There's nothing more thrilling than rolling the dice on a craps table, revealing a winning hand in poker or striking the jackpot on a slots machine.
Only at a casino can you have such experiences and New Zealand has a few world-class gems for you to discover to spend an evening or two and test your fortunes!
1. SkyCity Auckland
With New Zealand being the adventure capital of the world is it any surprise you can also jump off one of our casinos? The answer is "no" and many a tourist and celebrity (like Tom Cruise) have SkyJumped off a specially designed platform 192 metres from the ground at speeds of 85kmph and that's only the start of the thrills you can have at the SkyCity Auckland Casino.
Opened in 1996, SkyCity Auckland also offers world-class restaurants, live entertainment and poker tournaments. Home to over 1,000 table games and 1,600 gaming machines, its biggest claim to fame is the iconic 328 metre Sky Tower that has become an important recognisable feature of the Auckland skyline.
It's a great casino and one of the city's major urban attractions, situated in the heart of Auckland's CBD, a 45-minute drive from our Auckland Airport car rental branch and with its very own carpark for your rental.
2. Christchurch Casino
Christchurch Casino was New Zealand's first casino and was opened in Christchurch's Victoria St in 1994. In 2004 SkyCity purchased a 40% stake making Dunedin Casino the only operation it doesn't have an interest in.
Relatively unscathed after the earthquake of 2011, Christchurch Casino welcomes many visitors throughout the year and is one of the premier evening attractions and venues in the city.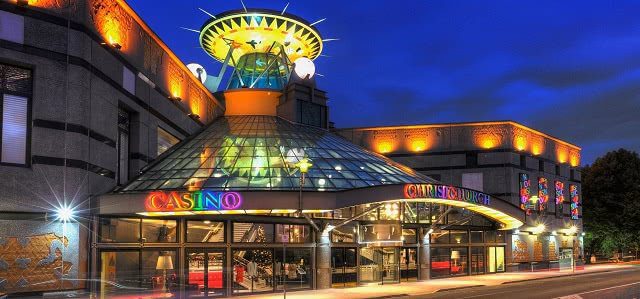 The casino has over 500 slot machines and 34 tables featuring games like Baccarat, Black Jack, Poker, Caribbean Stud Poker, Roulette, Tai Sai, Money Wheel and more.
There's also 3 restaurants and 2 bars including a great sports bar, as well as a busy schedule and line-up of DJs, bands and entertainment every week.
They also host big events like the New Zealand Poker Championship.
Grab a Christchurch rental car and make sure to hit up the Christchurch Casino. It's an awesome casino to visit when in town for a fantastic night out.
3. Dunedin Casino
Built in 1883, Dunedin's Grand Hotel, designed by prominent Italian Architect, Louis Boldini, was in its heyday considered to be one of the Southern Hemisphere's most impressive.
After an extensive refurbishment in 1999, it became Dunedin Casino, a boutique operation that has retained its original opulence and grandeur.  It offers 180 electronic gaming machines, several table games, live entertainment, and regular poker games.
They also have a very nice restaurant with a reputation for decent meals at good sized portions, important with respect to re-energising yourself from all the excitement you'll experience.
The Dunedin Casino is located on High Street in the heart of the city, only a few minutes walk from the Octagon.
If you are planning a trip to Dunedin, we have great news! in May 2019, we opened our brand new car rental branch at Dunedin Airport which means renting a car in Dunedin just got a whole lot better!
Give yourself the Kiwi Casino experience
Whether you're a high roller, an amateur after a quick flutter, an adventure junkie, a foodie, or a fan of live entertainment, New Zealand's casinos have something for everyone.
Be sure to keep an evening free on your next trip to New Zealand because you never know what fortune awaits!