Whether you're a fan who's come to New Zealand to follow a particular tour or just a fan of sports who is visiting New Zealand, then an experience at Eden Park, New Zealand's national stadium, is one that will appeal.
Kiwis love their sport with the most popular sports being rugby in the winter and cricket in the summer and Eden Park has been hosting both for over a hundred years.
There are plenty of domestic and international fixtures and events that take place right throughout the year and we've put together this guide to give you all the ins and outs about attending an event at Eden Park.
Eden Park – A few quick facts
Stat attack time! If you are heading to a game or an event and want to dazzle your friends with some Eden Park knowledge, here are some quick glance stats that you should be able to churn out and claim as your own:
Eden Park first opened as a sports ground in 1900
Cricket started being played at Eden Park in 1903 whilst rugby started in 1913
In 1921, Eden Park hosted NZ vs South Africa in rugby, its first international event
In 1950, Eden Park hosted the British Empire (now Commonwealth) Games
Eden Park has hosted two Rugby World Cup finals, in 1987 and 2011, both won by the All Blacks
Eden Park has hosted two Cricket World Cup semi-finals, in 1992 and 2015, resulting in a loss and a win by New Zealand
Eden Park has a capacity of 50,000 (60,000 with temporary seating) which is the largest in New Zealand
Finding out what's on
As the home ground to the Blues Super Rugby team, Auckland Rugby team, Auckland Aces cricket team as well as a preferred venue for many international fixtures, there's always a large number of matches to see at Eden Park.
The easiest way to find out what's on is by checking the Eden Park website. There they feature all the upcoming fixtures a few months in advance and information on how to buy tickets.
The Eden Park Stadium Tour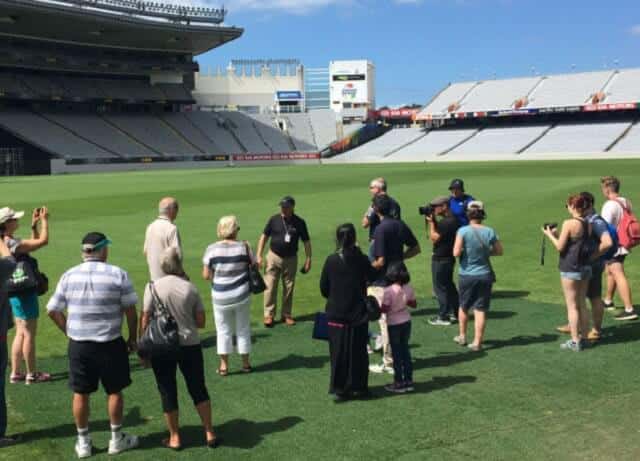 If for some reason you're unable to make it to a match but would still like to visit and experience Eden Park, then you can do so via the Eden Park Stadium Tour.
The tours are offered Mon – Fri at 10.00am and 2.00pm and give visitors incredible access and fascinating insight into the history of the iconic stadium. As part of the tour, you'll go behind the scenes and see the players' tunnel, the coaches' box, the changing rooms, get awesome photo opportunities and much more.
The tours last approximately 90 minutes and better still GO Rentals customers enjoy a 10% discount using their GO Play card!
Getting to ground
If you are lucky enough to get a ticket to attend a big match then you'll need a plan of attack for getting there. Eden Park is located in a residential area in Auckland with parking restrictions that are enforced on matchdays, so driving is generally not advised. If you do opt to drive, make sure to check out our Auckland car rental options.
Luckily, there are a number of public transport options by bus and train from the Auckland CBD to Kingsland (the closest train station/bus stop to Eden Park). For international fixtures, the cost of transport is also usually incorporated in the ticket fee. You can expect it to be busy, however, so giving yourself ample time is highly recommended.
The other option if you're staying in the city is to pack some good sneakers and walk. On foot, it will take you around 40-50 minutes following the suggested walking path.
Places to eat and drink
Eden Park is close to some great places to enjoy a bite and beverage before and after the match should you so please. Kingsland is probably the closest and coolest place to go where you'll many bars and restaurants to choose from.
A few suggestions for bars we like include Citizen Park and The Portland Public House.
For restaurants, our Kingsland recommendations are Canton Café, Papas Pizza and Taiko.
If you'd prefer to avoid the crowds, then you'll find a few more casual options along Dominion Road and a little further still you'll find Mount Eden Village which has some great fine dining options.
Enjoy the Eden Park experience!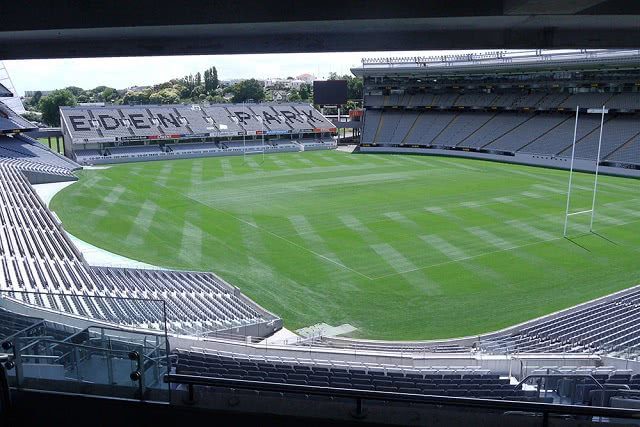 We hope you've enjoyed this guide designed to help you get more out of your time at Eden Park. It's a great stadium with a great Kiwi atmosphere that's up there with the best sporting experiences.
And don't forget, if you can't make a match, you can always do the Eden Park Stadium Tour and get a 10% discount with your GO Play card!