Updated: 21 May 2019
Crowded House famously sang about 'Four Seasons in One Day' and it seems like a pretty good time to talk about New Zealand's weather as we head out of one of the best summers here in New Zealand for a long time.
As seasons go – this summer has been a corker. Long, hot sunny days couple with very little wind and rain made it perfect for getting out and enjoying everything that's great about the New Zealand summer. The beaches were packed from December to April and we have never seen as many jet skis out on the water!
View this post on Instagram
Autumn has been a cracker as well. Dry and warm up in the North Island, it's been the summer/autumn that has kept on giving! As we head towards the winter months, it's still unseasonably warm although there have been some deluges across the country and one of two cold snaps.
And that's why we love New Zealand. Seasons are just great. Sure, we definitely love the summer sun, but where would we be without the autumnal colours? And what about those lovely spring days where the temperatures reach 20 degrees for the first time in months and people are back out in their jandals? And even winter. Yes, it can be cold. And yes, it can be wet. But spare a thought for the skiers and the snowboarders who will be out there, having an absolute blast on the slopes.
We may like to complain about the weather, but we think the seasons are what makes New Zealand great.
New Zealand Temperatures
If you're planning a trip to New Zealand, the most popular time is during the summer months from December to March. On average across New Zealand, the summer temperatures are somewhere between 20-30°C. In winter, that average drops to somewhere between 10-15°C although it does massively depend on where you are in the country.
Here are the average temperatures and rainfall days for some of New Zealand's main centres:
Spring
Sep, Oct, Nov
Summer
Dec, Jan, Feb
Autumn
Mar, Apr, May
Winter
Jun, Jul, Aug
High
Low
High
Low
High
Low
High
Low
Bay of Islands
Temp (C)
19
9
25
14
21
11
16
7
Temp (F)
67
48
77
57
70
52
61
45
Rain Days
11
7
11
16
Auckland
Temp (C)
18
11
24
12
20
13
15
9
Temp (F)
65
52
75
54
68
55
59
48
Rain Days
12
8
11
15
Rotorua
Temp (C)
17
7
24
12
18
9
13
4
Temp (F)
63
45
75
54
65
48
55
39
Rain Days
11
9
9
13
Wellington
Temp (C)
15
9
20
13
17
11
12
6
Temp (F)
59
48
68
55
63
52
54
43
Rain Days
11
7
10
13
Christchurch
Temp (C)
17
7
22
12
18
8
12
3
Temp (F)
63
45
72
54
65
46
54
37
Rain Days
7
7
7
7
Queenstown
Temp (C)
16
5
22
10
16
6
10
1
Temp (F)
61
41
72
50
61
43
50
34
Rain Days
9
8
8
7
New Zealand Sunshine
Despite the occasional wet weather, New Zealand is still a super-sunny destination all year round with most places in the country receiving at least 2,000 hours of sunshine a year (which is nearly 5.5 hours every single day!). The sunniest places in New Zealand, including Nelson, Hawke's Bay, Marlborough and the Bay of Plenty receive over 2,350 hours of sunshine a year on average (which is nearly an hour a day more than the rest of the country).
With very little air pollution in New Zealand, tourists and locals alike have to be very careful of the harmful UV rays and we would advise you to wear factor 50 sunscreen at all times in the summer months and even in the spring and autumn where it can still be deceptively hot.
View this post on Instagram
New Zealand Rainfall
The winters of 2017 and 2018 set the record tumbling for rainfall but how wet is New Zealand? Well, on average the rainfall high is somewhere between 640mm and 1,500mm which tends to be pretty evenly spread throughout the year.
New Zealand Seasons
If you want to find out more about the seasons in New Zealand and discover the best time to come and visit, check out our recent post which lets you know where you should visit depending on when you visit and what to see and do.
Book a vehicle for this trip
We recommend: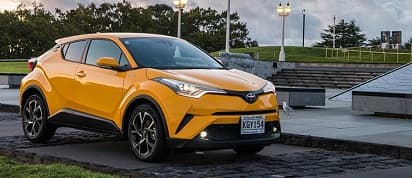 Zippy Auto
Toyota CHR
Seats

5 seats

Large Bags

1

Small Bags

1

Transmission

Auto trans