If you are looking for a real taste of New Zealand culture, then a must on your to-do list is to sample the delights of a Māori hangi.
According to 100% Pure New Zealand, "Māori were aware that the earth was the giver of all life, from the soil came food and that same food was cooked beneath the earth." That is why the traditional way of cooking for Māori was in a pit under the ground in an oven called a 'hangi'.
Traditionally, fish, chicken and root vegetables are cooked with a few modern additions. Once wrapped in leaves, a hangi today is formed of wire baskets placed on hot stones, covered by a wet cloth and finally earth to trap the heat. Although a long process, taking around 3 to 4 hours, the end result is well worth the wait for tender, melt in the mouth meat which falls off the bone, and vegetables infused with smoky, earthy, fragrant yumminess. Where's a bib when you need it?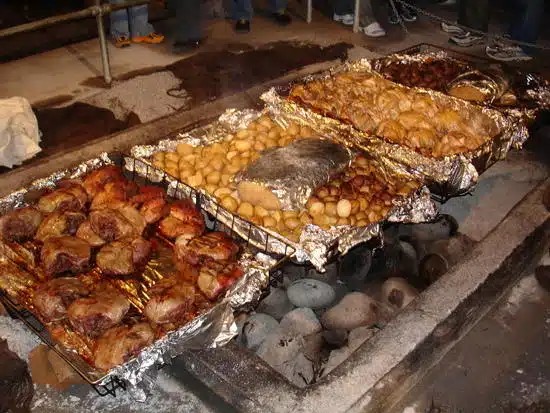 What is in a hangi?
We've already talked about some of the traditional food that would be cooked in a hangi, however, more modern Māori hangis now also include pork, lamb, potato, pumpkin and cabbage.
How is the food cooked in a hangi?
As we mentioned above, a traditional Māori hangi would involve the cooking of food wrapped in leaves, however, a modern hangi is more likely to be substituted with aluminium foil and wire baskets.
Once covered with a wet cloth and a mound of earth, the food is then left to cook for 3-4 hours, depending on how much food is being cooked.
The result: there is nothing quite like the taste of food cooked in a hangi. According to Richard Eriwata, President of the Newcastle Māori Club, "This is something that is absolutely unique to our Maori culture.
"It's all in the process of what you use to heat the rocks; that's where the taste lies."
The result is an earthy and hearty taste with a pungent scent.
How deep is a hangi?
The depth of the hole you dig for a traditional Māori hangi will depend on the amount of food you are preparing and how many people you are preparing for. Typically, a hangi for 25 people will be approximately one metre in diameter and half a metre deep. This will allow enough room to fit enough volcanic stones which are then heated up until they are white hot.
Hangi experiences
Many hangi meals will be included in most Māori cultural experiences however they are becoming increasingly popular in hotels, particularly in the Rotorua region with both traditional music and dancing. With thermal activity at the heart of Rotorua, there is also an opportunity to experience the taste of food cooked in natural thermal steam and water. The thought of cooking your meat in sulphurous odours may cause your nose to wrinkle but when the food resurfaces, you won't be disappointed.
For an authentic Māori cultural experience, Wairakei Terraces in Taupo is smaller than other villages however less commercialised. In under four hours, you will experience remarkable hospitality, spectacular scenery and a fascinating insight into the Māori way of life. The Tamaki Maori village experience nestled in ancient Rotorua Forest includes a full tour of the village complete with traditional ceremonies, hangi and wharekai for a relaxed 3-course dinner.
If a true taste of New Zealand is what you're after, awaken your senses with a unique dining and social experience while learning some of the Māori culture which has helped shape the nation. Even those with a sweet tooth can rejoice, with steamed puddings on the menu!
Updated: May 6 2021