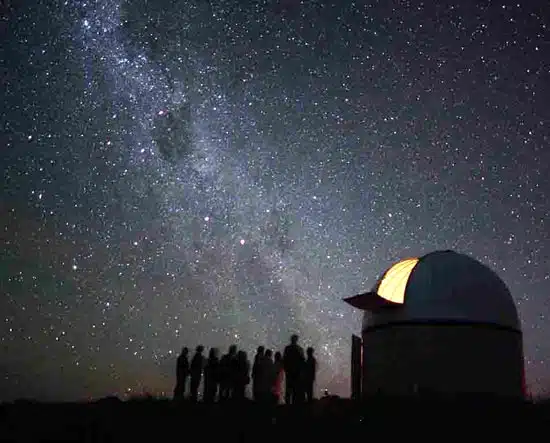 Listening to the peace of Mt John in the pitch black is a restful and immersive moment where time may be temporarily forgotten. Powerful telescopes and binoculars will give unique insights into the world above and with the help of scientists as tour guides, you will be given the opportunity to see star clusters, zodiacal light and distant galaxies which will stretch the limits of your imagination. During the day, visitors will be equally taken in by the grand panoramic views of the surrounding Mackenzie District and jewel toned waters, providing endless photographic opportunity.
The area of Lake Tekapo itself offers a range of activities to suit all interests including a number of walking trails, mountain biking, fishing, scenic flights and Mackenzie Alpine Horse Trekking, welcoming all levels of rider. Day treks here cost from NZ$25 to NZ$260 per person for 30 minutes up to a full day. An overnight package with dinner and breakfast is also offered at NZ$350 where riders will camp, sleeping under the stars and watch the sun rise against Aoraki Mt Cook.
If you are passing through this seemingly untouched piece of New Zealand, Lake Tekapo and Mt John are well worth a visit if you are looking for an alternative view of this magnetic country. Whether looking to engage your imagination and inspire thought or get stuck straight in with an experience of outdoor adventure, this landscape is much more than a pretty view.