As well as providing a wide range of super-helpful travel resources for anyone planning a trip around New Zealand, we also like to throw in the occasional posts packed full of useless facts! You never know when you might find yourself in a pub quiz wondering just how far it is from the top of the North Island to the bottom of the South but worry not – we've got you covered!
In this post, we are going to answer some of the most frequently asked questions on Google when it comes to the length of New Zealand. Yep, whether you want to walk it, bike it or ride a horse from top to bottom, we've got you covered.
In the interests of fairness, we'll also throw in some interesting east to west stats as well and we'll also take a look at the length of the New Zealand coastline. That's a lot of facts right there so sit back and clear your mind – you're about to fill it with lots of useless facts to dazzle your road trip buddies with.
Fun Fact #1 – What's the length of New Zealand?
Let's tackle the biggie first. An incredible 590 people a month right here in New Zealand search on Google to find out about the length of New Zealand so here goes.
The length of New Zealand from North to South is:
This approximate distance is taken on a north-north-east axis.
Fun Fact #2 – How long would it take to drive the length of New Zealand?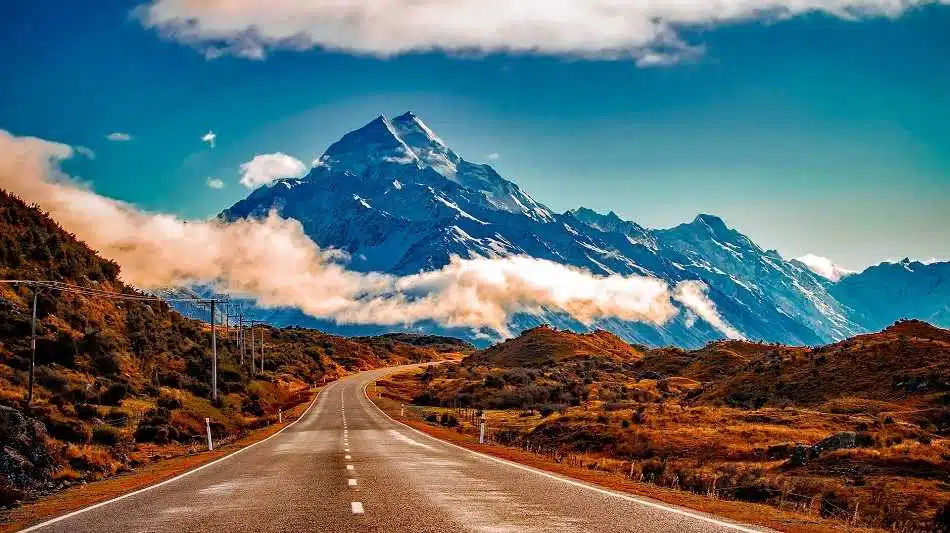 Let's take a deeper dive. Obviously, the driving route is a little bit different as we have to stick to the roads.  The length of New Zealand from top to bottom using the most direct road route is:
This route would take you from Cape Reinga at the top of the North Island to Stirling Point lighthouse at the bottom of the South Island. Including the ferry that you would need to take from Wellington to Picton, the drive would take you about 30 hours if you could drive non-stop so allow another hour or two for petrol and bathroom breaks.
The route would take you pretty centrally down the North Island through Auckland, Hamilton, Taupo, Palmerston North, and Wellington. When you hit the South Island, you would hog the east coast through Blenheim, Christchurch, and Dunedin before cutting across to Bluff to finish up this most epic of road trips.
Fun Fact #3 – What is the length of the New Zealand coastline?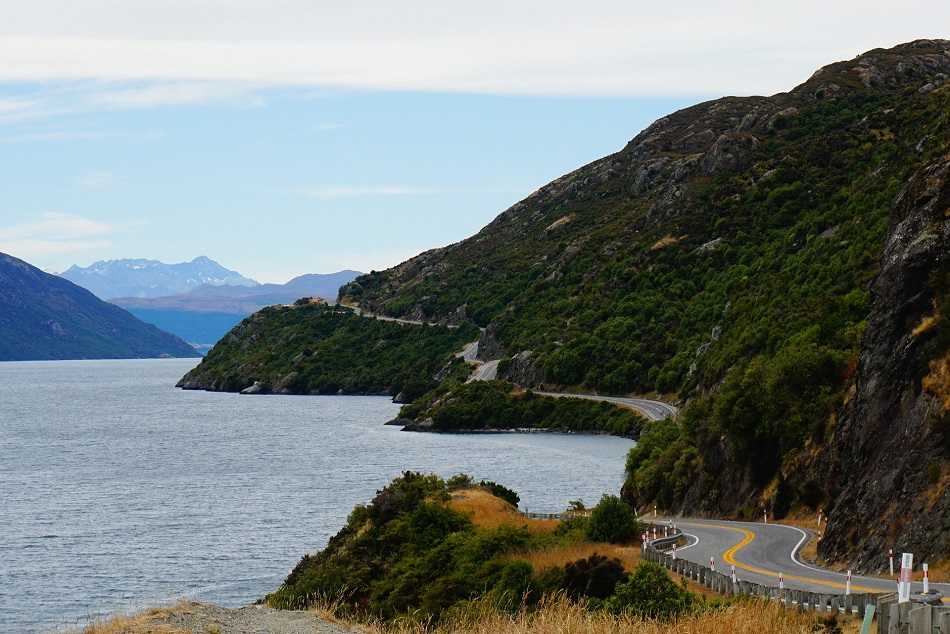 New Zealand is a very long and narrow country and as such, we enjoy an incredible amount of coastline. This means that no matter where you are in the country, you are never too far from the beach. The approximate length of the New Zealand coastline is:
Taking the coastal route around New Zealand and assuming a similar average driving speed as you would achieve driving the most direct route (approx. 70 kmph), it would take you around 214 hours to drive around the whole coastline which is truly an epic road trip!
Fun Fact #4 – How wide is New Zealand (at the narrowest and widest points)
We've already talked about the length of New Zealand but what about the width? Well, we're a very long and narrow country so even at the widest point, it's still not very far to cross from one side to the other. The width of New Zealand is:
Widest Point – 450 km or 280 miles (New Plymouth to Napier)
Narrowest Point – 1 km or 0.6 miles (Otahuhu, Auckland)
Nope, that's not a typo. The narrowest point in New Zealand from east coast to west cost is in the industrial suburb of Otahuhu where you can walk the 1 km from east to west in about 10 minutes. The narrow strip will take you from the Tamaki river on the east to Manukau on the west.
In terms of the widest point in New Zealand from coast to coast, that's found at the 'chunky' bottom of the North Island between New Plymouth and Napier and covers 450 kms. That means that you are still never more than 225 kms from the coast no matter where you find yourself in New Zealand which is pretty awesome.
Fun Fact #5 – How long would it take to cycle the length of New Zealand?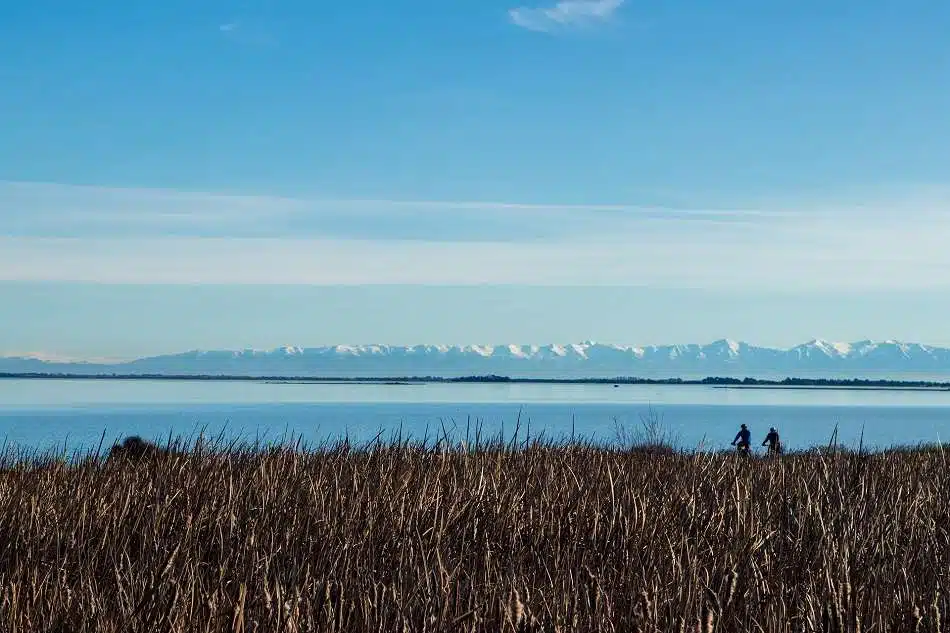 For the fitness fanatics out there who fancy taking on a truly epic Kiwi challenge, why not try cycling the length of New Zealand. For those wanting to 'do it yourself' but follow a set route that is cycle friendly, make sure you sign up to the Tour Aotearoa Brevet challenge which can be completed at any time once you have registered.
Obviously, there are a number of roads that you are not allowed to cycle on between Cape Reinga and Bluff which adds to the length of the journey – the cycling length of New Zealand is approximately 3,000 km (1,864 miles).
Remarkably, on the Tour Aotearoa Brevet website, they allow between 10-30 days to complete the cycle ride with 30 photo checkpoints along the way. 10 days is an incredible achievement for anyone who can complete 3,000 kms at an average of 300 a day but anyone planning to cycle the length of New Zealand solo should allow approximately one month to complete the ride.
The cycle route differs from the driving route once you hit the South Island and instead of hugging the east coast, you will instead head over to the west coast which offers up some truly stunning scenery (as well as some truly challenging mountain passes!)
Fun Fact #6 – How long would it take to walk the length of New Zealand?
For true fitness enthusiasts and outdoor lovers, the Te Araroa track (The Long Pathway) is the perfect way to get out and explore our beautiful country and coastline. Winding more than 3,000 kms along coastal sand, farmlands, forested ridgelines and volcanoes in the North Island and beautiful national parks, high country stations and mountain passes in the South, this epic track is a New Zealand icon.
At an average of 25kms a day, the trail takes 120 days to walk – the equivalent of four months. It's not a challenge to be taken lightly and if you plan to do the walk from top to bottom in one stint, you need to be well organised and make sure you plan out your route in advance.
In the North Island you will not usually struggle to find a place to stay for the night. You are rarely more than a day or two from the nearest town where you can find a place to shower and clean up. As you head to the South, you can go over a week in the wilderness and that's when it's important to be organised and plan out your stays in some of the amazing backcountry huts.
Summary
So, there you have it – six fun facts to dazzle your mates with on your next road trip around New Zealand. Which was your favourite?
Got any fun facts of your own to share with us? Or maybe you've taken on one of the epic journeys above by car, on foot or on your bike – we'd love to hear about it if you have.