For tree top capers that would give Tarzan a run for his money, the stunning setting of Woodhill Forest, a short drive from Auckland, is home to Tree Adventures, the thrilling way to explore nature from above.
It's a great little adventurous excursion to enjoy if you're staying in the city and after something that is both fun and scenic. But what exactly is Tree Adventures? We reveal all below!
What is Tree Adventures?
Tree Adventures in Woodhill, Auckland are an exciting outdoor tree-top adventure park for people young and old, at all levels of "monkey" ability from beginner to expert.
In total there are five different adventure areas and a total of 10 courses altogether. The adventure areas offer their own different challenges which are briefly described as follows:
Tree Huggin'
A nice gentle introduction to the skill of tree climbing, this single wire course has 12 exciting activities including suspended tunnels and swinging logs to overcome but never gets higher than 3m above ground. If you're a little anxious and want a stepping stone to start with, then this is for you.
Monkey'n Around
Once you've graduated from the Tree Huggin experience, the Monkey'n Around area is the next one to take on. This is also a beginners area but does require more nerve as the heights reach as high as 7m in places. Really good fun, and if you can do this comfortably, then it's onwards and upwards from here.
Branching Out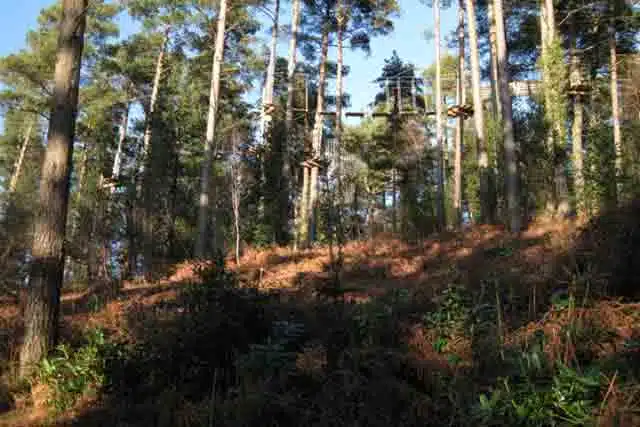 The intermediate area tests your skills against obstacles like the caterpillar, hanging logs and the legendary platform leap! It'll also test your upper body strength with its unique and challenging climbing wall ladder.
High Flyer
If you're confident you're made of the right stuff than you might decide to go straight to the High Flyer. Filled with wobbling balance beams and other tricky obstacles, the task at hand is all the more daunting 14m above the ground. There's good reward if you can complete it with a number of flying foxes to enjoy on the way down.
Tarzan's Test
The expert area is appropriately known as Tarzan's Test and is not for the faint-hearted. It's an area that's designed purely to push individuals to their limits. It does so by including obstacles like the Tarzan Swing, ape hanger and the biggest flying fox in the park. We won't spoil any more of the fun for this one just don't say we didn't warn you!
The Group Twilight and Night Experiences
For something even more magical you might want to consider going as a group for the Twilight and Night experiences offered by Tree Adventures.
This does exactly what it says in the title and allows groups to experience the park against the beautiful sunset backdrop or under the illumination of lights and the stars in the sky.
It's an amazing way to do an already amazing experience where you'll be guided by an instructor and witness the forest when it truly comes to life.
All equipment and training are provided so that all you need to bring is some spunk! With adventure and laughter past every obstacle, Tree Adventures promises an experience that you will leave on a high.
How to get to Tree Adventures in Auckland
Woodhill Forest is situated a 35-minute drive away from the city, off State Highway 16.
For an alternative way to discover New Zealand's natural beauty while getting a taste for Kiwi adventure take a bold step into the unknown and test your climbing ability and zeal.
Tree Adventures deal with your GO Play Card
GO Rentals have a great Tree Adventures deal for its customers where they receive a 10% discount using their GO Play Card!
That's fantastic value and is just one of the perks you can enjoy when renting a car through GO Rentals!