If you are looking for an awe-inspiring experience, then the Waitomo Glowworm Caves need adding to your New Zealand bucket list. The caves are world renowned and are a popular attraction for Kiwis and international visitors alike. The glowworms or Arachnocampa luminosa to give them their Sunday name, are unique to New Zealand. You literally can't see them anywhere else in the world. All other glowworms are imposters! There are literally thousands of these stunning glowworms in the Waitomo Caves and they radiate an unmistakable luminescent light which creates something truly spectacular.
Checking out the Waitomo Glowworm Caves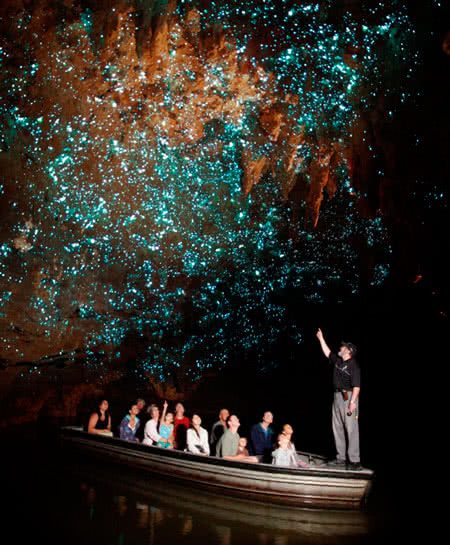 The best way to explore the Waitomo Glowworm Caves is by boat. Be guided through this amazing natural light display as you meander down the tranquil waters of the Waitomo River. As soon as you enter the Glowworm Grotto and your eyes have had the chance to adjust, you will be blown away as you peer up into the thousands of glowing lights above. It is a huge favourite amongst our GO Explore fans and the boat ride will bring a sense of calm and tranquillity to your trip.
History of the Waitomo Glowworm Caves
Imagine being the first person to discover this amazing natural phenomenon. Pretty cool huh? Well, Chief Tane Tinorau and English Surveyor Fred Mace were the first people to uncover the amazing glowing worms in Waitomo although their presence was known in the Maori community. Following numerous explorations of the caves, Chief Tane made a solo expedition and it was on that trip that he discovered the upper level of the cave and the easier access. Eventually they uncovered the entry point on land which is still used to this day to guide thousands of visitors every year into the caves.
Visit the Waitomo Glowworm Caves and save with GO Rentals
Hopefully all this glowworm talk has got you excited about a visit to see these natural wonders for yourself. The good news for you is that if you rent a car with GO Rentals, you can score a 10% discount off your glowworm cave tour using our exclusive GO Play card. We are delighted to partner with some of New Zealand's biggest and best tourist attractions and Waitomo Caves are certainly up at the top of the list when it comes to amazing New Zealand experiences.
Other activities at Waitomo
As well as the Waitomo Glowworm Caves experience, there are lots of other activities you can tag on to your trip to Waitomo. There are two other cave experiences which you can either explore individually or tag on to your glowworm caves experience. The Ruakuri Cave and Aranui Cave offer up awesome experiences which will take you to the subterranean wonders of Waitomo. The Ruakuri Cave has full wheelchair and pushchair access making this a great one for families and you will get the opportunity to get close up to the glowworms as well as checking out the amazing limestone formations.
The Aranui Cave is described as Waitomo's best kept secret but we're about to let the cat out of the bag! The Aranui Cave has a natural entrance and is the smallest of the three main caves. This is a dry cave with no running water but a big attraction in the colony of native New Zealand cave wetas just near the entrance as well as the stunning stalactites and stalagmites within the cave.
Black Water Rafting at Waitomo
If this all sounds a bit sedate for the more adventurous out there, then Waitomo also has a little bit of magic up its sleeve for thrill-seekers: black water rafting! There are three black water rafting experiences to choose from at Waitomo; Black Abyss, Black Labyrinth and Black Odyssey. Each of the rafting expeditions can cater for between 6-12 people and you will be taken underground by expert guides who will support and encourage you through this awesome underground experience.
Find out more about the black water rafting options at Waitomo.
So, there you have it. No matter whether you're looking for a stunning and peaceful natural wonder or some high adrenaline adventure, Waitomo is the place to be. You can find out more about the region and each of the activities on the Discover Waitomo website. Don't forget to hire your car with GO Rentals to save money on this and heaps of other activities throughout New Zealand with our exclusive GO Play card.
Book a vehicle for this trip
We recommend: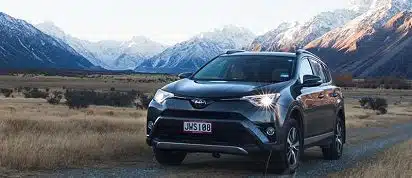 Intermediate 4×4
Toyota Rav 4
Seats

5 seats

Large Bags

3

Small Bags

4

Transmission

Auto trans