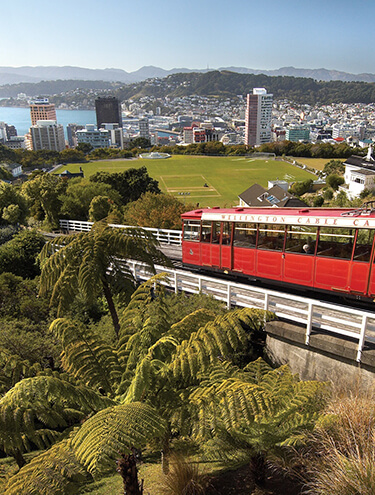 FAQ
Wellington Airport
Answering your questions about
renting a vehicle at Wellington Airport
Can't find the help you're looking for?
Frequently asked questions
What are Wellington branch hours and what is the after-hours process?

Our branch hours at the

Wellington

branch are:
8am - 5pm Monday to Sunday
If you need to pick up or drop off your vehicle outside these hours, there is an after-hours service which will allow you to do so.Once you've confirmed your booking, we'll email you instructions on how to pick up and drop off your car outside of our branch hours.
---
How long will it take me to get into town from the branch?

If you're wanting to head into Wellington City, the drive out from our branch is nice and quick. Usually a 10 minute drive will get you into the heart of the city, where you can explore. Wellington City is home to the Te Papa Museum, as well as other great places to explore.
---
Where can I find special deals on car rental in Wellington?

Looking for rental car deals in

Wellington

? Make sure you have a look at our

deals page

. It's home to our latest discounts and offers and can help you save on your next hire. Downloading

our app

is another great way of having everything you need at your fingertips. For the latest car rental deals straight to your inbox, make sure you sign up for our newsletter and never miss a deal!
---
Do you offer one-way car hires from Wellington Airport?

We sure do. We can arrange one-way car hires to and from all our locations including

Wellington Airport

. There are a couple things you'll have to consider - we do have minimum hire periods in place, and one-way hires are dependent on the time of year and your direction of travel. On occasion, we will make allowances if we need vehicles in other branches. Make sure you keep an eye on our

rental car relocation deals

for all the latest rental car relocation deals.
---
Do you do drop-offs or pick-ups from hotels in Wellington?

Unfortunately, we do not offer drop-offs or pick-ups from hotels in and around

Wellington

. If you are unable to organise transport to or from our branch, or need special assistance, you can call us at the branch and the team will do their best to accommodate your situation.
---
What happens if I need to pick up or drop of my rental car at Wellington Airport out of hours?

We offer after-hours services at all of our branches excluding Auckland City. Once you've confirmed your booking, we'll email through some instructions. If you're returning to our Wellington Airport branch, we prefer you return during business hours where possible, however parking and key drops are available in Auckland, Wellington, Christchurch, Nelson, Queenstown, and Dunedin.
---
What will I need to bring when I collect my rental car from Wellington Airport?

You're one step closer to exploring NZ with us. When you come to collect your hire car at our Wellington Airport branch, you'll need a valid driver's licence and a credit or debit card for security. A credit card is mandatory if you have selected our Basic insurance option. It must have your name printed on it for verification and the card must be valid until the drop-off date.
---
How far is it from Wellington Airport to downtown Wellington?

If you are planning on exploring Wellington for a few days after you land or you're visiting for a long weekend getaway, getting from Wellington Airport to downtown Wellington is a breeze. It's a short 20-minute drive depending on traffic and getting around the city is really simple. We provide you with handy maps in all our rental cars and you can also hire a GPS if you want to travel with more confidence. If Wellington is the starting point for your New Zealand adventure, our friendly team will be more than happy to point you in the right direction if you are heading out beyond Wellington.
---
What are your most popular rental cars at Wellington Airport?

Our most popular rental cars from our Wellington Airport branch tend to change with the seasons however there are a couple of vehicles that tend to top the list in terms of popularity including the Toyota Corolla Hatch and the Toyota Yaris.
---
What are the most popular destinations for people picking up a rental car in Wellington?

If you are hiring a car in Wellington, there are a number of great options within a short driving distance from downtown. Some of the most popular destinations include the Auckland, Picton, Palmerston North, Taupo, and Martinborough. Find out more about the most popular holiday destinations from Wellington.
---
How do I request a free pick-up at Wellington Airport?

Once you've landed, you can request your shuttle via our app or call us on 04 388 1054. Once you've collected your bags, make your way to the signposted 'Rental Vehicle Shuttle' area. You can find this by exiting through the arrivals doors, turning right, then walking 50m along the walkway.
---
Read more FAQs