New Zealand is well known for our amazing walking and hiking (or tramping as we Kiwis like to call it) opportunities. It's one of the biggest drawcards, especially to people visiting from overseas. We love hiking so much, we even have a group of nine walks that are known as the Great Walks of New Zealand. You can read more about these nine awesome walks in one of our other blogs because this blog is focussing on some of the less well-known walks in New Zealand.
This post is all about celebrating the hidden gems. The walks that you have to dig a bit deeper to discover. The ones that are slightly more off the beaten track.
Everyone knows all about the Tongariro Crossing, up there as one of the best one day walks in New Zealand along with the Poukakai Crossing down in the Egmont regional park.
We want to take a closer look at some of the amazing walks you might not have heard about. These ten crackers are all really accessible walks once you know about them and they are just waiting to be explored. Add them to your list for your next visit to our beautiful country.
Roy's Peak Track – Wanaka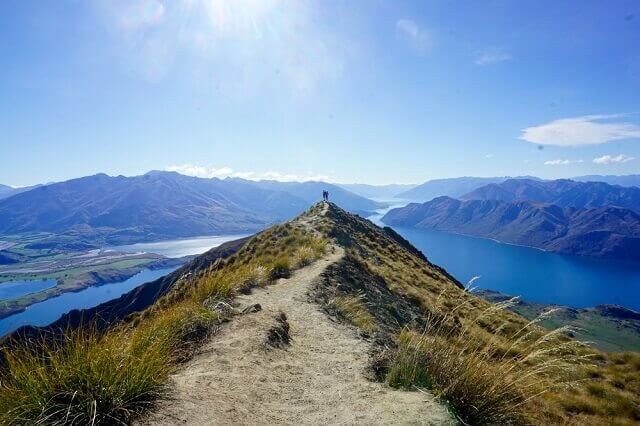 OK, so this one we have championed quite a lot so there are going to be a few of you out there that have heard of it but it's still an amazing day walk to tackle when you are next in Wanaka. Take the short 15-minute drive to the car park at the foot of the climb (which is usually pretty busy from early morning) before heading off to tackle the 1,578m Roy's Peak summit. This walk is not for the faint-hearted. It's super-steep in parts and can be a slog but the path is a good one and it is accessible all-year round. The reward at the top is a view like no other. Looking down over Lake Wanaka and Lake Hawea beyond, it's a wonderful spot to grab a picnic and just soak up those amazing views. During the lockdown period, people were taking advantage of the lack of people out exploring Roy's Peak and enjoying some stunning views – were you one of them?
Recommended time: 4-6 hours return
Ben Lomond – Queenstown

Another hidden gem, the Ben Lomond Track is an absolute gem, right in the heart of Queenstown. The track starts on the Skyline Access Road before peeling off where you will head first up to the Ben Lomond Saddle (1,326m) and then push on again to the Ben Lomond Summit (1,748m). This is a walk for the super-fit and expect it to take most of the day, especially if you are heading all the way to the summit and not just the saddle. On a clear day, the views are simply spectacular and you will catch a sight of Mount Earnshaw and Mount Aspiring.
Recommended time: 3-4 hours for saddle and 6-8 hours to summit both return
Catlins Coastal Heritage Trail – Southland
For those who take the road less travelled to the bottom of the South Island, you will be rewarded with some stunning walking opportunities. The Catlins Coastal Heritage Trail is one such opportunity. This stunning coastal trail will lead you to remote and isolated beaches, through a fossilised forest and bring you up close and personal with some of New Zealand's most amazing wildlife. At Porpoise Bay, there's a good chance to see the rare Hector's dolphin before hitting the petrified forest at Curio Bay. This full day hike is a great chance to see New Zealand at its remote best.
Recommended time: 5 hours one way
Hooker Valley Track – Mt Cook
Another of New Zealand's great walking track that gets a lot of coverage on Instagram, the Hooker Valley Track is one of New Zealand's prettiest trails. Completely surrounded by the awe-inspiring landscapes of the Southern Alps, the Hooker Valley Track is a national treasure. The good news is that it's a flat track which is perfect for people of all fitness levels. It's a 10km return track that will take you around 3 hours and during that time you will get some of the most amazing views of glaciers, lakes and the country's highest mountain, Aoraki Mt Cook. If you're lucky, you might also catch a glimpse of the Mt Cook buttercup, the world's largest.
Recommended time: 3 hours return
Cape Kidnappers Walking Track – Hawke's Bay

The Cape Kidnappers area is one of the North Island's most spectacular and the walking track lets you explore it to the max. The 19km return walking track takes you along the beach before you tackle a relatively steep climb which takes you up to world's largest accessible mainland Australasian gannet colony. The walk on the beach sees you walking under towering limestone cliffs, providing a spectacular backdrop to this stunning walk. The best time to visit is between early November and late February when the gannets will be nesting. New chicks hatch at the beginning of November so this is a great time to see something pretty cool.
Recommended time: 5 hours return
Te Whara Track – Whangarei
View this post on Instagram

The Te Whara Track is a true hidden gem and one that is not on a lot of people's radar – hopefully, it soon will be! This 7.5km one-way track is a tough but rewarding one day hike. The walk will take you through some of the best coastal forest on the North Island and you will also get to see the ruins of a WWII radar station which is super-cool. The views along the track are pretty spectacular and you can see all the way up to Cape Brett to the north and Cape Rodney to the south. The path is steep and undulating so you will need a good level of fitness to complete the return trip but we think you'll agree it's an absolute cracker.
Recommended time: 5-6 hours return
Te Aroha Summit Track – Hamilton
The Te Aroha Summit Track is a fantastic track which is located around 45 minutes from Hamilton. There are a number of walks in and around Mt Aroha but the summit track is the most challenging for those looking for a great day walk. The track ascends almost 1km and starts at the Mokena Geyser in the Te Aroha Domain before reaching the Whakapipi lookout with some great views over the Hauraki Plains. Once you reach the summit, Mt Aroha provides 360-degree views across the Waikato region and on a clear day, Mt Taranaki, Ruapehu and Ngauruhoe are all visible.
Recommended time: 6 hours return
Moonlight Track – Queenstown

We're back into the tough walks! The Moonlight Track near Queenstown is part of the same circuit as the Ben Lomond Summit (you can do both in the same day). From the Ben Lomond Saddle, instead of heading to the summit, you will instead follow markers to Sefferstown, an old mining town. Here you will find the remains of the old Mike Creek stone school which dates back to the 1880s so plenty to take in on this walk.  This 14km track is a one-way trail so you will need to organise transport back unless you fancy making it a 28km walk! It should take you around 4 hours to complete the one-way walk so it is possible but it will be a tough day!
Recommended time: 4 hours one way
Whitecliffs Walkway – Taranaki
Taranaki is fast becoming one of New Zealand's most popular walking destinations. As well as the obvious walking trails in the Egmont Regional Park, there are also some challenging coastal walks and the Whitecliffs Walkway is one of them. This 22km return walk is pretty easy going for most walkers and offers amazing coastal views as it meanders its way through rural farmland. Depending on the tides, there are options to walk some of the track along the beach and you will be able to marvel at the dramatic cliffs as well as the Three Sisters Rock Formation.
Recommended time: 6-8 hours return
Waikakaho/Cullen Creek Walkway – Marlborough
We almost made it through the list without including a walk from the stunning Marlborough region where you will find an abundance of great walking tracks. The Waikakaho/Cullen Creek Walkway follows an old goldminer's trail across the range between Wairau Valley and Linkwater. It can be walked or cycled in one day, however you will need to arrange return transport. A reasonable level of fitness is needed for this 9km one-way tramp but you will be rewarded with some amazing views and some great history as you pass through abandoned mining villages. It's a challenging and varied walk but it's a great challenge for families.
Recommended time: 5 hours one way
So there you have it – 10 of New Zealand's hidden gems when it comes to walking and tramping tracks. We have tried to cover most areas throughout the country and we would love to know if you have more of these amazing walks that you have tackled.
Get out there and enjoy our beautiful walks!