Queenstown is the place to be this winter and arguably every winter. There is nowhere in New Zealand quite like Queenstown with the snowcapped mountains and the smell of logs on the fire wherever you walk.
Whilst most people head to Queenstown to get involved in the heady mix of thrills, spare a thought for those who like to take a more laid back approach to life. Now you may think it's fantastic to hurl yourself down a mountain on a pair of skis or a snowboard but there are those who find this pretty terrifying.
If you are planning a trip to Queenstown, make sure you check out our latest deals on car rental in Queenstown and find out why we're New Zealand's favourite car rental company.
So, what are the alternative activities for those seeking a slightly different experience in Queenstown this winter? Let's take a look…
1.      Cinema
Whilst Queenstown has its own mainstream cinema where you will be able to catch all the latest blockbusters, we recommend taking the short trip over to Arrowtown if you want a truly awesome cinema experience. Dorothy Browns is a bit of an icon down here in the Otago region. This delightful boutique cinema, bar and bookshop is tucked away down one of the backstreets of Arrowtown and is a truly unique experience.
The bookshop is like something out of a movie, packed with a wonderful array of titles. The bar is stocked with local wines and ales and the cheeseboard is to die for. You can even take your drinks and platters into the movie with you – awesome! This is a truly quirky alternative activity any time of the year but you can't beat a good cinema trip in the cold winter!
2.      Galleries
Both Queenstown and Arrowtown are home to a number of excellent art galleries and craft workshops and they are all worth checking out. Whether you're interested in paintings, drawings, contemporary sculpture, photography or something else, there's a bit of something for everyone.
Here is a list of some of the most popular art galleries in the area – make sure you check them out:
Milford Galleries – Queenstown
David John Gallery – Arrowtown
Lakes District Museum – Arrowtown
Artbay Gallery – Queenstown
Central Art Gallery – Queenstown
Queenstown Arts Centre – Queenstown
3.      Biking
We hear you. Biking sounds a bit adventurous, right? Well, that can be true but some of our favourite cycles around Queenstown are super easy and relaxing and are a great way to get out and explore. Our favourite place to ride is without a doubt the Queenstown Trail. With over 120kms of trails in and around the Queenstown area, you could spend a whole week biking the different routes. There are of course some popular sections of the route which you can either walk or bike – here are our personal favs:
Lake Wakatipu Ride
This 15km ride will take you from downtown Queenstown all the way around the Frankton arm to Kelvin Heights. With spectacular views over the water and looking out over the Remarkables, this is a truly stunning part of the trail.  It's flat and easy going and the return trip should take you around 3 hours with plenty of time for photos.
Jacks Point Ride
If you are looking for a bit of a challenge, you can always add on a section to the Lake Wakatipu Ride. This 12 km ride is hilly with lots of tight corners and steep pitches. It's not one for the faint-hearted, however, it is super rewarding when you get to the top and remember, it's all downhill on the way back!
Lake Hayes Circuit
Another beautiful ride, this 8km track will take you all the way around the stunning Lake Hayes. There are cafes and vineyards along the way making this a perfect ride for those looking to kick back and relax and also hit their Fitbit goal for the day!
For a full list of the rides along the Queenstown Trail, make sure you visit the website: https://queenstowntrail.co.nz/maps-and-trails/
4.      Shopping
Queenstown may not be the biggest cities in the world, but that doesn't mean it doesn't welcome some of the biggest brands in the world. Whether you are looking for the latest designer gear or you are ore of a bargain hunter, there is a bit of something for everyone in Queenstown. If you are looking for something a bit quirkier, here are some of our favourites:
Reel Collectibles – here you will find a huge range of Lord of the Rings collectables, Star Wars memorabilia and Weta collectables as well as a wide range of POP vinyl.
The Walk in Wardrobe – billed as 'pre-loved fashion boutique', this is arguably one of the best second-hand clothes stores we have ever been in. The clothes are distinctly up-market and you are almost guaranteed to find an awesome bargain if you search hard enough
Roam Clothing – locally designed and hand screen-printed and embroidered right here in Queenstown. Some really cool original t-shirts and caps to be found here.
In the Pink – an eclectic design store and florist (who knew these two would go together?!) – there is usually a cool pink bike found outside so you won't miss it!
5.      Disc Golf
That's right people. Disc golf has made its way on to our Top 5 list of alternative activities in Queenstown. This might seem an unusual choice and one you may not have even heard of before but it's great fun.
For those who don't know, Disc Golf is basically golf played with a frisbee. This has been a popular sport in the region for years, so much so that they now have a permanent course in the beautiful backdrop of the Queenstown Gardens.
There are 18 baskets to take aim at throughout the gardens and with a group of friends, you'll soon discover just how fun it is. There's an official course guide you can download to take you from one course to the next and you can also buy official scorecards from most sports stores in Queenstown as well as the ice rink within the gardens where discs can also be hired.
So there you have it – some alternative activities for you to try the next time you're in Queenstown. Of course, there will be plenty of people who are keen to get involved in all the thrills and spills that Queenstown offers up and you can check out lots of our blog posts, guides and itineraries to find out more about these awesome activities.
Book a vehicle for this trip
We recommend: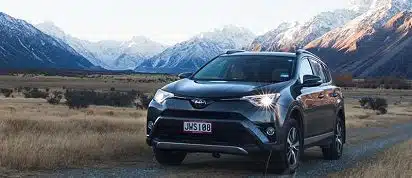 Intermediate 4×4
Toyota Rav 4
Seats

5 seats

Large Bags

3

Small Bags

4

Transmission

Auto trans