One of the best ways to explore New Zealand is on a self-drive tour. Whether you choose a rental car or a campervan, you need to make sure you're confident and comfortable driving on our roads.
New Zealand's roads are different from those you come across in countries like Australia, the US and the UK. Our roads are often much narrower, with fewer lanes and fewer opportunities for overtaking. That's why it's important to do your research before you arrive, plan your journey in advance and make sure you leave enough time to get to your destination.
There are lots of other ways you can prepare yourself for driving in New Zealand so we've pulled together this handy little guide with some top tips for things you need to know and some great resources to ensure your trip to New Zealand is a trip of a lifetime.
A quick guide to driving in New Zealand
Driving Licences in New Zealand
If you are visiting New Zealand from overseas, you can drive here for up to 12 months if you have a current and valid driver's licence in your own country or an International Driving Permit (IDP). These will be checked whenever you rent a car or campervan so make sure yours is up to date. If you stay longer than 12 months, you are required by law to apply and convert to a New Zealand driver's licence.
All visitors to New Zealand (as well as Kiwis) must carry their driver's licence with them whenever they get behind the wheel. You will only be able to drive the same class of vehicle here in New Zealand as you can according to your home county driver's licence so make sure you check on what you can and can't drive before you enter into a rental agreement.
If you are visiting New Zealand from a country where English is not the first language, make sure you get a full translation of your driver's licence prior to arriving in New Zealand or obtain an International Driver's Licence.
Provisional Licences
This mainly applies to Australian visitors who hold a provisional licence in Australia. You will be allowed to drive a vehicle of an equivalent class here in New Zealand and drive according to the conditions of your provisional licence. Most car rental companies (including GO Rentals) will not accept a provisional driver's licence when renting a car.
Road Safety
Much has been made of road safety in New Zealand, especially for overseas drivers. Road safety remains a priority for the whole team at GO Rentals and our mission is to prepare every customer who comes through our doors for the conditions driving on New Zealand's roads.
Whether you are an overseas driver or a Kiwi living here in New Zealand, it's important to consider the roads you will be driving on when you rent a car. Driving in Auckland, for example, is completely different from driving the roads of the Fiordland region of the South Island so it's important to take driving conditions and the road conditions into consideration.
A recent initiative by GO Rentals has seen the introduction of an innovative driving simulator in our Queenstown branch to allow all our customers to get a feel for the roads and the conditions you will face. This is just one of a number of road safety initiatives at GO Rentals which also includes educational videos, online driving tests, in-car safety prompts and our dedicated staff who make sure you are prepared for the roads.
Road Rules
The biggest difference for most visitors to New Zealand (except for those travelling from Australia or the UK) is that we drive on the left here in New Zealand. This can take some getting used to so it's a great idea to get familiar with your car if you are used to driving on the right-hand side of the road.
We have a number of in-vehicle prompts to remind you and there is clear signage on most of the major roads throughout New Zealand. Our driving simulator in Queenstown is also a great way of accustomising yourself to driving on the left.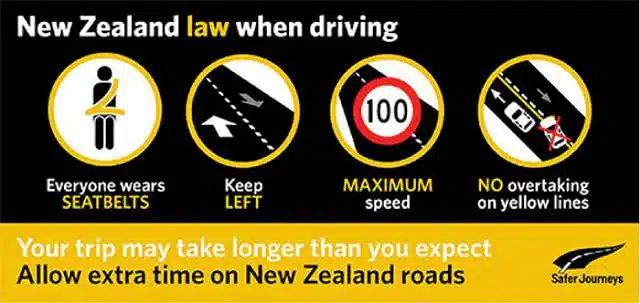 The maximum speed limit on open roads here in New Zealand is 100km/h and 50km/h in urban areas. The speed limits are strictly enforced here in New Zealand to watch your speed at all times and keep an eye out for the clear signage on all roads.
Seatbelts are compulsory for the driver and all passengers travelling in your vehicle so make sure everyone buckles up. Child restraints must be worn by all children under seven years of age.
Never drink and drive. Drinking and driving laws are strictly enforced in New Zealand.
Fuel
Fuel in New Zealand is no different from the rest of the world. Our unleaded is graded in quality with 91 being the most popular and cheapest. Diesel is typically around 30-40% cheaper than unleaded and that's because anyone who owns a diesel has to pay a Diesel Fuel Tax Surcharge based on the number of kilometres you do.  This can work out pretty well if you rent a diesel as most of the car rental companies don't pass this on directly.
A good option when you rent with GO is to use our pre-paid fuel service which allows you to pre-purchase petrol at a great price and it also means you don't need to fill up when you drop your car back off!
Resources
There are some great resources available for anyone who is planning on driving on New Zealand's roads. Here are some of the best online resources to help you prepare: