New Zealand is a haven for walkers and lovers of the outdoors. We have so many parks and open spaces that the biggest problem you will have is deciding where to go. We have 14 National Parks, as well as hundreds of regional parks, spread throughout the country and they all have fantastic walking tracks within them as well as lots of other recreation opportunities.
With 13 National Parks to choose from, deciding where to go first is a big decision. Some of them are located close together which means you can visit more than one over the course of a weekend or a week away but no matter where you are travelling in New Zealand, you will never be too far from one of our amazing National Parks.
We took a bit of a poll in the office to find out everyone's favourites and we pulled all the votes together and decided to give you our office top five when it comes to National Parks that will blow you away.
Let's take it away!
1.      Mount Aspiring National Park
The third largest of New Zealand's National Park, Mount Aspiring is located in the Otago region and is most easily accessed from Wanaka. There are some amazing walking opportunities in the park including one of New Zealand's great walks, the Routeburn Track. Other popular walks in this stunning National Park include the West Matukituki Track which will take you up to the Aspiring Hut, the Rob Roy Glacier Track and the Blue Pools Track.
Mt Aspiring itself is flanked by three of the largest glaciers in the region and provides a spectacular backdrop to this truly beautiful National Park.
Find out more: https://www.doc.govt.nz/parks-and-recreation/places-to-go/otago/places/mount-aspiring-national-park/
2.      Kahurangi National Park
Picking a National Park in the North West corner of New Zealand's South Island is tricky business. After all, you have three to choose from! Kahurangi is not necessarily the most popular (this award probably goes to the Abel Tasman National Park), however, Kahurangi is one of the wildest of the National Parks as well as being the second largest. The National Park has a series of tracks that will allow you to explore wild rivers, high plateaux and alpine herbfields, and coastal forests.
There are some outstanding walking tracks in Kahurangi National Park including the ever-popular Cobb Rudge Route, Mount Arthur Summit, Riuwaka Resurgence and the Great Walk, the Heaphy Track.
Another of the National Parks within close proximity is the Nelson Lakes National Park.
Find out more: https://www.doc.govt.nz/parks-and-recreation/places-to-go/nelson-tasman/places/kahurangi-national-park/
3.      Egmont National Park
Egmont National Park is the only National Park in the North Island that makes it into our top five (although Tongariro was knocking on the door). Located on the western coast of the North Island, Egmont National Park is home to one of New Zealand's most iconic landmarks, volcano Taranaki. This perfect conical volcano is snowcapped for most of the year providing a spectacular backdrop to most of the walking tracks in the National Park.
As you would expect, the majority of the walking tracks are based around the mountain and include the challenging Around the Mountain Circuit (4-5 days) as well as the shorter walks like the Dawson Falls Track and Kamahi Loop Track. One of the most popular walks in New Zealand is the Pouakai Crossing, rated as one of the best one day walks in the country.
The only other National Park in the North Island is the Whanganui National Park.
Find out more: https://www.doc.govt.nz/parks-and-recreation/places-to-go/taranaki/places/egmont-national-park/
4.      Rakiura National Park
Picking your favourite National Parks in the South Island is tough. With 10 to choose from, there are some absolute belters that miss out but it was great to see so many votes for the Rakiura National Park. We reckon that's because anyone that makes the trip to the deepest of deep souths comes back with memories that last a lifetime. Rakiura National Park is located on New Zealand's third island, Stewart Island and rewards all those who make the journey south.
Rakiura National Park exudes all the charm of a world of its own despite lying only 30kms south of the mainland. With pristine beaches, coastal forest and a wealth of wildlife, there is plenty to love about this spectacular National Park.  There are over 280kms of walking tracks in the park and some of the most popular include the Ulva Island walking track and for the longer Southern Circuit which will take between 4-6 days.
Find out more: https://www.doc.govt.nz/rakiura
5.      Fiordland National Park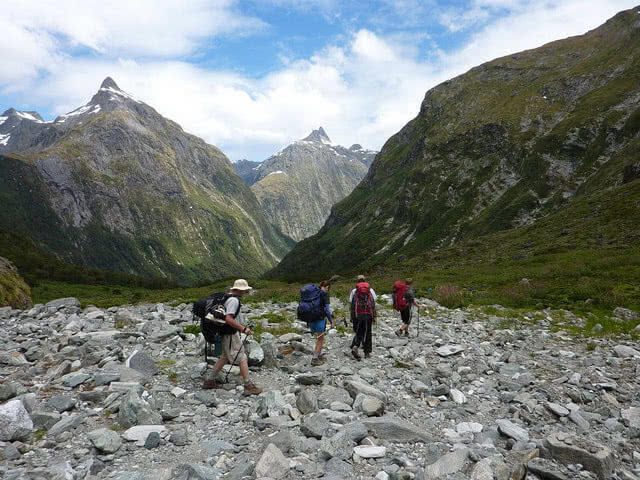 We couldn't complete our top five without including *probably* the most spectacular of all the National Parks; Fiordland National Park.  Established in 1952, Fiordland National Park has spectacular ice-carved fiords, lakes and valleys, rugged granite tops and pristine mountain to sea vistas.
Sounds pretty average right?
Of all the National Parks, this is the one that will truly take your breath away. As you head into the park, you are constantly bombarded with spectacle after spectacle from the towering snowcapped mountains, to the pristine lakes with their perfect mirror reflections to the roaring rivers that are fed by the glaciers high above.
Walking opportunities are aplenty in this National Park and the park is home to two of the Great Walks, The Milford Track and The Kepler Track (the Routeburn Track also crosses from Mt Aspiring National Park into Fiordland National Park). There are of course many other shorter walks you can get involved with including the Key Summit Track, the Chasm Walk and the Lake Marian Falls Track.
Find out more: https://www.doc.govt.nz/parks-and-recreation/places-to-go/fiordland/places/fiordland-national-park/
No matter which of our spectacular National Parks you choose to explore, you're in for a treat. These are some of the most spectacular parks in the world and for us to have 13 of them just waiting to be discovered in little old New Zealand tells you a lot about our beautiful country.
We'd love to hear about your adventures exploring these amazing National Parks so drop us a comment below or get in touch via our Facebook page – we'd love to see some of your awe-inspiring photos too!